How To Remove Antivirus 2009?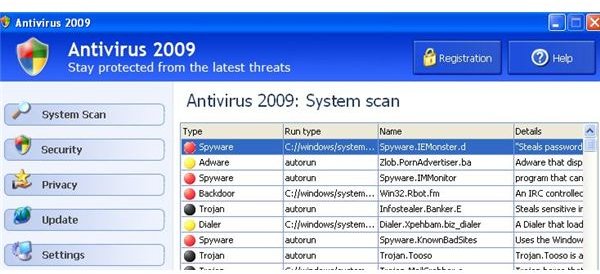 What is Antivirus 2009?
Antivirus 2009 has several names that can fool users into clicking on their ad, website or when their computer is infected. Green AV, Antivirus Pro, System Antivirus, Spyware or Malware Guard 2008, Spyware Protect, Malware Defender, Ultimate Antivirus, Vista or XP Antivirus, WinPCDefender and others. Regardless of the name, this malicious software infects Windows based computers and gives false warnings of infection.
Antivirus 2009 is a malicious virus and malware that can adversely affect your computer's performance. This fake antivirus informs you that you may be infected by viruses. This malicious application infects your computer through websites that have been infected or through advertisements. A simple sign of infection is pop up windows telling you you are at risk or a fake shield that looks like Microsoft's shield or AVG's shield.

How to Prevent Infection
If you surf to a website and receive a website that shows what is a false impression of your My Computer with infections, right click on the task manager, close your browser, run a cleanup with ccleaner, cleanup 4.5.2, Comodo System cleaner or whatever your favorite temp file cleaner may be. Reboot your computer and scan with Malwarebytes, SuperAntispyware, Spybot Search and Destroy or other malware tool you may have. After scanning, remove any rouge software and run your antivirus software. Avoid opening your browser until you complete your scans.
How to Remove Antivirus 2009
The makers of this malicious software often build code to prevent you from installing removal tools. Their ultimate goal is to collect your credit card information and $99 to 'activate' the software. This form of extortion has been recognized by the Federal Trade Commission (FTC) and action has been taken to stop some of the activities involved with this software.
In order to remove the software, run all of the aforesaid programs in order to make sure this rougeware is off of your computer. Several other tools can be downloaded and used to remove these parasites. Rougefix, Combofix and Smitfraud help to remove the application by shutting down services and running scripts to remove the virus. When using these, boot into safe mode and copy these files to your desktop before running.
The best way to remove this software is simply avoiding infection and keeping tools on your desktop. Keep your antivirus up to date and have antimalware programs available. Do not send your credit card information if you receive a window that pops up asking for money.