Suitable Host Intrusion Protection by 3D EQSecure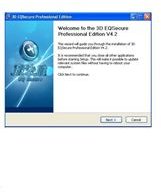 Overview of 3D EQSecure (4 out of 5)
The 3D EQSecure software was developed by the software company Super Rabbit. It can be downloaded from https://www.3dprotect.com/en/eqsecure.html. Like all standard security software, it prevents attack and infection from Trojans, Viruses, and data-stealing Malware such as keyloggers. It is a Host Intrusion Protection Software (HIPS) that can detect suspicious files without having to check against virus definitions from a downloaded database.
Installation (5 out of 5)
It has been developed by a Chinese company, so some of the text is not in everyday spoken English, and this is first noticed during installation.
The program requires at least 7.8 MB of space, and is compatible with a Windows platform running at least Windows 2000. There are no other special hardware requirements required.
Installation proceeds by verifying the integrity of the installer.
The installation file then issues the following warning: "3D EQSecure will be installed to prevent the subsequent installation of the software, make sure your computer has no need to install new software, while the software is only recommended to those who are familiar with computer use, whether or not to continue the installation," with the option to click Yes or No.
Clicking "Yes" will start the 3D EQSecure install wizard.
After clicking "Next" the next step would be to choose which folder. Surprisingly, it has one of the fastest installations of any program!
3D EQSecure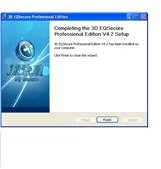 How It Functions (4 out of 5)
Overall, 3D EQSecure functions to stop a computer system from being exposed to threats. This involves protection from malicious files being installed onto the system. It does this by controlling the files that are executed when the computer is booted. The user is able to set which applications it would like to allow and which ones to block.
It can also protect while visiting harmful Web sites. This is one of its best features with the ability to delete the last pages visited on your browser and any cookies that have been added to the system while surfing the Internet.
Its other functions include:
The ability to detect and protect the registry from any changes.
An override to shutdown the system
Limiting access to which drivers are loaded.
Prevents access to system data
It can also end processes that have suspicious behavior.
EQSecure was also developed to run as energy efficient software, and thus it will decrease the amount of time (and energy) needed to complete a computer scan.
Overall Rating (4 out of 5)
Overall, EQ Secure is a fast program that is good at what it does. It can be obtained for free for home use, and is a straightforward application for anyone who is an advanced computer user.
However, as it is only an HIPS, it will not remove any malicious files from your system. It mainly functions to prevent the malicious files gaining access. With this being the case, the malicious file can continue to run, but just will not have access to the system files and registry.
The program does slow down the computer, and has a bug or two that needs to be cleared. Otherwise it is a program that is good at what it does and at a great price.