Basic Steps for Virus Protection - Virus Infection Methods and Virus Propagation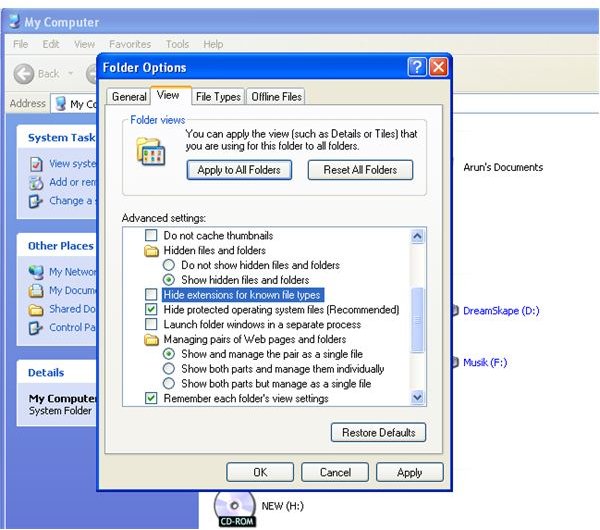 Computer Viruses - Basics of Virus Protection
There are numerous ways whereby your machine can invite virus infection. While email viruses are a nuisance, they are not the only source of virus infection. There are some standard steps to reduce the chances of virus infection and to offer maximum virus protection from any source. The most important steps are briefed below:
Always keep your computer's operating system and browsers updated.
Make sure you have the latest updates, fixes, and patches from Microsoft if you are using Windows.
Windows Defender comes bundled with Windows Vista and Windows 7. It is also available as a separate download for Windows XP. Make sure you have the free virus scanner which also doubles up as antispyware. MSRT is another tool that is built into XP Service Pack 2 so make sure you have the Service Pack.
As MS Office is also an integrated part of your daily computer use, make sure you have the latest patches and updates for your version of MS Office.
Finally, use a standard profile for your daily work. You can create standard profile using Control Panel –> User Accounts or while installation. This limits the chances of virus infections only to the profile in use. If there are no separate profiles created, Windows loads the default administrator profile thereby inviting virus infections across entire computer.
In addition to the above and the regular virus scans using your antivirus, I would also recommend you use the free online MS AV Scanner or any other good online scanner occasionally, without having to download any additional antivirus that may conflict with the existing one. It helps you double check the security status of your computer.
**
NOTE: Some of the virus displays itself as a folder at easily accessible locations such as the My Documents folder. If you find any folder that you did not create, do NOT open it. Check if it is a genuine folder. To check this, go to Tools menu in the Explorer window and select Folder Options. In the Folder Options, select View tab and uncheck "Hide File extensions for Known File Types". If you notice any kind of file extension in the folder name, it should be deleted immediately.
TIP: You may use Unlocker in case you are not able to delete the folder.
The above steps can give you some relief from virus infection and should be followed as a standard practice. Still, there are many ways whereby your computer can get virus infection and virus propagation across the machine or entire network. Let us take a look at these methods in the next section.
Computer Viruses - Virus Infection and Virus Propagation across Computer Networks
The most common method of inducing virus into any computer or network is to present it in form of a useful program or information. It is just like gift wrapping a bomb. Similarly, a virus maker would make and hide the virus in anything that looks attractive or compelling. Let us take a quick look at virus propagation basics and virus infection from different sources.
While email attachments are a good source of virus infection, other most common methods of virus infection are downloads from any Internet site or FTP site. Even as most websites take care that the downloadable programs are free from any kind of infections, malicious programmers get around the catch.
Virus infections can also be invited by clicking on links on your networking sites or other websites that claim to do something very good for you. For example, there was a link circulating on Orkut that claimed to show you excellent methods of SEO (Search Engine Optimization) on a video. In a world where everyone wants to get ahead of others, why would anyone share his/her secrets by offering a direct link to the secrets? A little caution combined with common sense will save you from potential virus infections.
Other methods used for virus propagation are links to websites with malicious scripts. The site may look like a genuine and clean website. However, the intention of the website is to infect your computer by sending virus or any other malware to your computer. While you are exploring the site, it may be running some script in the background that downloads malware to your computer. There are plenty of ways to check virus propagation through this method, briefed in the next section.
Among other sources of virus infections are infected removable media. These include CD and DVDs, USB Mass Storage Devices, and even cell phones. You need to be cautious while dealing with removable media.
The next sections take a look at putting a stop to virus infections and virus propagation through the methods mentioned above.
Computer and Email Virus – Precautions and Tools to Avoid Virus Infections
As far as removable media is concerned, you can put an end to AutoPlay: a feature that opens up the USB folder or CD/DVD drive as soon as you use one. This will give you a chance to test the files in the removable storage for virus infection. You may right click on the external drive in My Computer and select "Scan for Virus".
Most of the Internet users employ some kind of download manager to download anything from the Internet. The best method is to integrate your antivirus software into the download manager. For information on integrating the antivirus software, please check the documentation that comes with your download manager. Alternatively, if you do not integrate antivirus or do not use any download manager, it is better to right click on the downloaded file and scan it for malware before opening it.
Coming to websites that have malicious payload or scripts, there are plenty of tools to grasp the intention of the website and decide accordingly. One such important tool is the Web of Trust tool (WOT). The Web of Trust tool checks out the website and alerts you if it is not to be trusted. Another similar tool is the Comodo Verification Engine. It too, helps you determine if the website you are browsing is safe. While WOT is useful for businesses with multiple computers, the latter is good for individual users.
You also have tools that let you know how safe a website is. For example, the McAfee Site Advisor helps you understand the nature of website you are browsing. It also helps in determining if you should download anything from the site. Though there are some other Site Advisors too, such as from Comodo and Yahoo (toolbars), they basically incorporate the McAfee Site Advisor. A similar add-on is incorporated in the Internet Explorer (version 8), known as SmartScreen Filter. IE8's SmartScreen Filter also checks for any malicious code on the website you are browsing and alerts you in case of danger.
Note: There is no foolproof program that helps you get rid of virus and other malware completely. It is better to have your files backed up at regular intervals. There are several methods for backing up your data. Personally, I favor backing up my data to a FREE online storage system such as Mozy or Edrive. These systems offer you the facility of constant and free silent, incremental backup up to 2GB. There are plenty of paid online backup systems if you need to backup more than 2GB of data.
With all the above protections, the chances of virus infection come down considerably. Few more steps help avoid email virus to maximum.
Email Virus Protection
Let us now check out some points that help you avoid virus infection through emails.
1. The rule of thumb is not to download any kind of email attachment if it is an executable. You can know if the file is executable if it has an extension such as exe, bat, chm, or com. Click here to know more extensions that are frequently used by malware.
2. One of the most common methods that spread virus infection is spamming. Most of the spam mails have something that attempts to trick you into clicking anywhere in the email that activates some script to give malware, an easy entry into your computer or even the highly secured servers controlling a huge network. You may think that clicking on an empty space is safe. But NO: the empty space in email body may be linked to some script. You might have experienced popup ads when you click on empty space on some music sites (eg radiostationindia.com, pz10.com, smashits.com, and many more). Though most spam is caught by the email client or even the web mail, the danger of susceptibility is still there as the algorithms of these email clients and web mails are not strong enough.
Use antispam software that blocks spam to protect the entire network or individual computers from email virus. There are plenty of antispam software in the market. For networks and server level protection, GFI MailEssentials is one of the best antispam software for servers controlling huge networks. SpamTitan also works for most networks. You can also get some free antispam software for individual computers. Using these antispam software in addition to the normal spam blocking feature of your email client and computer protection suite further helps avoid email virus.
4. If you are using an email client such as MS Outlook, Outlook Express, Eudora, Thunderbird, or anything else, you should integrate your antivirus to the email client for real time scanning of attachments. Though most of the known antivirus software automatically integrates into email clients, you may also check out the documentation of the email client and/or antivirus for information on integrating the antivirus into the email client.
5. Sometimes, you may find email attachments with double file extensions. If the extension is not visible, follow the method briefed in the first section, under NOTE. Some examples of such attachments are abc doc.doc, file.bmp. txt, or filename doc.vhp. Such attachments are not legitimate and should be deleted as soon as you get the email.
6. You may have subscribed to several newsletters or newsgroups. Most of these newsletters are sent by third party mass mail service providers. A genuine newsletter will have its contents in the email body and not in any attachment. It may contain links to different articles and ads. If you feel anything suspicious or if you receive any other form of mass mail with an attachment, delete it straightaway.
7. Finally, use your common sense before deciding whether to open any email to avoid email virus. You receive emails from several sources. It is not necessary that if the sender is your best friend, the file attachments are safe. She/he may be unaware of the potential threats. While opening any email attachment, check out the sender, the email body, name and logo of attachments, and digital signatures (if any) before deciding whether or not to open the attachment.
The above points combined with the basic steps mentioned in the first section reduce the chances of virus infection to a great extent. While you may find it hard to implement all of the above points, pay attention to the antispam software you are using, mass mails, mails from anonymous people, and finally to the extensions of the file attachments. This will avoid email virus while also offering virus protection from any other source(s).