Overview of Windows 7 Firewall: Usability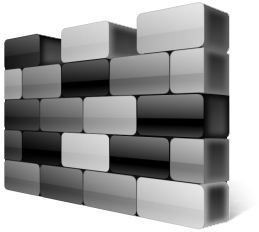 Third Party Firewall for Windows 7?
This topic is often discussed in security forums, newsgroups or mailing lists. It has been covered many times by security analysts, researchers and technology writers. But many still wonder if they should use a third-party firewall software instead of the free and built-in, Windows Firewall. It is good to discuss this type of topic often as the firewall software in Windows has new features and might change the minds of some.
By looking at the controls of Windows Firewall in Windows 7, there is no doubt that it is easy to manage for most people. The Advanced Security option in Windows Firewall is something many will not even touch unless they are familiar with it already.
The Windows Firewall with Advanced Security Control Panel is actually very powerful, but messing with its settings or firewall rules might put you at risk, so it's best to modify the settings only if you know what you are doing. Unlike third-party firewall software, the Windows Firewall will not prompt you on which network you trust, and which applications you allow, even if you have configured it to notify you if it allowed or blocked a program to access the internet.
For example, after I installed Windows 7 and an alternative browser, Windows Firewall did not ask me whether I wanted the Opera browser to connect to the internet. Also, Windows Firewall will automatically create firewall rules on features or applications that it trusts. Example: Windows Media Player, Office Programs or other features in Windows that require a connection.
The above can be modified by so that nothing is allowed to make a connection unless you allow it by creating your own firewall rules. With Windows Firewall in Windows 7, you are still in control but you need to adjust it, which is similar to using third-party firewall. The difference is the third-party firewall is easily manageable during and after installation: you'll receive prompts on every connection attempt by an application or remote computer and it will display which port or protocol is triggered by an application.
With Windows Firewall, some people have no idea which feature in Windows or programs has the ability to make a connection to another network unless they review the list of firewall rules and applications that have permission to make incoming and outgoing connections.
Windows 7 Firewall has excellent controls but…
The features and options in Windows 7 are good enough for most people to use. However, Firewall software is not only about network controls, user interface (UI) and manageability alone but it should have the ability to protect you from malicious attackers so your computer will not become computer zombie, open to intruders, vulnerable to exploits and can shield the connection or PC from port scanning. Also see the other article: Windows Firewall: Is It Good Enough?
Reference
This post is part of the series: How To Set Windows 7 Firewall Rules?
In this series of articles, we will discuss about Windows Firewall in Windows 7. In Part 2 and 3, we will touch topics if you need third party firewall in Windows 7 and how to use Windows Firewall and create firewall rules on the new operating system.