The Best Free Firewalls for Windows 7: Top Firewall Options Compatible with Windows 7 Including Software from Comodo, Sunbelt, and Outpost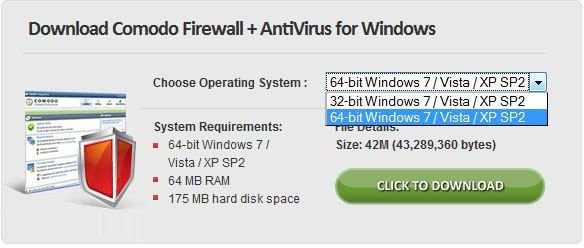 Editor's Note: This article was originally 2ritten in 2009 and has been recently updated.
There used to be much more free firewalls software for Windows until Microsoft built in a firewall in its Windows XP operating system. That Windows integrated firewall has been beefed up in Windows Vista and further improved in Windows 7.
Also taking into account suggestions from our readers posted as comments the following vendors or free top firewall software products make up the candidates. They have been last checked for official Windows 7 compatibility on 20 March 2011.
Candidates
Ashampoo FireWall FREE Version
Blink Personal Edition - free-antivirus.eeye.com no longer freeware!
Comodo Firewall
Online Armor Firewall free 30 day trail and after that $39.95 for one year.
Outpost Firewall
PC Tools Firewall Plus
Sunbelt Personal Firewall Version - www.sunbeltsoftware.com
VirusBuster Internet Security Suite
Windows 7 Firewall Control - www.sphinx-soft.com/Vista/order.html
ZoneAlarm Basic Firewall
Again: Many former vendors of free firewalls (e.g. Tiny, BlackIce, and Kerio) have been taken over or disappeared from the market. Therefore, the Top Free Firewalls for Windows 7 candidate list might be smaller than what you have expected.
Not all free Windows 7 compatible firewalls are top products. To be listed here a software must have been rated very good or excellent, but in most cases when a firewall software / vendor is not listed it is due to a lack of Windows 7 compatibility, not quality. The comments section at the end of this article sometimes gives the reason or contains more background information. Keep in mind that besides a firewall you need to have have a capable antivirus software such as the one's mentioned in Bright Hub's article Top Antivirus Software for Windows 7 installed.
Now enjoy the free firewalls are sorted in alphabetic order. Please see the reference section at the end of this article for the links to the vendor's product pages.
Comodo Firewall (5 out of 5)
The award winning Comodo Firewall and the top-notch Comodo anti-virus software have been merged into free Comodo Internet Security. Users of 64-bit computers make sure to change to 64-bit Windows 7 /Vista / XP SP2 in the Choose Operating System drop-down menu, and please note that you can instruct setup to install either component or both as depicted in the second screenshot below.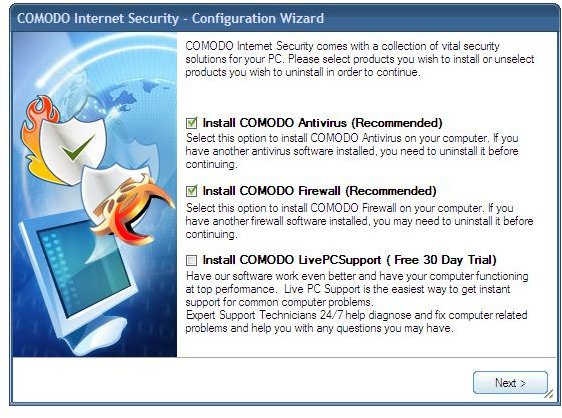 The Comodo firewall is easy to install without complex configuration issues, yet the multi-award winning software prevents malware from entering your computer and gives you control which application run on your PC using Default Deny Protection (DDP): If the Comodo firewall doesn't recognize an application it assumes it to be hostile - a very effective way to deal with new unknown threats. Last but not least can the Comodo firewall send personalized alerts, and updates automatically. The Comodo Internet Security is definitively one of the best free PC security products available!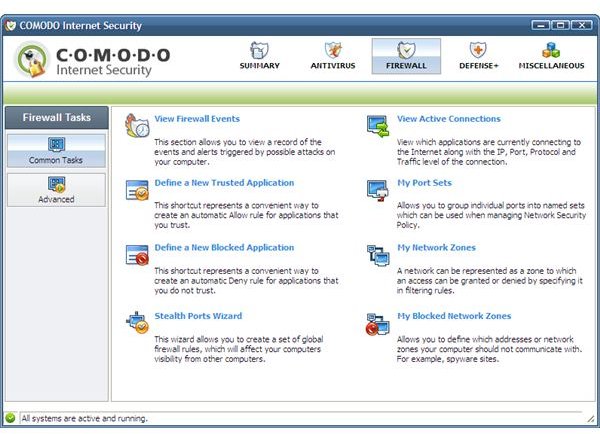 Online Armor Free Personal Firewall (3 out of 5)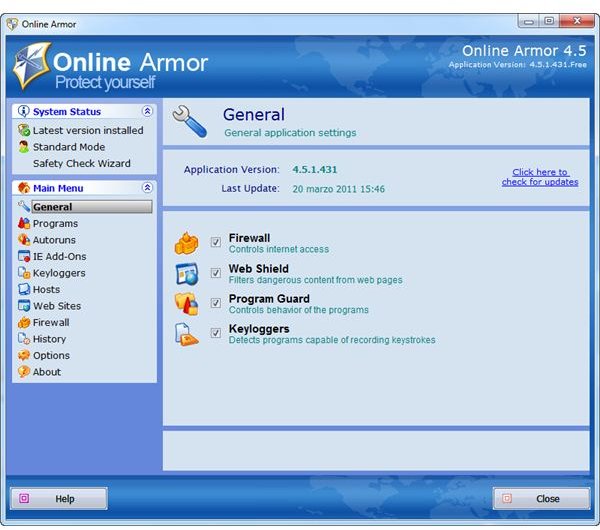 At the time of writing this article, Emsisoft Online Armor offered a free version that was Windows 32bit & 64bit 7 compatible. However, since that time they no longer offer a free version, instead you can get a 30 day free trial and then a year subscription at $39.95.
Its key features are protection from inbound threats including safe browsing through a web shield and Program Guard to prevent spyware running on your computer: You control which programs are allowed to execute on your computer and are alerted by popups of suspicious potentially unwanted programs. Visit their website for more information: https://www.emsisoft.com/en/software/oa/
Outpost Security Suite Free Firewall (3 out of 5)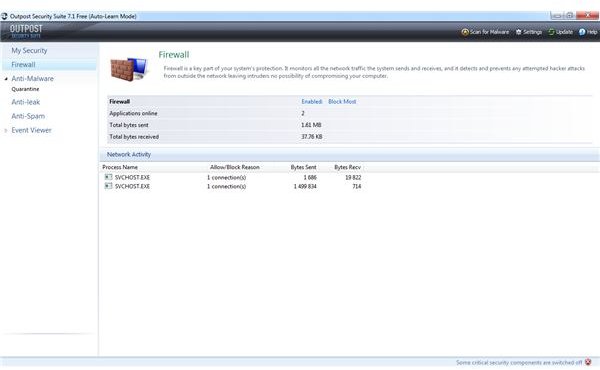 Outpost Security Suite Free supports 32- and 64-bit editions of Windows 7, and includes Outpost Firewall which provides basic protection against hacker attacks by monitoring both, inbound as well as outbound network traffic. Configuration items include network rules for processes and non-application traffic. New networks are detected automatically, and can be assigned trusted and NAT zones for example.
PC Tools Firewall Plus Free Edition (5 out of 5)
PC Tools Firewall Plus Free Edition comes with predefined firewall protection profiles based on location (e.g. home or public), automatic application blocking and comprehensive network shielding to keep hackers out of your system and malware at bay. Experienced users can create or edit advanced packet filtering rules; IPv6 support is also included since PC Tools' Firewall Plus 6 for Windows (free Edition).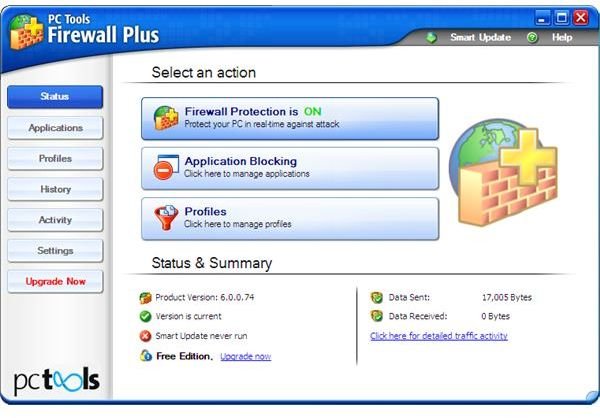 VirusBuster Internet Security Suite Firewall (3 out of 5)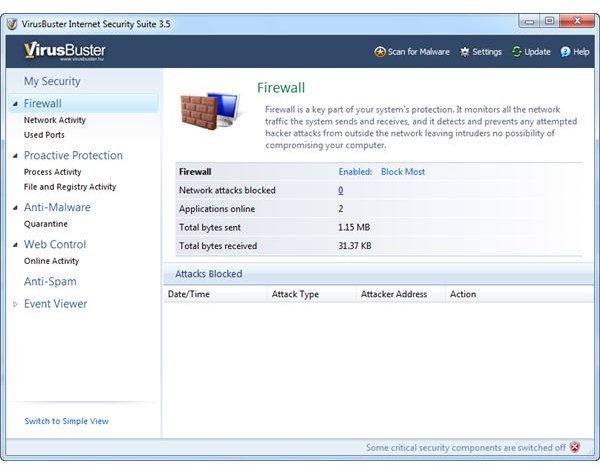 The VirusBuster Internet Security Suite includes a bi-directional firewall watching outbound and inbound traffic to block unauthorized access to your computer over the network connection. New networks are automatically detected and settings applied for intrusion detection and blocking. The VirusBuster firewall uses rules which update themselves automatically, too.
Windows 7 Built-in Firewall (4 out of 5)
Why not stick with the Windows 7 free firewall which, by default, is turned on? You can view and configure the Windows 7 integrated firewall in Control Panel / Security Center. Here's a good read about the Window 7 firewall: https://www.brighthub.com/computing/smb-security/articles/38834.aspx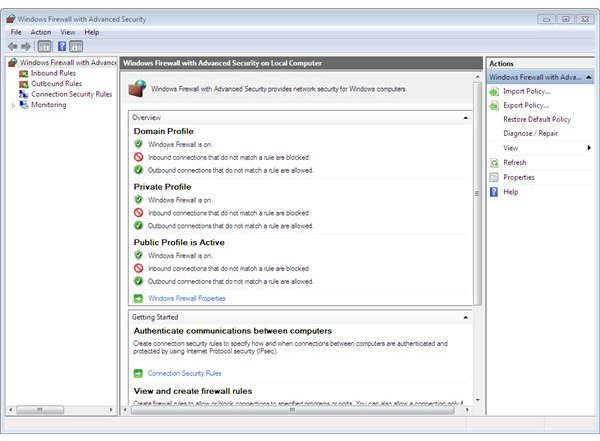 ZoneAlarm Free Firewall (4 out of 5)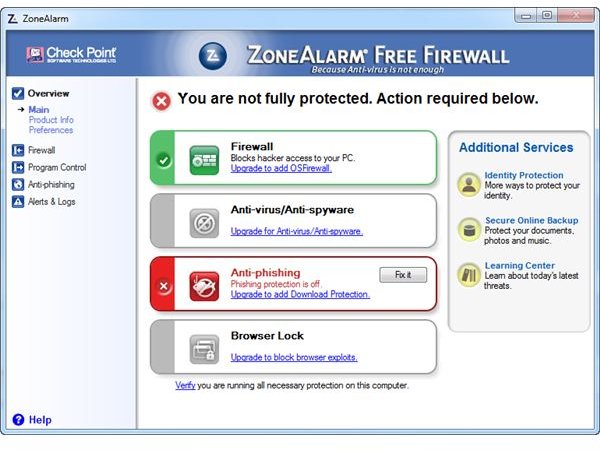 ZoneAlarms free two-way firewall works on 32-bit and 64-bit editions of Windows 7 and makes your computer more secure by watching your network connection for suspicious traffic. The free firewall includes three security configuration items each for the Internet zone as well as trusted zone security, a number of advanced settings can be tweaked to suit your needs.
On top of that does ZoneAlarm Free Firewall ship with a security engine/toolbar for safe browsing. The product is free for individuals and not-for-profit use for charitable organizations.
The Bottom Line
You have been presented Bright Hub's selection of the best free firewalls, yet, for optimal and total PC protection (*) and more choice, you may want to have look at premium products combining anti-virus, antimalware and firewall protection.
(*) Do I Really Need to Buy an Antivirus Program? Are Paid Products Really Better than Free Products?
Reference
Comodo Internet Security - https://personalfirewall.comodo.com/
Online Armor Free - https://www.online-armor.com/products-online-armor-free.php
Outpost Security Suite - https://free.agnitum.com/
PC Tools Firewall Plus Free Edition - https://www.pctools.com/firewall/
VirusBuster Internet Security Suite - https://www.virusbuster.hu/en/products/home-users/vb-internet-security-suite#rendszerkovetelmeny
ZoneAlarm Free Firewall - https://www.zonealarm.com/security/en-us/zonealarm-pc-security-free-firewall.htm
Screenshots taken by the author