Top 3 FRE File Recovery Programs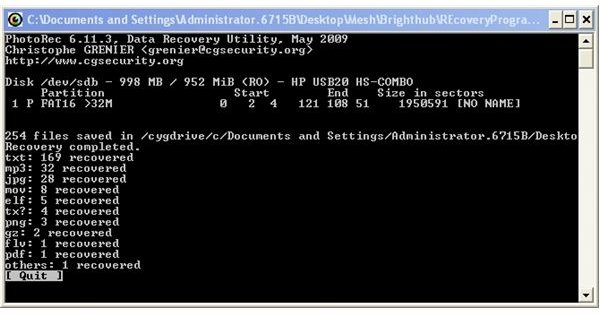 File Recovery Software
Doing a quick search for free file recovery software will garner dozens of programs. Which ones are best? What should you look for?
First off – stay away from the programs that are try and buy. If you are just looking for a simple file recovery program, there are plenty of good free options. The next thing to know is that for the most part these applications will find roughly the same number of files. There are only so many ways you can technically recover a file from a hard drive.
For my testing, I had several pictures, Word documents and two flash video files. All three of the tools listed below were able to successfully recover all of my test files.
The following three applications were my favorite picks due to their ease of use, ability to recover and of course are all free.
TestDisk\PhotoRec
The first tool on my list is PhotoRec from CGSecurity.org. Although the tool is called PhotoRec (short for Photo Recovery), this tool will recover any type of file that was lost. PhotoRec and it's companion tool TestDisk are bundled together.
TestDisk is meant for fixing lower level hard drive issues including lost or corrupt partition tables and boot records. PhotoRec is focused on file recovery.
Downloading and installing is pretty simple. The two tools are bundled in a Zip file. Unzip the file and go under the Win directory and you're ready to run the PhotoRec executable. Although the user interface is console based, it uses DOS-like menus for navigation.
Doing a thorough scan found 254 recoverable files on my hard drive. After the scan, you can enter in a path for files to be saved and all of them will be saved to that location.
The tool is easy to use and certainly thorough, although several of the files it recovered weren't really usable files. It did recover all of my test deleted files though. The one complaint I have with PhotoRec is that it doesn't appear to use the original file names when recovering your files. It's a minor quibble.
You can find PhotoRec (and TestDisk) here: https://www.cgsecurity.org/wiki/PhotoRec
DiskDigger
DiskDigger from Dmitry Brant is a light-weight, easy to use data recovery tool. The tool is a breeze to use and I especially liked the fact there is no installer and no support files – just unzip the executable and run it.
DiskDigger utilizes a wizard based interface. You first determine if you want to scan physical drives (such as Compact Flash, USB memory drives, etc) or logical drives (C:, D:, etc.). After selecting a "deep" or "deeper" scan, DiskDigger presents you with the list of files it found. In keeping with the theme of usability, DiskDigger gives a preview of the data it found allowing you to pick and choose the files you wish to recover.
DiskDigger can be found here: https://dmitrybrant.com/diskdigger
Recuva
Recuva from Piriform (makers of CCleaner) is my top pick for file recovery. The ease of use and the way the scan results are presented make this edge ahead of my other two picks.
Recuva starts with a wizard allowing you to choose if you want to do a deep or basic scan as well as what location you want to scan. After the scan you are presented with the list of recoverable files color coded by how recoverable they are – green can be entirely recovered, yellow partially recovered and red items cannot be recovered.
Recuva can be found here: https://www.recuva.com/
Be sure to check our our review of this product: Recuva – Top Free Recovery Tool.
Images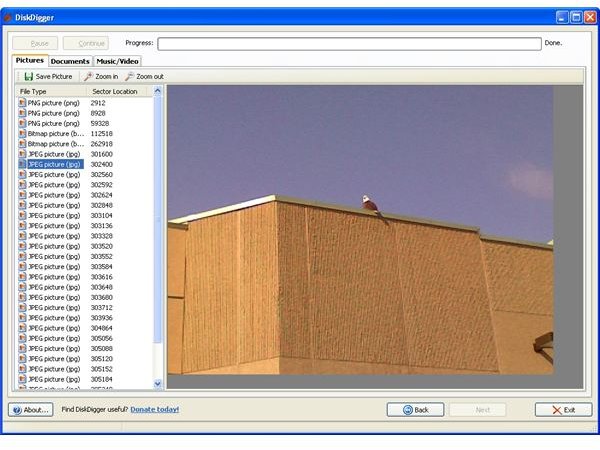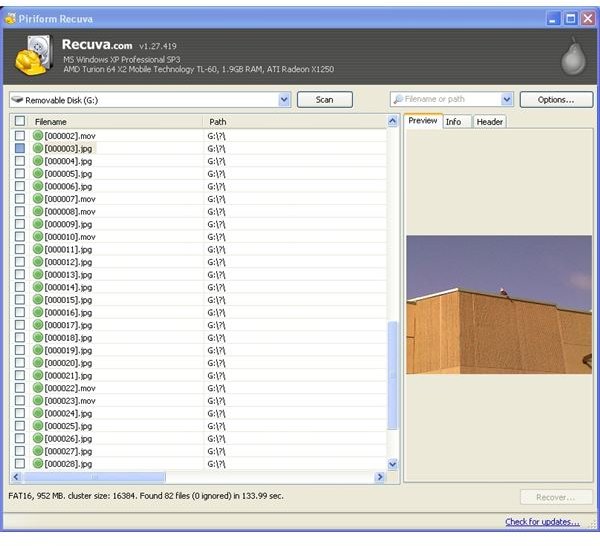 Looking for more articles like this?
Be sure to check out Top 3 Free Spam Filters for Windows, The Top Five Free Wireless Security Tools, The Top 5 Free Network Monitoring Tools, The Top 5 Free Port Scanners, The Top 5 Free Penetration Testing Tools, Top Ten Free Security Tests and The Top 7 Ways NOT to Secure Your Wireless Network.