The Best Internet Security Suites of 2009

Introduction
A lot of people favor security suites because they can manage everything easily. But not all suites will work for everyone. Which security suite will fit you?
The main factors are whether it is free or not. But there are others like the amount of annoyances/alerts, ease of navigation, components (anti-virus, firewall, backup section, etc.), and the quality of the components.
The Popular Suites
Comodo Internet Security (CIS)
Comodo Internet Security is one of the only free suites (there is a Pro version, but in that version CIS itself is the same. It just comes bundled with other software). Being free gives CIS a big advantage, but beware of the fact that it isn't as quiet as some would want.
In addition, CIS is
.
CIS is also a bit different because of its powerful HIPS (Defense+). This is both its best and worst component, because it furnishes the most security but generates many alerts (according to how to set it), though Comodo is improving that. Some people like alerts, whiles others don't. Numerous alerts can increase security, but for the "allow-all-ers" that isn't the case
Also watch out during installation for the unneeded SafeSurf (toolbar with some protection against threats, that CIS 3.8+ provides as well), and changes to the default home page and search engine.
Norton Internet Security (NIS) 2009
Norton Internet Security 2009 is not free (costs $59.99 for a one year three-PC license), but will still provide a lot of "bang for your buck". Some (including me) had a Norton product years ago. They may remember that its performance wasn't the best. But Symantec has greatly improved that former con. Its GUI (graphical user interface) is very slick too.
But the outbound firewall isn't that great (only got a "good" rating on Matousec's Firewall Challenge).
McAfee Internet Security (MaIS) 2009
McAfee Internet Security's review is a bit harsh on it. First, getting a 30 day trial is a ordeal.
But the way MaIS updates its malware signatures is a good method (more info on page 2 of the review). MaIS has never been the best on malware detection tests, though every anti-malware program will miss some.
And the firewall was not recommended on Matousec.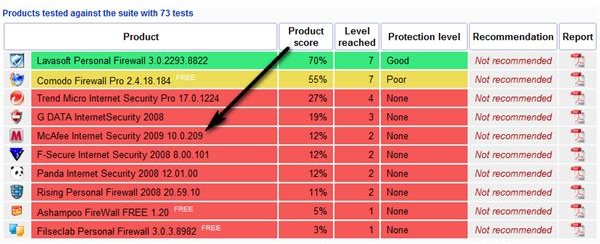 .
MaIS is known by some to be heavy on resources and have bad performance. The last page of the review confirms that, and says that, "McAfee used a total of 96.796 Megabytes of memory with all its modules running" (the article said "96,796", but that is a huge amount [the same as 96.8 gigabytes, and the most memory average computers have today is 8 gigabytes] and "96.796" is probably what the reviewer meant). Compare that to CIS's resources (4.708 megabytes in total) … too much for any security suite.
ESET Smart Security (ESS)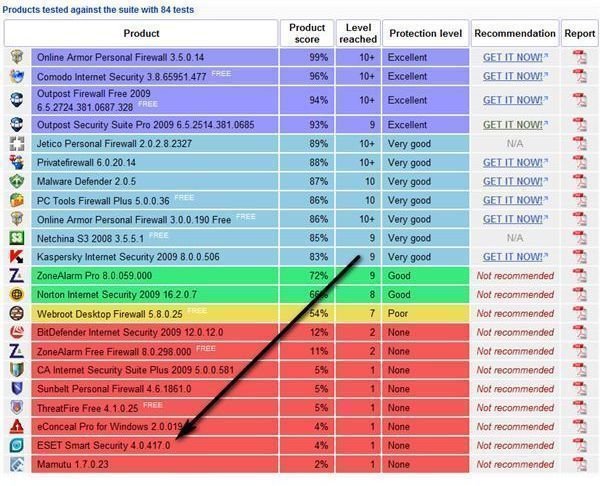 ESET Smart Security is light and has good performance. The firewall may be easy to configure and use, but Matousec rates it second to last on its Firewall Challenge.
The Anti-Virus component was rated as "ADVANCED+" by AV-Comparatives and detected 97.6% of samples used.
Norman Security Suite (NSS)
Norman Security Suite's firewall is advanced (no Matousec review, though), but AV-Comparatives doesn't think it did a wonderful job. In its test it got 87.8% of the samples, and only 2 other anti-viruses missed more.
Kaspersky Internet Security (KIS) 2009
Kaspersky Internet Security is a bit high priced at $79.95, but it provides good all-round protection and is simple to use. There isn't much of a performance hit except in scans.
It has a web content filter - which will block most ads and inappropriate pictures - which is more than some suites can boast.
The anti-virus is not the best, but it isn't the worst either. It was right in the middle of AVs
tested by AV-Comparatives. The same was true for Matousec's test of its firewall
.
Overall, I'd rate KIS as average.
Verizon Internet Security Suite (VISS)
Verizon Internet Security Suite isn't too well known; I only learned about it recently. According to its review, it "provides anti-virus, anti-spyware, fraud protection as well as a firewall as its core services but also has a number of useful additional features such as Internet privacy, system maintenance and computer optimization".
But since it isn't that well known, neither Matousec nor AV-Comparatives has tests for it.
Outpost Security Suite (OSS) 2009
Outpost Security Suite 2009 is a combination of Outpost Firewall Pro and an anti-malware component. The firewall is ranked 4th best firewall by Matousec (interestingly, Outpost Firewall Free performed a bit better and was ranked 3rd). AV-Comparatives didn't have a test for it though.
ZoneAlarm Internet Security (ZIS)
ZoneAlarm Internet Security costs $49.95, a fair amount. Matousec last tested ZoneAlarm Pro 8, and that was rated "Good" but not recommended. ZIS may have improved the firewall over that time.
The anti-virus hasn't been tested by AV-Comparatives.
PC Tools Internet Security (PTIS)
PC Tools Internet Security costs $59.95 and is bundled with protection features some suites don't have. The main ones are the firewall, anti-virus/malware, and anti-spam. But it also has IntelliGuard which protects against changes to your system.
PC Tools Firewall Plus was rated "Very Good" by Matousec, though that isn't the latest version and PTIS may use a different firewall than Firewall Plus.
Quick Heal Total Security (QHTS)
Quick Heal Total Security costs $74 per year, which is a bit expensive. But it has a lot of features, maybe even the most of any suite mentioned here.
Matousec and AV-Comparatives don't have tests for it, as QHTS is less known than some others.
Conclusion
So which one is better?
That is really your choice, as not every suite will fit every person/computer setup. But I will recommend some of the suites.
Comodo Internet Security is the only free suite of this group. It may also be the only one to have a HIPS which can alert to almost every possibly suspicious system change. And the firewall has always been ranked high in tests. These three points make it stand out.
Norton Internet Security can fit someone who wants more "peace and quiet" instead of full control of his/her computer.
But the option is yours. Always be careful when choosing security programs, as they are complex and most of the time the ones that make the biggest impact on a computer. And switching between many security programs will slow down your machine sooner or later, even if they aren't all running or uninstalled.