E-Discovery: The Top 5 Things You Need to Know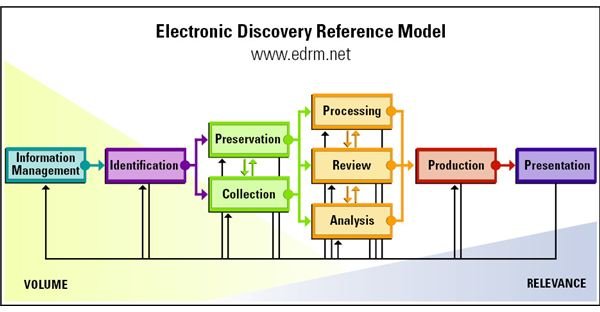 The Rules for e-Discovery are set by the Federal Rules of Civil Procedure
---
The Federal Rules of Civil Procedure (FRCP) were originally written in 1938 and have been amended several times since then. In 2005 the FRCP was amended to add and change rules relating to discovery. These rules can be found on the US Courts site at: https://www.uscourts.gov/rules/EDiscovery_w_Notes.pdf
These are the primary rules governing e-discovery:
Rule 26 General Provisions Governing Discovery; Duty of Disclosure – This rule outlines the process for discovery including exemptions to the discovery process and a meeting between parties to discuss the organization of the process.
Rule 34 - Production of Documents, Electronically Stored Information, and Things and Entry Upon Land for Inspection and Other Purposes – the main rule relating to ESI discovery.
Rule 37 - Failure to Make Disclosures or Cooperate in Discovery; Sanctions – This rule states the court cannot sanction the responding party for failing to provide ESI that was lost as a result of routine computer operations.
eDiscovery Applies to Electronically Stored Information (ESI)
---
ESI includes any type of electronically stored information a company may have. This includes email, documents, sound files, chat and Instant Messaging, databases and even metadata within documents. Any ESI that may be relevant to the case will be considered for discovery.
Litigation Holds
---
Once your company is notified of the pending case, a Litigation Hold may be called for the preservation of relevant ESI. If you have a properly documented retention policy where ESI may be destroyed in an automated (or manual) fashion, a litigation hold may force you to alter your process to ensure relevant ESI is not destroyed or altered.
Be aware that if data is not destroyed during "normal" business operations and still exists when entering into litigation (for example a "one-time backup" or old email archive you forgot to delete), they will need to be retained. Destroying them after you are notified of pending litigation in hopes of "catching up" with your retention policy can be seen as you trying to destroy relevant evidence.
Electronic Discovery Reference Model (EDRM) Provides Guidance
---
The Electronic Discovery Reference Model was created by consultants George Socha and Tom Gelbmann along with a host of other organizations in 2005 to provide guidance and standards in the e-discovery process. Software vendors that provided eDiscovery solutions didn't follow any set standards thus making each product different and left it up to the vendor to determine the best way to implement their system. Socha and Gelbmann felt the process was too complex and time consuming for there not to be a standard. Thus the EDRM was born.
The EDRM breaks the discovery process into six major steps as outlined in the picture below. The Identification, Preservation, Collection and Processing steps are focused on the discovery team (IT, Management, etc.).
The Review, Analysis, Production and Presentation steps are focused more on the legal team and thus won't be covered here.
Identification – is the step in which the discovery team identifies what is relevant to the case and to start discussing possible sources of Electronically Stored Information (ESI).
Preservation and Collection – preserve data that is relevant to the case, ensuring data is not destroyed or modified in the process.
Processing – reducing the initial set down to a more manageable and relevant set of data – eliminating duplicate data sources or irrelevant data
Additional information can be found on the EDRM site at https://edrm.net.
ESI Discovery Applications
---
Since potentially any electronic information could be relevant to the case, you will want to have a system in place that can index and filtering all electronic content in your organization. You may want to start with a mail archival program. There are other solutions that help you find, index and filter your ESI.
The more systems you can index and filter, the less you will need to do manually. Several cases have fined the defendant for failing to provide all relevant ESI at the time of discovery (which was later discovered). See the this site for some real-world examples of what happens when you take e-Discovery lightly.
Additional information related to e-Discovery can be found at the Federal Judicial Center