McAfee vs Norton: Internet Security 2009 Products Head-to-Head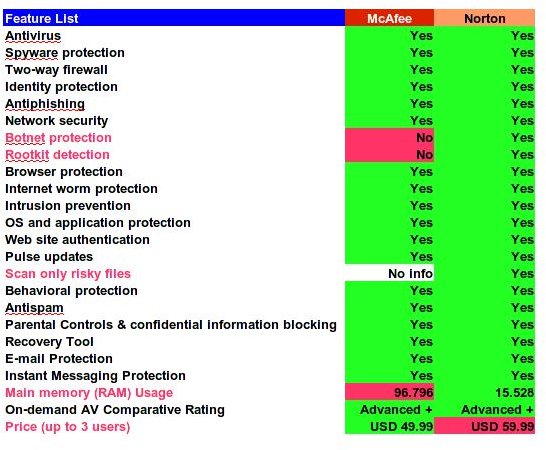 Introduction
Both Symantec's Norton Internet Security 2009 and McAfee Internet Security 2009 are the top products that are aiming to be the best overall protection software for the computers. Both have pros and cons and we have gathered them in one place for the Bright Hub readers.
If you want to have in-depth analysis of the products, here are the reviews: Norton Internet Security 2009 and McAfee Internet Security 2009.
Comparison
In terms of on-demand malware scanning and the features offered, both products do very well. It is also nice to see that the prices are more or less the same. The following table compares both products in detail:
As you have noticed, Norton Internet Security 2009 is two steps ahead with the Botnet and rootkit protection features. Plus, Symantec's Norton has a built-in feature that reduces the time with your scans, in which it checks the important system files at first and marks them as trusted. Norton then scans for the files that it considers to be risky. Considering that the on-demand virus scanning takes a lot of time and resources, Norton Internet Security had a really nice thought here. McAfee falls short of the on-demand scan times and it is not easy to say that the times are short.
In terms of updates and protection against zero-day attacks, Norton has its own PULSE technology, which sends updates to your computer between 5 to 15 minutes of interval. McAfee has implemented the feature as real-time and it does not wait for a specified time to send the updates; it delivers them as they are known. Internet Security 2009 is the first product that McAfee has this instantaneous update feature.
Both of the programs offer in-depth configuration features for both newcomers to intermediate users. The headlines can be turned on or off but if the user wants to go for a detailed configuration, he can do that within the menus. For example, you can turn your firewall on but allow some ports to be open for your specific programs.
Conclusion
Looking at both products objectively, Norton Internet Security 2009 is a clear winner both in terms of features offered and in terms of their implementation. Plus, with its huger user base, it is easier to find support without contacting Symantec - through web forums, for example. Furthermore, you have the option to connect to a Symantec's representative for chat or call 1 (877) 788-4877 to get paid support. The bottom line is, Symantec's Norton Internet Security 2009 is the clear winner.