Troubleshooting System Restore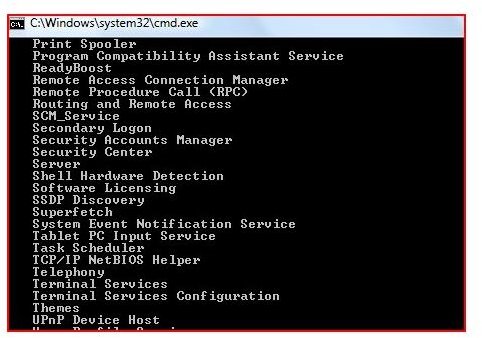 Troubleshooting System Restore
A key part of protecting your system is Windows XP's System Restore. This feature is an integral part of your system's security. When infected by Malware, Spyware, Viruses or system files have been replaced, you may need to start System Restore and try to restore the system to an earlier date. Very rarely System Restore will fail. Before you panic, follow these steps to repair or start System Restore.
Always make sure your Windows is up to date. This may not be possible but if you can, go to the window's update site at Http://windowsupdate.microsoft.com. If you download any updates, restart your computer after they install. Try to start System Restore again. If this fails, go to the Control Panel and open Administrative Tools and Services to check to see if the services is running. You can also co to a command prompt by type cmd after clicking on Start and Run. At the command prompt, type net start and make sure the task scheduler and remote procedure call are running. If they are not, go to services under Administrative tools and start these services.
You can also check to see if System Restore is enabled on your hard drive. Right Click on My computer and Click Properties. Click on the System Restore Tab. You should see your hard drives in the provided window. The status should say monitoring. If it is not, clear the check mark. There is a possibility at this time that you may not have a System Restore Point.
System Restore can fail if you do not have sufficient hard drive space. You can type diskmgmt.msc on the run line and hit enter. System Restore by default will remove restore points and suspend operations if the disk space is low. Always clean hard drive with clean up utilities.
System Restore should be ran in Safe Mode to ensure that it runs correctly. Most computer users fail to go to safe mode and start System Restore. To enter Safe Mode, restart your computer and hit the F5 or F8 key and select Safe Mode. Try to start System Restore at this time. (You can click No when prompted at the login window for Safe Mode)
In order to ensure you don't have any problems with System Restore, periodically you can start the interface to check and see how many days you have backed up. Because System Restore does not monitor your data files (pictures, music, documents and etc.) you can always remove the drive and use a USB adapter or 'piggy back' the drive in another computer to recover your files.
System Restore is a critical part of your security suite. You can have anti-virus, anti-malware and firewalls available to protect your computer; but you should always have a backup of your data and you should always have System Restore on. Failing to use this utility could result in losing your data and computer down time.