The Best Antivirus Programs for Windows 7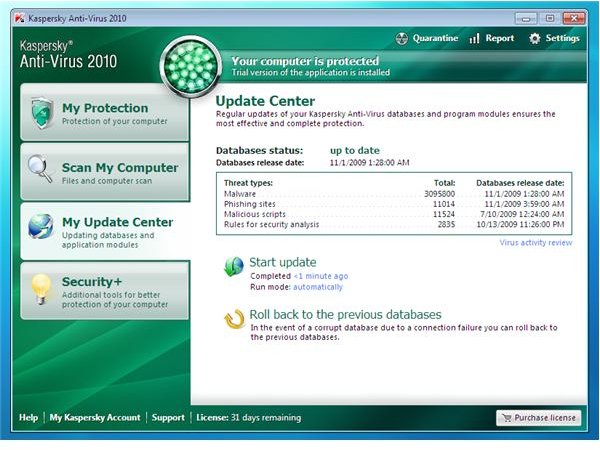 Introduction
We have been looking to find the best antivirus software for Windows7 everywhere, including, but not limited to the following products:
AhnLab V3 Internet Security
AntiVirus + AntiSpyware trendmicro.com
Antivirus - bitdefender.com
Antivirus Pro - pandasecurity.com
AppRanger
Ashampoo AntiVirus
a-squared
avast! Professional Edition
AVG Anti-Virus Free Edition
Avira AntiVir
BullGuard Internet Security
CA Anti-Virus
ESET NOD32 Antivirus
F-PROT Antivirus for Windows
G Data AntiVirus
K7 AntiVirus
Kaspersky Internet Security
Lavasoft
McAfee VirusScan Plus
Microsoft Security Essential
Windows Live OneCare
Norman Antivirus & Antispyware
Norton AntiVirus
Quick Heal AntiVirus
Rising Antivirus
Sophos Anti-Virus SBE
Spyware Doctor with AntiVirus - pctools.com
Spyware Terminator
TrustPort Antivirus
Verizon Internet Security Suite
VIPRE Antivirus + Antispyware
VirusBuster
Webroot AntiVirus with AntiSpyware
ZoneAlarm Antivirus
Our quest for the best antivirus software included reviewing relevant products from every official Microsoft Windows 7 Consumer Security Software Provider according to https://www.microsoft.com/windows/antivirus-partners/windows-7.aspx . Those Windows 7 Consumer Security Software Providers which don't have standalone antivirus software had their security suites being looked at, but by coincidence none of these Internet security suites' antivirus ratings were top.
Below here you find the top list including a summary of the anti-virus software in alphabetical order. All anti-virus software has a rating of very good or excellent denominated graphically. If you can't find a particular piece of software it could mean that it is not yet officially Windows 7 compatible, or that it did not qualify as very good or excellent.
The quoted prices are subject to change! The links to the official product pages can be found at the end of this article under Reference.
AVG Anti-Virus (4 out of 5)
AVG Anti-Virus Free Edition provides essential anti-virus and antispyware protection. The software also includes the Free AVG LinkScanner, discussed in Bright Hub's article Free AVG LinkScanner Review, to protect you from fraudulent sites.
Among other advantages AVG Anti-Virus (not Free) extends the AVG Free edition's basic anti-spyware and antivirus protection with anti-rootkit functionality as well as Webshield to safeguards your downloads. The AVG Anti-Virus license is $34.99 for a one year subscription which includes free support.
For about twenty dollars more you can obtain AVG Internet Security which extends AVG Anti-Virus and includes identity protection, anti-Spam features as well as an enhanced firewall for example.
Avira AntiVir (4 out of 5)
The new Avira AntiVir comes in three Windows 7 compatible editions personal premium and business. The personal edition providing basic AV functionality is free for home users. The premium edition including antiphising, an email scanner as well as, for instance WebGuard, can be tried one month for free and carries a price tag of €19.95. The Avira AntiVir version 9 Professional edition made for business purposes starts at €19.95 per anum.
BitDefender Antivirus (4 out of 5)
If you protect your computer with BitDefender Antivirus you are not only protected against malware but also safe from phishing sites and identity theft; Instant Messaging encryption is also included. The vendor claims that its latest high-detection rate AV software scans your PC twice as fast as previous versions using fewer resources. BitDefender only costs $29.95 for up to three PCs for an entire year.
The BitDefender Antivirus "Premium editions" BitDefender Internet Security and BitDefender Total Security include useful add-ons / features like a file vault to securely store personal files and data, a two-way firewall, parental control as we an automatic backup for example
CA Anti-Virus Plus Anti-Spyware (4 out of 5)
CA Anti-Virus Plus Anti-Spyware, from Computer Associates, protects your data and important files from virus and other malicious software thereby also preventing system slowdowns. Also included in CA's anti-virus software are parental control and an anti-Spam filter. Buying CA Anti-Virus Plus Anti-Spyware for $49.99 includes 2 GB online storage for safe backups, but we believe it would be definitively worth considering the Plus suite:
CA Internet Security Suite Plus which offers much more complete protection including, for instance, a firewall, anti-phishing as well as ID theft prevention for an additional twenty dollars a year.
Comodo Internet Security (5 out of 5)
Comodo AntiVirus is now part of Comodo Internet Security suite, which is still free and includes the award winning firewall. Please find the full Bright Hub review of Comodo Internet Security here and note that there is also a Pro edition which extends the antivirus and antispyware with Wi-Fi Security and 24/7 Live Security Expert support for example. Complete coverage for $39 a year.
ESET NOD32 Antivirus (4 out of 5)
ESET NOD32 Antivirus protects you from malware including viruses, spyware and Trojans for example. The software, for instance, includes self defense mechanisms, system tools, gamer mode and watches SSL-encrypted communication channels like HTTPS in real-time. ESET NOD32 Antivirus starts at $39.99 for one year of protection, multi-user and multi-year licensing discounts are available.
ESET Smart Security 4, which is CSA certified for Windows 7 and includes a personal firewall and Anti-Spam has a base price of $59.99.
F-PROT Antivirur (4 out of 5)
F-PROT's Antivirus for Windows is fast and provides easy-to-use protection against malware. The home edition is extremely competitively priced: 29$ for 5 home computers for one year! Please find all about it in our full-depth review F-PROT Antivirus for Windows.
There is no F-PROT Premium edition however. Therefore it is recommended using it in collaboration with free AVG Link Scanner mentioned above under the title AVG Anti-Virus.
McAfee VirusScan Plus (4 out of 5)
McAfee's latest award-winning VirusScan Plus provides state-of-the art antivirus and anti-spyware for your computer. The software protects your web sites visits with McAfee SiteAdvisor, and the integrated firewall is helpful for keeping hackers at bay. The one year subscription of McAfee essential VirusScan Plus costs 39.99$, free support for 30 days included.
Please note that the 3-User McAfee Internet Security license costs only ten dollars more, and extends McAfee VirusScan Plus with identity protection, parental controls and data backup. If you want to have McAfee protection including an onlinebackup then you should look at McAfee Total Protection.
G Data AntiVirus (4 out of 5)
G Data's latest antivirus software comprises virus, spyware and rootkit protection and contains self-learning fingerprinting mechanism. The software is said to be undetectable and makes use of application white listing, yet we fail to understand the benefit of the former. Also included in G Data AntiVirus are AntiPhising browser protection, safe email and secure chats for example. G Data AntiVirus can be purchased as download for $ 24.95, 1 PC, 1 year.
G Data Internet Security extends G Data AntiVirus with child-protection for +5$ base price.
Norton Antivirus (4 out of 5)
Norton Internet Security extends Norton Antivirus basic AV functionality (39$ a year / 1 PC) with a variety of use useful protection mechanism, and you can license 3 household PCs $69.99 for one year!
Norton 360™ is very similar to Norton Internet Security so make sure to check out the Compare Related Products tab in https://www.symantec.com/norton/antivirus to find all you want to know about Norton/Symantec antispam, parental controls, networking & identity protection, PC Tuneup as well as backup and restore all of which are premium features not present in Norton Antivirus.
Kaspersky Anti-Virus (5 out of 5)
Kaspersky Lab's latest antivirus software protects you from malicious software of any kind. Also included in the top-notch Kaspersky Anti-Virus is a virtual keyboard to protect you from password stealing programs, as well as new Kaspersky URL Advisor to warn you from bogus sites so that you can surf worry-free. Its intelligent virus scanning adapts its speed depending on the free computing resources, and ensure your IM and email communication are free of infections. Kaspersky Anti-Virus costs $59.95 for up to three PC's.
For about 20 $ more (base price) you can get the ultimate real-time protection Kaspersky Internet Security which extends Kaspersky 's Anti-Virus with parental control, application sand-boxing ("Kaspersky Safe Run"), Auto-Run Disable and much more.
Panda Antivirus Pro (4 out of 5)
Panda Antivirus Pro is a set-and-forget security software to protect your computer from viruses, Trojans, and rootkits. Also included are modules against online fraud and identity theft, a firewall as well as the new USB Vaccine to protect your USB sticks from being infested. The improved Panda Antivirus Pro starts at US $39.95 a year, 10 dollars more for two additional PCs.
Panda Antivirus Internet Security and Panda Global Protection take Panda Antivirus Pro protection further by safe Internet browsing and PC optimization.
Titanium: Trendmicro AntiVirus + AntiSpyware (4 out of 5)
Trendmicro AntiVirus + AntiSpyware, now called Titanium has been optimized for use with Windows 7 and provides essential protection against viruses and spyware. Trendmicro's latest AV engine is faster and smaller, and protection from unauthorized system alterations has also been improved. Trendmicro AntiVirus + AntiSpyware carries a price tag of $39.95.
Trendmicro Internet Security and Trendmicro Internet Security Pro extend Trendmicro AV with parental control, web and identify protection as well as online storage. If you are looking for total protection check them out.
VIPRE Antivirus + Antispyware (4 out of 5)
VIPRE Antivirus + Antispyware provides cutting-edge proactive malware protection without slowing your system down. The 1 year subscription is only $29.95, yet the software does not include phishing or identity theft protection. Thus, you should complement VIPRE with at least one link / URL scanner such as from AVG. The unlimited home site license VIPRE Antivirus + Antispyware carries a price tag of $49.95.
Webroot AntiVirus with Antispyware (4 out of 5)
Webroot AntiVirus with Antispyware is an award-winning synthesis of antivirus and antispyware providing three layers of protection against computer threats and intrusions. Webroot AntiVirus with Antispyware starts at $39.95, and is one of our Windows 7 compatible top picks featured in full-depth in Bright Hub's review linked above.
Webroot AntiVirus with Antispyware including, for instance, automatic offline and online backup plus a firewall is called Webroot Internet Security Essentials and is very attractively priced for up to three PCs.
ZoneAlarm Antivirus (4 out of 5)
ZoneAlarm Antivirus is a very good choice for protecting you and your PC against malicious software, bots, phishing sites etc using SmartDefense Service technology, and also keeps out hackers by an integrated two-way firewall. ZoneAlarm Antivirus sophisticated browser security includes website status plus advanced download protection. Last but not least does ZoneAlarm Antivirus provide Wireless network PC Protection. The antivirus program 1 year license costs as little as USD 29.95 for 3 PCs.
ZONEALARM Security Suite extends ZoneAlarm Antivirus with Parental Controls, Anti-Spam as well as free Credit Bureau Monitoring for +10$ currently.
Conclusion
IT security is always in a state of flux, new threats emerge daily and 100% security does not exist no matter which anti-virus product you choose. Therefore, taking backups regularly and storing them in a secure location is a recommended best practice, and try before you buy! BTW: Most Top Antivirus Software for Windows 7 also run on Windows Vista and Windows XP.
Please see our tops picks Top Ten Free Backup Programs for Windows 7. After reading that article you will be much happier than using Windows 7 integrated backup.
Reference
Product reference: Avira AntiVir
Official vendor product page: https://www.avira.com/en/for-home
Product reference: BitDefender
Official vendor product page: https://www.brighthub.com/link/link.aspx?u=http%3a%2f%2fwww.bitdefender.com%2fsolutions%2fantivirus.html&p=34468
Product reference: CA Anti-Virus Plus
Official vendor product page: https://shop.ca.com/ca/products/antivirus/antivirus_plus.asp
Product reference: Comodo Internet Security
Official vendor product page: https://www.comodo.com/home/internet-security/free-internet-security.php
Product reference: ESET NOD32
Official vendor product page: https://www.eset.com/us/home/nod32-antivirus
Product reference: F-PROT Antivirus
Product reference: G Data AntiVirus
https://www.gdatasoftware.com/products/private-user.html
Product reference: McAfee VirusScan Plus
https://home.mcafee.com/Store/PackageDetail.aspx?pkgid=276
Product reference: Norton Antivirus
https://us.norton.com/antivirus
Product reference: Kaspersky Anti-Virus
Official vendor product page: https://www.kaspersky.com/kaspersky_anti-virus
Product reference: Panda Antivirus Pro
https://www.pandasecurity.com/usa/homeusers/solutions/antivirus/
Product reference: Titanium
Official vendor product page: https://us.trendmicro.com/us/products/personal/antivirus-plus-anti-spyware/
Product reference: VIPRE Antivirus + Antispyware
Official vendor product page: https://www.vipreantivirus.com/Software/VIPRE-Antivirus/
Product reference: Webroot AntiVirus with Antispyware
Official vendor product page: https://www.webroot.com/En_US/consumer-products-antivirus.html
Product reference: ZoneAlarm Antivirus
Official vendor product page: https://www.zonealarm.com/security/en-us/zonealarm-antivirus-software.htm
Screenshot taken by the author