RollBack Rx Review: Windows System Recovery Software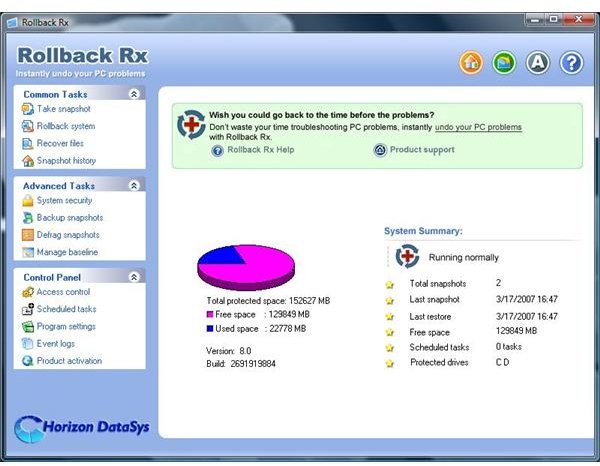 Introduction
RollBack Rx is a software utility designed to provide continuous data prote
ction by preventing loss of critical data. It also allows users to easily restore a computer to a time before certain events took place.
Daily Backup Solution (5 out of 5)
With RollBack Rx, users become less dependent on hard disks for carrying everyday backups or duplicate images. The way RollBack Rx backup system is different than conventional backup systems is that it lets the user to tak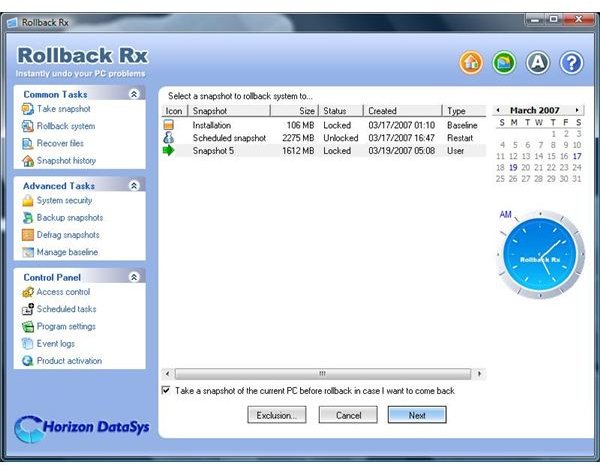 e backup snapshots continuously, while letting him do his work normally. Because it takes only around three seconds to take a snapshot and that the process uses minimum system resources, the user can run his programs, while enjoying the optimal performance. The program allows you to take unlimited number of snapshots and you can also roll-back and roll-forward from whatever snapshot.
WRollback Versus System Restore (5 out of 5)
Windows Restore feature allows you to restore Windows System files and some Program files to a previous data. On the other hand, RollBack Rx works at the disk's sector level, performing backup of your files bit-by-bit, which makes it possible to restore your data efficiently and without loosing out any thing.
Once the program is installed, it disables and replaces the Windows System Restore with its own robust recovery system. If you can not boot into Windows (even in Safe Mode) or the Windows recovery console also fails to help you, RollBack Rx will still be able to restore your full system. Prior to Windows boot-up, the user just have to press the Home key to access the RollBack Rx console where you can easily roll-back to any previously created snapshot. On the other hand, with Windows System Restore, it is not possible to restore your system incase Windows can not boot.
Software Uninstaller (5 out of 5)
RollBack Rx is not just a backup and restore system but also a great tester of security updates, software and more. RollBack scrutinizes the hard disk bit-by-bit before the user installs or updates software; this is to recognize how the disk is composed. In case you are not happy with the install, the program allows you to uninstall every portion of the software, with a few mouse clicks. Because RollBack Rx works at bit level, it guarantees quick and 100% removal of the software.
Protection Against common user errors And Day-zero Attack (5 out of 5)
When it comes to zero-day attack or accidental user errors, RollBack Rx is great at protecting the user and PC. RollBack Rx transparently takes snapshots on user specified schedule and if a malware attacks, the user can restore the system to the latest state before the crash.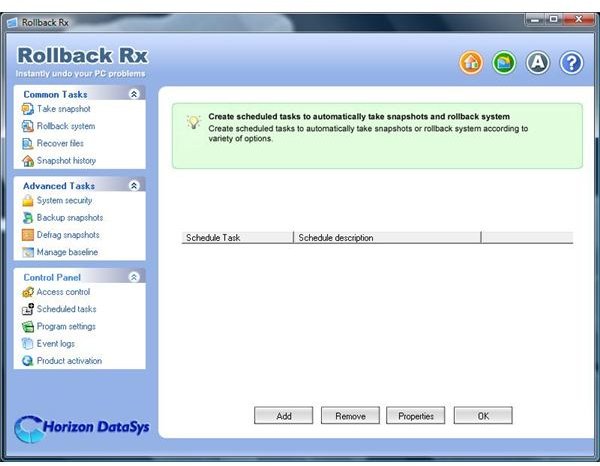 Summary
RollBack Rx is must-have PC troubleshooting, repairing software for homes and enterprises. IT support staff can achieve enormous time as well as money saving on maintaining their PCs.
RollBack Rx highlights:
• Works without impacting performance.
• Supports almost unlimited no. of snapshots.
• It only takes 0.1% of disk space.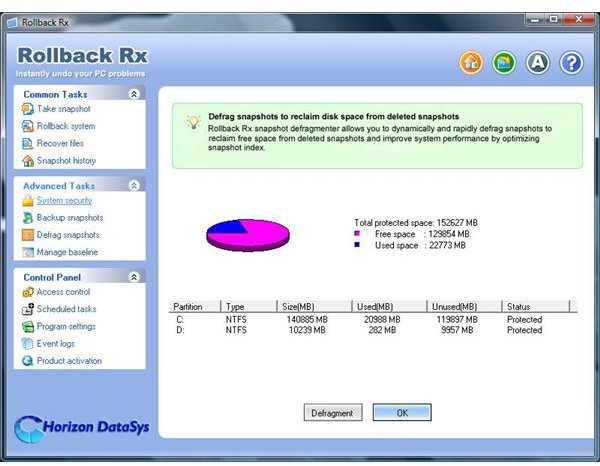 • Takes snapshot is less than three seconds and restores to any snapshot in seconds.
• Provides highly flexible interface - hide program interface from end users.
• It can be programmed to restore any snapshot automatically.
• Supports poly-boot systems.
• Provides multi-partition protection choice.
• Creates a complete system snapshot without restarting the system.
• Provides comprehensive program operation logging.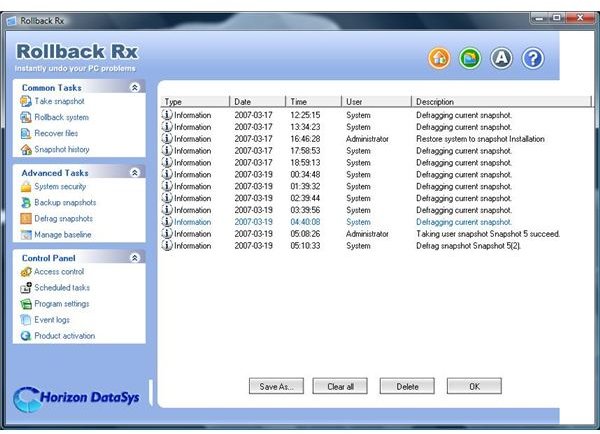 • Provides intelligent disk space monitoring, showing usage of each snapshot.
The Bottom Line
At $69, Rollback Rx is not cheap, but the rock-solid protection it provides makes it well worth the price. Highly recommended!