Stopping Spam For Free: The Best Free Anti-Spam Software for Windows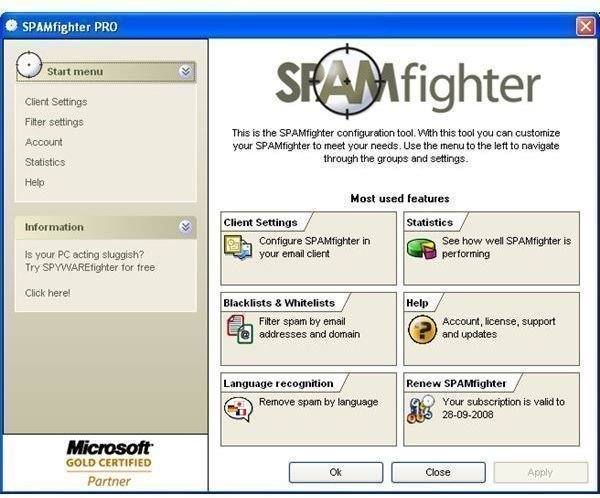 First things first…
In evaluating SPAM filters there are a few things the application needs to do:
The application needs to be easy to install, setup and use – preferably automatically recognizing your mail accounts.
The application needs to recognize a good percentage of SPAM out of the box - without the need for labor intensive training.
The application should give the option of using multiple methods of SPAM detection such as heuristics, DNSBL or Bayesian learning.
I ran my tests using a Google Gmail account with the following breakdown of messages in my account:
110 total messages
90 messages were SPAM
20 messages were legitimate (Non-SPAM)
The SPAM filters were installed and tested individually using a copy of the mail set described above and pulled via POP3 from my Gmail account.
SpamFighter
SPAMFighter makes the top 3 list due to its ease of use and nearly 100% SPAM detection rate without any manual tweaking. Here are some of the best features SPAMFighter offers:
Distributed network of "SPAM Fighters" helps to increase detection rate
Email client support – Microsoft Outlook, Outlook Express, Thunderbird – with Outlook Plug-ins
Automatically "learns" which senders are safe and accepted based on emails you don't mark as SPAM
Free edition supports use of multiple email accounts
Blacklists, Whitelists and Image filtering support
SPAMFighter has two editions – the free edition and a commercial version available for $29.00. The only reason SPAMFighter wasn't my number one choice was due to some of the limitations on the free edition.
Small footer is added to outgoing messages stating that you're using SpamFighter
The SpamFighter toolbar uses a small amount of space for Ads
White and Blacklists are limited to 100 addresses or domains
Personal "home" use only
Even with these limitations, I was pretty impressed with the easy to use GUI and great detection rate right out of the box. I'd still heartily recommend SPAMFighter.
Mailwasher Free
Mailwasher Pro is one of the better known commercial SPAM filters available. Mailwasher Free is their free edition. Mailwasher Free is at the top of the list due to its user friendly install and GUI. Mailwasher runs as a separate application and reads information from the remote server before downloading to your local client. Detection rates were decent – catching about 70% of the SPAM on the first try. After classifying about 30 messages, I re-ran the test on a second set of 100 messages and the success rate jumped to about 98%.
Some of the top features Mailwasher Free supports:
Bayesian database, black and white lists and other detection methods
Simple to use – "no frills" user interface makes getting up and running easy and quick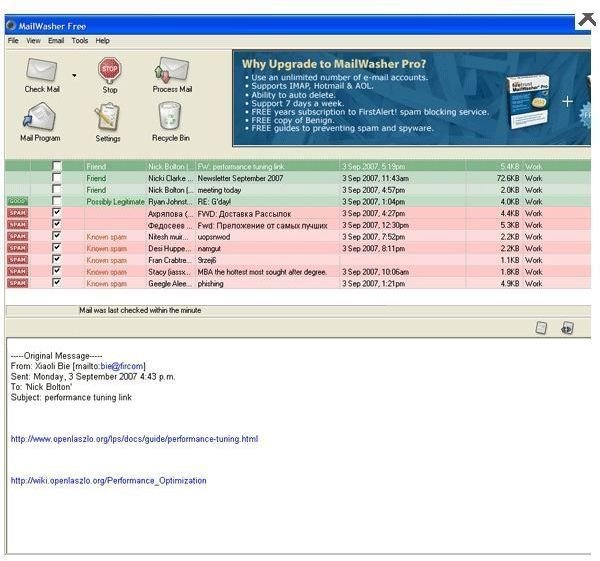 Like SPAMFighter, Mailwasher has two editions – one being free and the other a commercial product. The biggest limitation in the free edition is the limit on only being able to use one mail account.
The user friendliness and high detection rates make Mailwasher a top 3 pick.
Spamihilator
Spamihilator is a Freeware application that is easy to use, has a great detection rate and has a wealth of features that rivals many of the commercial SPAM filter products out there. In my testing, the detection rate right after install was about 95%. Not bad on the first try. Here are some of the top features:
DCC Network support – a network to help support detection of bulk unsolicited mail
Bayesian learning, black and white lists
3rd party Plug-in support – greatly enhances the product – some plugins such as the DCC and Image filter are must-haves!
Link filtering – looks at the links in a message testing for known SPAM sites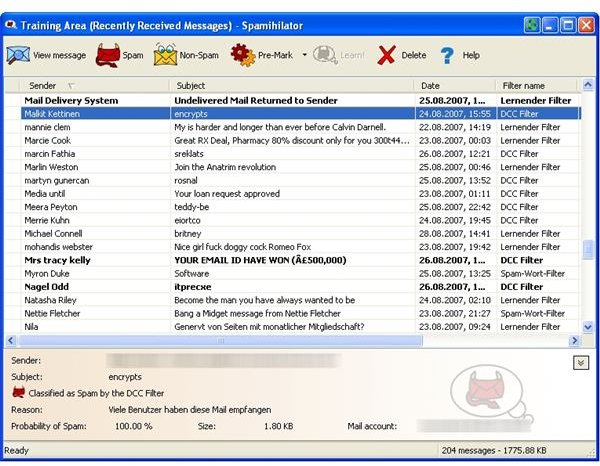 Spamihilator was easy to set up and install. It sits between your mail server and email client and inspects email as it is being downloaded to your mail client. A simple to use training area is available to further train the application for the Bayesian database.
Since Spamihilator is freeware, it doesn't suffer from the limitations of the other two products in this article. For this reason, the ease of use, great detection rate and plug-in support makes Spamihilator my top pick.
Looking for more articles like this?
Be sure to check out Top 3 Free File Recovery Programs, The Top Five Free Wireless Security Tools, The Top 5 Free Network Monitoring Tools, The Top 5 Free Port Scanners, The Top 5 Free Penetration Testing Tools, Top Ten Free Security Tests and The Top 7 Ways NOT to Secure Your Wireless Network.