Use ShuURL with Web Of Trust to view or create a short URL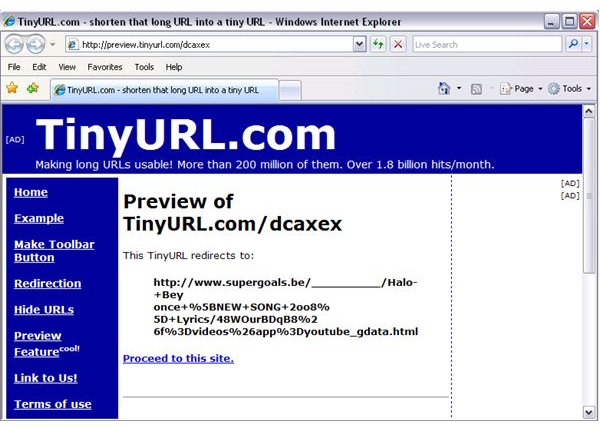 Why URL Redirection is Not Safe
In my previous article regarding the safety of URL Redirection service, I eplained why clicking shortened URLs is a risky business, even if a security add-on is installed in your browser. That is quite true if you use a URL Redirection service that does not use Web of Trust widget. The Web of Trust widget enables content providers or website owners to show the rating icon of any link within the page.
ShuURL came up with a great idea by adding WOT widget in ShuURL redirection service. Any URL shortened with ShuURL is automatically previewed and will display the security rating icon of WOT. If it's red or yellow, users will be able to decide to not to proceed to the link, thus prevents them to visiting malicious links.
The Problem with Preview
Some users believe that the preview feature of other URL Redirection service can keep them safe. That is true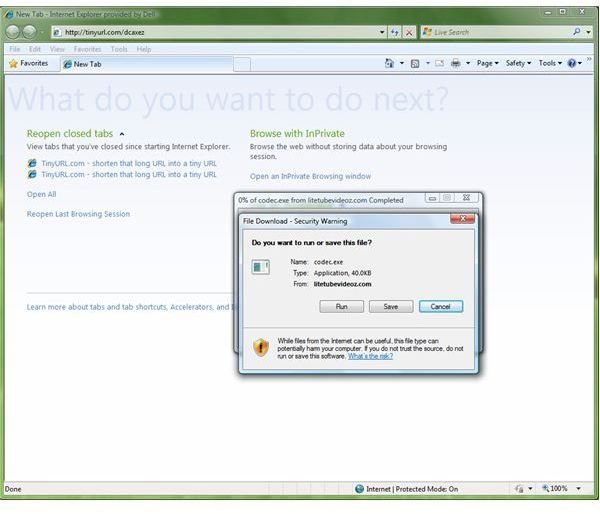 if the user is aware what is safe or trusted or not. How many times we've seen reports in forums that users fall into clicking or proceeding to a link because they thought it's safe? I'm sure you know the numbers but you don't have the exact number simply because there are many. Users need visible notice to alert them whether the site, link or file is safe.
The example screenshot at the left is a using TinyURL URL shortener that has preview feature. As you can see, the link is going to be redirected to a site that is not known to viewer or user whether it's safe or malicious. No security rating icon and the user or viewer of the page do not have no clue at all - whether they are safe if they will proceed. If a user will receive a non-preview link generated using TinyURL, they will end up downloading a malicious file (see the image at the right)
ShuURL with WOT is the Safest URL Redirection Service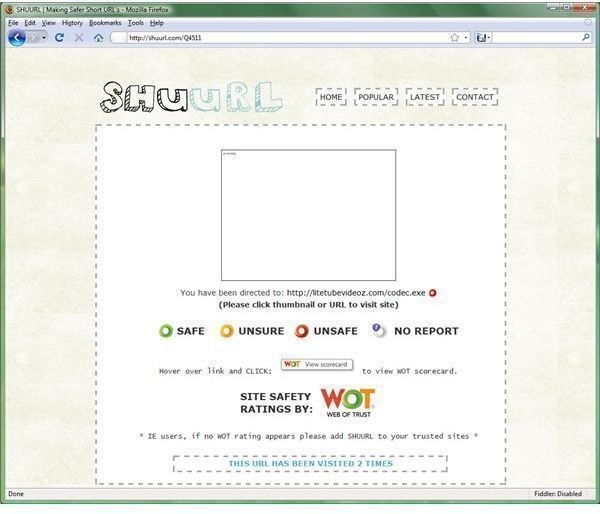 The image at the left is an example of shortened URL using ShuURL, which is going to redirect the user in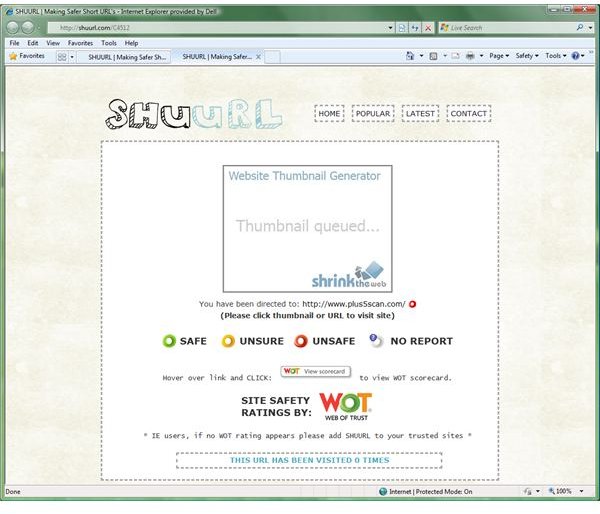 downloading a malware executable and the image at the right, is an example of shortened URL which will redirect users to visiting a fake AV website. The WOT rating system is visible to users of the shortened URL. This visible security rating icon will keep safe the hundreds or maybe thousands of users who will receive or click a shortened URL using ShuURL.
Thanks to the developer of ShuURL for adding Web of Trust in their URL Redirection service, ShuURL. I hope users of Twitters or any other user who likes to shorten a long URL for whatever reasons will use ShuURL. It will greatly help the community by preventing them in visiting a rogue and malicious sites. Let us also hope that all URL redirection service will follow the method by ShuURL. If they are serious to provide great and safe service, they will consider it. Rogue authors and online scammers are also taking advantage of URL Redirection services and even in Twitter! So let's use a service that will help others to be safe.
Web of Trust (WOT)
To find out more about WOT and how it can help you surf safely, read our article WOT: A Different Approach to Online Security.
More Web Security Tips
For more web security tips, see our articles Top Two Free Hosts File Managers, How to Control Cookies in Internet Explorer, How to Block Third Party Cookies in Internet Explorer 7, Using ZonedOut to Manage Internet Explorer Security Zones and Securing Your Web Browser's Homepage.