Best Free Sidebard Security Gadgets for Windows Vista

Introduction
Before presenting the Top 10 Sidebar Security Gadgets for Windows Vista let's quickly look at how to manage your Windows Vista Sidebar and your gadgets for those not-so-familiar with them. The Vista Sidebar is a vertical area of your desktop where you can place mini-programs, called gadgets, for common tasks or to keep you informed without opening a window or a full-fledged software interface. By default, the Windows Vista sidebar contains a slide-show viewer and a clock gadget for example.
Vista Sidebar with Gadgets
To configure the Windows Vista Sidebar go to Control Panel, Appearance and Personalization, or right-click the sidebar icon from the Quick Launch Bar and choose Properties. In the Windows Vista Sidebar click the "+" sign to open the Gadget Gallery where you can browse the list of gadgets on your computer. There, Double-click any gadget you want to be added to the sidebar, multiple instances included. To remove a gadget from the sidebar make a right-click on the item, then choose Close Gadget.
It is possible to put gadgets on the desktop by means of 'Detach from Sidebar' in the context menu along with drag and drop. To restore a gadget back onto the sidebar make a context-click and select 'Attach to Sidebar'. Arrange gadgets vertically in the sidebar by means of 'Move' in combination with the up and down keys of your keyboard. If you use the left and right keys of your keyboard together with 'Move' you will be in the position to detach gadgets, too.
If you want to add one of the Top 10 Sidebar Security Gadgets for Windows Vista click the link to download and install the very small executable. To uninstall a gadget from your Windows Vista computer right-click the icon in the Gadget Gallery and select uninstall; click Uninstall again to conclude.
Please find next the top 10 sidebar security gadgets for Windows Vista. You can place some gadgets on the desktop and keep the others attached to the Windows Vista Sidebar if you like.
Top Vista Sidebar Security Gadget # 1: AlertCon
AlertCon is a four-level Internet threat meter. The gadget is helpful to you in staying ahead of the threat, through warning of a worm epidemic for example. A click on the gadget sends your browser to the ISS site with current AlertCon details including a threat forecast and recommendations.
The Image below is courtesy of https://webapp.iss.net/gtoc/ind. Click the image to enlarge.

Top Vista Sidebar Security Gadget # 2: File Shredder
File Shredder uses a 3-pass DoD algorithm to permanently delete any files or folders when placed in the gadget's recycle bin. You can specify how many times the 5220.22-M(E) algorithm will run to make a file unrecoverable, and whether or not you would like to receive a shred confirmation and a final summary. In any case you have to confirm the irreversible deletion before File Shredder takes action.

Top Vista Sidebar Security Gadget # 3: DESlock+
The DESlock+ encryption gadget lets you encrypt and decrypt any file with a symmetric 256-bit AES key by means of drag and drop onto its icon. In contrast to Vista file and folder encryption does the DESlock+ gadget need one password per file you encrypt, and the same password is needed to decrypt the file. Thus, in absence of public key encryption, the DESlock+ gadget might be an alternative for securing documents and attachments to be sent by email.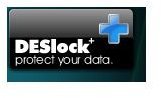 Top Vista Sidebar Security Gadget # 4: Password Generator
Password Generator creates fix-length or random size passwords containing numbers, symbols as well as lower and uppercase letters. The gadget gives you the option of selecting which kind of characters to include, and their specific weightings. Any password tested or produced by Password Generator is shown together with a strength-indicator and further details.

Top Vista Sidebar Security Gadget # 5: System Control
System Control is one of these many Vista gadgets which let you shutdown, lock and restart etc your Vista computer. However, System Control also has buttons to open Run, Command Prompt or Task Manager for example. Furthermore, the gadget includes a scheduler for its intrinsic actions, and in addition lets you choose themes, size, button colors and configure other items. Last, but not least: a click on the screensaver icon and your Vista computer is safe from prying eyes.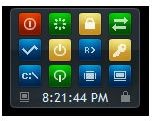 Top Vista Sidebar Security Gadget # 6: Execution Timer
Execution Timer is a sidebar gadget which lets you shutdown, reboot, and hibernate the computer or log-off from Vista at a specified date and time. On top of that can you schedule any program to start when you want and you are away from the keyboard, for instance your weekly malware scan which you can set to run at the time you expected the Vista update to have finished.
BTW: You are probably better of with System Control (Top Vista Sidebar Security Gadget # 5) unless you need Execution Timer's capability to schedule any program.

Top Vista Sidebar Security Gadget # 7: Remove Drive Safely
Remove Drive Safely automatically discovers drives in your Vista computer and allows to safely disconnect your USB sticks and removable hard disks with one click, a stark contrast to the 'Safely Remove Hardware' tool built-into Vista's Quick Launch bar. In the depiction below the fixed hard disks are not shown because the gadget's Hide the following drives-option has been enabled.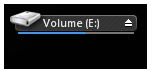 Top Vista Sidebar Security Gadget # 8: NetCam
If you have a networked surveillance cam (with an URL or IP address) from Digimerge, Axis, Panasonic or Lorex you are always in the picture with the NetCam gadget on your Vista sidebar where you, for instance, can peripherally watch your house's perimeter no matter how far away you are.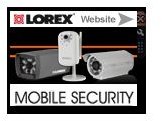 Toggle Hidden Files is a useful Vista sidebar gadget which switches the display of hidden files on and off - system wide. With Toggle Hidden Files you can, for instance, do your everyday tasks without looking at desktop.ini, and toggle the view when you need to make system or security changes to Vista.

Top Vista Sidebar Security Gadget # 10: Server Ping
Server Ping periodically checks a Web address such as your home page or the IP of your Web server for example. A red LED may indicate that your monitored site or server went down or does not respond due to a Denial of Service (DOS) attack for example. You can set the gadget to display the response time (TTL) or LED status of up to five DNS names or IP addresses. Clicks on the gadget launch Vista's PING, TRACERT and DNS lookup utilities for the monitored item under consideration.

Conclusion
All 10 top gagdets are free! However, Server Ping is limited to 5 URLs or IP addresses in the free version. So let me remind you that you can have multiple instances of the same Vista sidebar gadgets, which, by the way, are installed on a user basis and stored in C:\Users\\AppData\Local\Microsoft\Windows Sidebar\Gadgets
I hope you find the Top 10 Sidebar Security Gadgets for Windows Vista useful for maintaining and improving your privacy, computer security, and more ….
References
Author's own opinion
Screenshots by writer