The Best Free Online Virus Scanners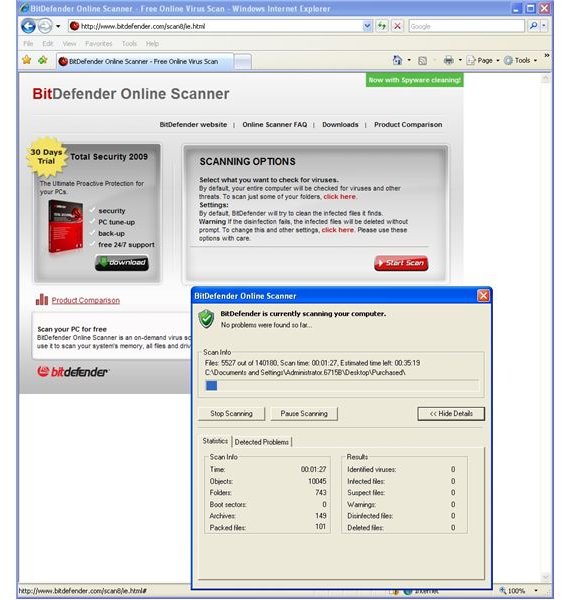 Online Virus Scanners
Narrowing the field of free online scanners down to just three isn't an easy task. Every major Anti-Malware vendor has a free online scanner and several smaller vendors are trying to offer this feature to bring more attention to their retail products. I picked my top three recommendations based on a few things –
Free – obviously it's got to be free!
Easy to use – if you are looking for an online virus scanner, chances are you already think you are infected. The last thing you need to do is to be required to jump through hoops to get the scanner working. The following scanners are simple to get running.
Features – In the last few years, anti-malware vendors have started to offer the ability not only to scan, but to actually remove infected files. Two of the three recommended scanners in this article offer this feature at the end of the scan. Other important features include some flexibility in what gets scanned and what to do when an infected file is found.
BitDefender Online Scanner
If you need an online virus or spyware scanner, I'd start with the BitDefender Online Scanner. It's ease of use and features make it stand out ahead of the competition.
BitDefender's biggest selling point is the fact it'll not only do a thorough scan, but it'll actually perform a cleanup of any infected files. Most free scanners will only perform a scan giving you the option to run a trial edition of their full product should you need a tool to help clean up.
BitDefender supports Internet Explorer 4.x+ and runs as an Active-X control. Unfortunately, this means Firefox, Chrome and Linux systems are unable to take advantage of this scanner.
When you go to the scanner page, you'll be prompted to accept the User License Agreement before downloading an Acitve-X control. After the control is installed, you'll be able to modify scan options that include the following:
Folder Selection (scan some or All directories)
Scan Boot Sector
Scan specific file types (All, Program Files or files with specified extensions)
Scan inside archive files including email archives
Actions options – report only, prompt user, disinfect or delete
Compared to other free scanners, this is a pretty comprehensive feature list.
Starting up the scanner took about five minutes on the first time as BitDefender stores the definition database on your computer during the scan. Starting subsequent scans were much quicker as only updates to the virus definitions since the last download were obtained.
The user interface is clean and simple – it gives you the status on number of files scanned, the total number of files to scan as well as estimated time left for the scan.
BitDefender's free online scanner gets my recommendation as the best free online virus and spyware scanner available.
Trend Micro HouseCall
Much like BitDefender, Trend Micro's HouseCall scanner allows you to scan and remove malware and spyware. As an added benefit, it will also alert you to any Operating System vulnerabilities your computer may have and can even do a port scan looking for additional vulnerabilities on your network. Another added benefit is that since HouseCall can run via Java applet or an Internet Explorer control, HouseCall supports Windows, Linux and Sun Solaris operating systems.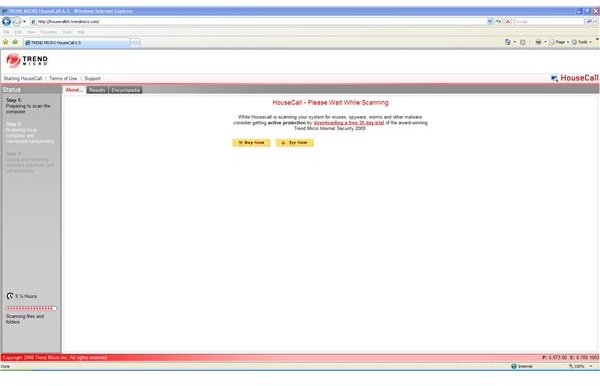 In addition to all the extra features HouseCall gives you compared to most free scanners, it does the best job holding your hand through the process. Help is always nearby and as a scan progresses, you can browse through the HouseCall interface and learn about some of the basics of computing security.
I did have a few issues getting the scanner to run on my XP computer, but after a reboot and reinstall of the Active X control, the scan went off without any further issues. I'm not sure if this was limited to my computer but while having issues with the HouseCall scan, I was able to successfully test the other two vendors in this article.
The other issue I have with HouseCall is that while the actual scan is progressing, the estimates are very vague – whereas the other two scanners tell you exactly what file is being scanned and a pretty accurate time estimate, HouseCall only lets you know "files" are being scanned and lists the remaining scan time to the nearest half hour.
With the number of unique features and quick start up time (only 1.5MB download), I'd still recommend HouseCall as a full featured and easy to use free online scanner.
https://housecall.trendmicro.com
Kaspersky Online Scanner
Kaspersky's Online Scanner offers a very thorough scan for viruses and of other types of mal and spyware – however, the scanner will only report its findings, not doing any cleanup in the process. A free trial of the Kaspersky retail product is available at the end of a scan if something malicious is found.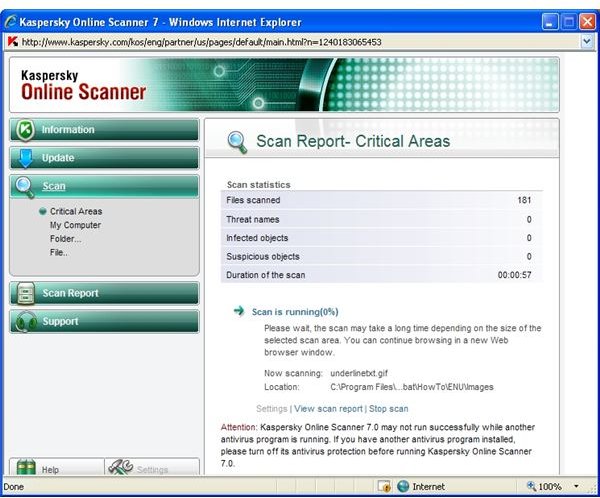 As in the Trend Micro HouseCall scanner, Kaspersky can run on Internet Explorer or Firefox (including Linux). The initial program applet is about 2MB, but the definition database is a whopping 53MB. Starting up the scanner took about ten minutes the first time due to the download size. Subsequent scans will start much quicker as only updates to the database are downloaded. One thing of note though was the number of records in the threat database – over 2 million.
Scan options are on par with the other scanners in this article - giving you the option of which locations to scan, whether to scan inside archives or mail archives and whether to scan for viruses only or viruses and spyware.
I found Kaspersky to be a high quality scanner that was easy to run, but with enough options to keep the power user happy. I'd still probably use one of the other two scanners first since they offer the ability to remove any malicious files, but with such a large threat database, you may consider running a Kaspersky scan if your computer is still acting up.
https://www.kaspersky.com/virusscanner
More Lists!
Be sure to read our other "Top" lists including Top Five Free Security Programs, Top Five Free Firewalls for Windows PCs, Debunking The Top 10 Security Myths, Top 10 Free Virus Removal Tools and Top Ten Sidebar Security Gadgets for Windows Vista.