The Best Free Secure Delete Tools for Windows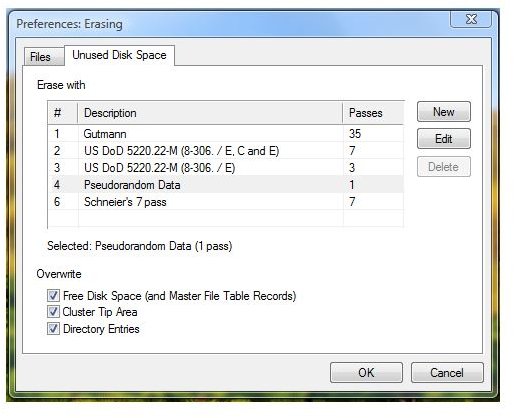 Why Wipe the Free Disk Space?
Deleting a file simply means you put the file in the recycle bin so you can restore it anytime you want (depending on the settings of your Recycle Bin). Deleting items from the recycle bin does not permanently delete the files but a user is not allowed only to restore the items. The deleted items is still somewhere on the hard-drive.
Shredding a file is not the same as normal deletion because shredding will not only delete the file but will securely delete the files by overwriting the file multiple times. Whether you shred or delete only, the deleted files are still available in the hard-disk. It can be located and retrieve using proper tools which means the privacy of any user can be at risk. It can be difficult to retrieve but it can be located and might give anyone an idea what you've normally or securely deleted. Think about tearing a photograph and you find the pieces then stick them up and you will likely know who or what is on the shredded photograph!
To help protect our privacy, it is important to shred (secure delete) together with wiping the free disk space. Disk wiping does not reformat your hard-drive but will overwrite the free space on the disk multiple times so no one or no tools can easily locate and retrieve any content that you've deleted. There's no 100% tool to attain complete privacy but shredding and disk space wiping is better than simple and secure deletion process in any system.
Top Two Free Tools to Shred Files and Wipe Free Disk Space
There are good paid privacy programs that can securely delete and wipe the free disk space e.g. SecureDelete in
Undelete 2009, Privacy Eraser, Webroot Window Washer, Drive Cleanser in Acronis True Image but there are users who prefer to use free tools in wiping disk space. Below are the two free utilities that include wiping of free disk space:
CCleaner – this popular tool will not only clean-up for temporary files in Windows but there is an option to securely delete (using many passes) the files and to wipe the free disk space . It's also portable and recommended in several community forums.
Eraser – another free tool to remove sensitive data by shredding and wiping the free disk space in Windows
Note that at the time of this writing the free tools to clean-up the system such as System Cleaner by Comodo, FCleaner and ATF-Cleaner do not have the option to wipe the free disk space. Also, the File Shredder in Spybot - Search & Destroy does not wipe the free disk space.
Windows and other operating systems have built-in disk cleanup but it is lacking the features of overwriting the deleted and free disk space.
Tips: Schedule a system defrag after the secure deletion and wiping the free disk space. This will make your clean-up more effective in addition to keeping your hard-drive healthy.