Manage Your Hosts File Using a Free Hosts File Manager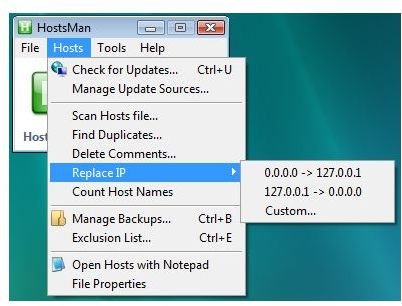 What is a HOSTS file and How to Manage Your Hosts File
A Hosts file is included by default in Windows to help administrators in mapping hosts names to IP addresses. Many malware and rogue creators took advantage of the unprotected and unmonitored Hosts file in Windows and other operating system by hijacking the default Hosts file by directing the user to malicious IP addresses. As additional protection many security vendors and users are protecting the hosts file by monitoring or using it to block bad sites. Many of us in the security forums are using a Hosts file created by trusted authors and we also customized our Hosts file by adding our own entry. We often update or merge the hosts file with trusted Hosts authors. I'm glad there are software authors helping us in managing the hosts file in Windows.
Managing Hosts file is never a problem if we will use a Hosts file manager to update, merge, check the integrity of the hosts file, backup existing hosts file prior updating, removing duplicate hosts entry, enable or disable the hosts file, write-protect the hosts file from being written or hijack by malware or fake applications, add/delete entries in a host file and to have our own custom, exclusion or white list.
We don't simply search and download any software that might lead us to use rogue software and this is why we have articles on what are the top programs to use because it has been tested by trusted people in security forums. Below are the Top Two Hosts File Manager and some others that you can choose from.
HostsMan
HostsMan is available to download using non-installer and installer versions and can be use in earlier editions of Windows and Vista. Users of Vista operating system need manually run the program as administrator to be able to manage the Hosts file in Windows. HostsMan is not only a Hosts file manager but also a Hosts file editor and HostsServer that will allow a user to replace any images (ads) using your own image or no image at all, to speed-up browsing the internet.
Below are some of the functions in HostsMan:
Import and Export Hosts file – there's an option to merge to current hosts file or another hosts file
Duplicates can be deleted automatically during hosts file import
Enable or Disable the Hosts file
Update the Hosts file by connecting to Hosts file authors like hpHosts, MVPS Hosts and Peter Lowe's AdServers list
Scan the hosts file for any errors or possible hijacks
Manually search for duplicates
Remove comments in the hosts file – if you are using more than one Hosts file or you have your own custom hostsfile in addition to other hosts file, it is useful to remove the comments
Replace the IP address – the default IP address in use by hosts file is the localhost 127.0.0.1. There are other localhost IP addresses such as 0.0.0.0. HostsMan also allow you to customize the IP address which is not recommended to use if you have no idea what you are doing
Count the Hosts name – this is automatically done by HostsMan during import but you can also ask it to count again
Backup Manager - Backup and restore the hosts file and create encrypted copy of the hosts file. You can also delete or preview the content of any backup items
DNS service status check – if you are using large hosts file and experiencing slow in browsing, disabling the DNS service will fix the issue. No need to disable this service if you are not seeing the said problem
Resolve hosts name in the hosts file
Flush DNS cache – this is similar to running the ipconfig /flushdns using the command utility in Windows
Exclusion List – this is a neat feature in HostsMan so you do not need to delete over and over again any domain that you trust or prefer to not be blocked.
HostsXpert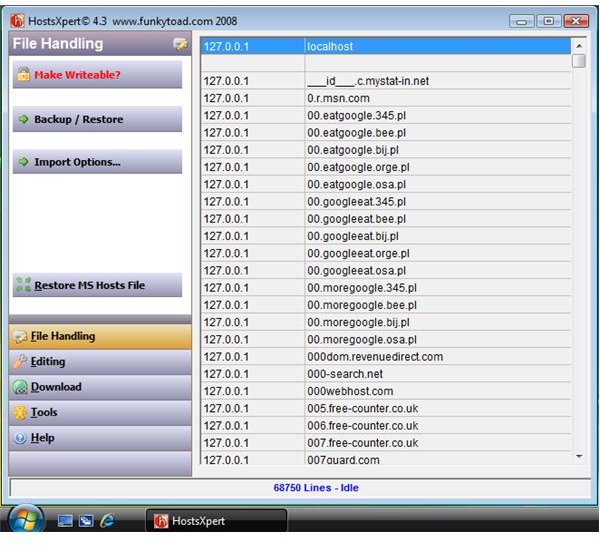 The author of ZonedOut is also the creator of HostsXpert. HostsXpert supports Windows Vista and earlier edition of Windows. There is no need to install HostsXpert for it is only available as standalone (no installer) program. HostsXpert can protect the copy of your Hosts file by making it as "Read only". This is an important feature in Hosts File Manager so no malware can modify the Hosts file by directing users to malicious sites and blocked access to security vendor's software or even Microsoft's Windows Update website.
HostsXpert do not have HostsServer like what HostsMan have but you can use Homer or Homer Pro which is available also from the author of HostsXpert.
HostsXpert have other features such as:
Backup and Restore the hosts file
Quick restoring the default Windows Hosts file
Replace, merge or append the hosts file
Add or delete entries in the hosts file
Toggle comment
Sort the hosts' entry to alphabetical order – this will delete the comments in the hosts file
Copy single and all entries in a clipboard
Swap the localhost
Check the status of the DNS service in Windows
Search entry in the hosts file
Memopad – it's the built-in notepad in HostsXpert allowing users to write directly in the hosts file
Whitelist manager – add or remove entry to whitelist so you don't need to manually delete a domain in the hosts file each update
Other Hosts File Managers
There are other Hosts file managers to choose from but I suggest using any of these if your operating system is supported and if the Hosts file manager is not too old program:
Some anti-malware scanners is also offering tools to manage the hosts file in Windows in addition to protecting it. Example: Ad-Aware's Hosts file editor, the paid edition of A-squared Anti-Malware Surf Protection.
More Web Security Tips!
For more web security tips, see our articles How to Control Cookies in Internet Explorer, How to Block Third Party Cookies in Internet Explorer 7, Using ZonedOut to Manage Internet Explorer Security Zones and Securing Your Web Browser's Homepage.