How to Disable Windows Vista Security Alerts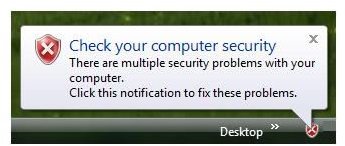 Getting Started
Although there are valid reasons for disabling these security alerts, you should be sure to have proper security measures in place at all times – a firewall, antivirus\malware and the latest Microsoft Security updates.
Refer to these articles for more information on properly securing your computer:
The first step you'll need to do is open the Vista Security Center.
You can do this by clicking on the notification icon as shown in the figure above. If this icon is not present, you can get to the Security Center by going to Start–>Control Panel–>Security–>Security Center.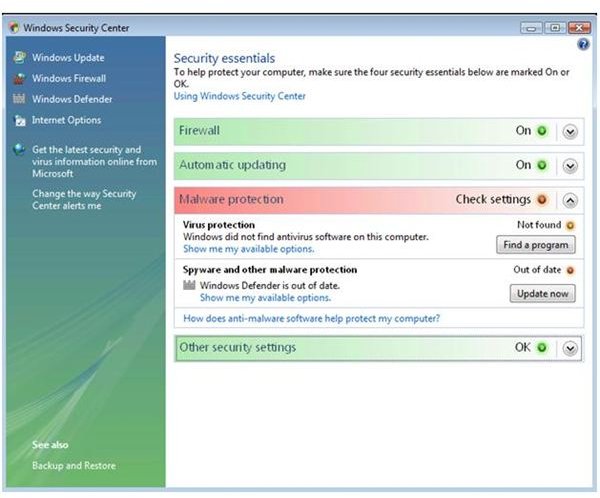 As you can see from the second figure, Windows Vista does not recognize my Anti-Virus application. I now have a few options depending on how I want Vista to notify me of these types of security situations.
I can tell Windows Vista that I have my own Antivirus installed and it should not monitor for Antivirus applications, or I can tell the security center to not notify me for any security check alerts.
We will cover each of these options in the next few sections.
Disabling Alerts for a Single Category
In this example, will leave all alerts on except for the Antivirus since I have my own antivirus product installed that Vista does not recognize. This is probably the best option as the Security Center will still notify you if your Automatic Updates or Firewall settings become a security risk.
Click on the "Show me my available options" link under the Malware Protection heading.
You will be presented with two options. Since I have Antivirus installed, I will select the first option – "I have an antivirus program that I'll monitor myself".
After this, the Security center will state the fact you'll be monitoring your own antivirus program. If you ever choose to install a different application, you can have Vista attempt to monitor it again by clicking on the "Monitor Now" button.
Disabling All Security Center Alerts
In this example, we will disable all Vista security alerts. Keep in mind that you should still ensure your computer is protected from security threats!
If you haven't already, go to the Security Center.
Click on the "Change the way Security Center alerts me" link on the left hand side of the Security Center window.
In the dialog box that opens, you'll notice you have three options – Leave the notifications on, Don't display alerts, but still display the alert icon in the task bar, or Turn off all alerts.
In this example, we'll click the "Don't notify me and don't display the icon" link. Vista will no longer display the Security Alert icon in the task bar and will not display the alert "balloons" as show in the first figure.
If you decide you wish to re-enable alerts, come back to the security center, click on the "Change the way Security Center alerts me" link and choose the option to enable alerts.