Norton Antivirus 2009 versus Norton Internet Security 2009 versus Norton 360: Part 1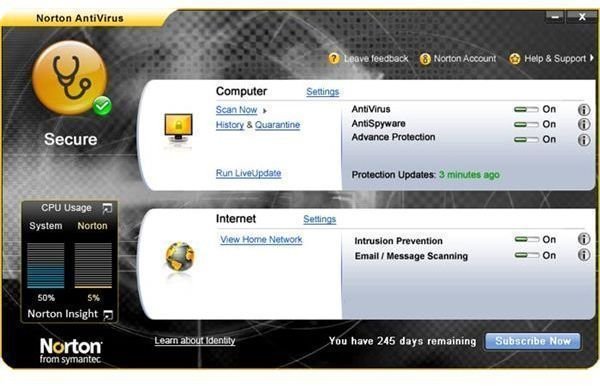 Introduction
I sometimes look back and remember the good old years where we had viruses that formatted our hard disks, do weird things with our computers, freeze our systems … Times have changed and we had Trojans, which enabled our computers to be controlled by a total stranger. Then came the keyloggers that recorded every keystroke of ours and send it to a bad guy. The spywares were also arrived at this time that spied on every activity on our computer. Now is the time that we have to fight all these.
That's the reason every sane computer user is equipped by an antivirus, antimalware and a firewall protection. Without all these and an updated operating system, be sure that your computer will not live long enough clean.
With all these in mind, we will look at the most famous and possibly the oldest company that works in malware protection field: Symantec's Norton. As I go back 15 years, I still recall memories that we have installed Norton Antivirus and Norton Utilities from floppy disks. Now we have Antivirus, but the online protection brought Internet Security and 360.
Norton Antivirus 2009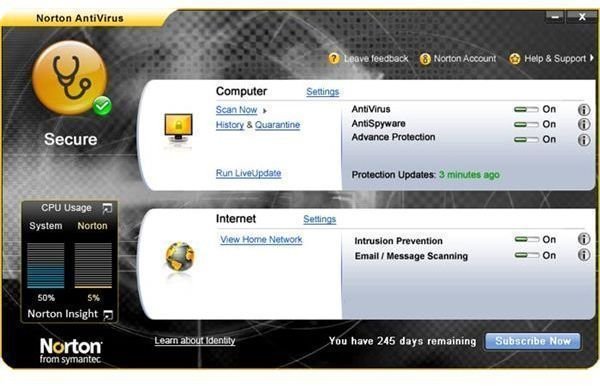 Norton Antivirus can be said the most basic protection for your PC. It offers a total antivirus, antispyware, bot, Trojan, worm and rootkit solution. In addition to this core protection, the program works continuously in the background and stops your web browser if you try to open a malicious website. As a solid back end, it checks the updates every 5 to 15 minutes (called pulse updates) to ensure that you receive the latest downloads before the "disease" had spread.
Norton Antivirus costs USD 34.99 for one year or USD 74.99 for two years and can be installed on one household computer only.
Read Bright Hub's review of this product: Norton AntiVirus 2009: Leaner, Meaner, Faster.
Norton Internet Security 2009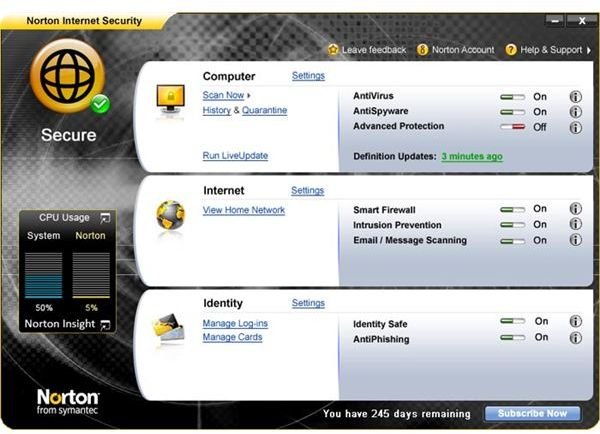 Norton Internet Security builds on top of Antivirus 2009's features with blocking phishing websites, a secure place to log your form information (keeping your data for web forms, logins and passwords). In addition, it protects your home network and secures your computer when you want to connect to public networks.
The updates are checked and downloaded every 5 to 15 minutes from the Internet as in Antivirus 2009.
Norton Antivirus 2009 is priced USD 59.99 for one year or USD 114.99 for two years and can be installed on three household computers.
Bright Hub's comprehensive review of Norton Internet Security can be read here.
Norton 360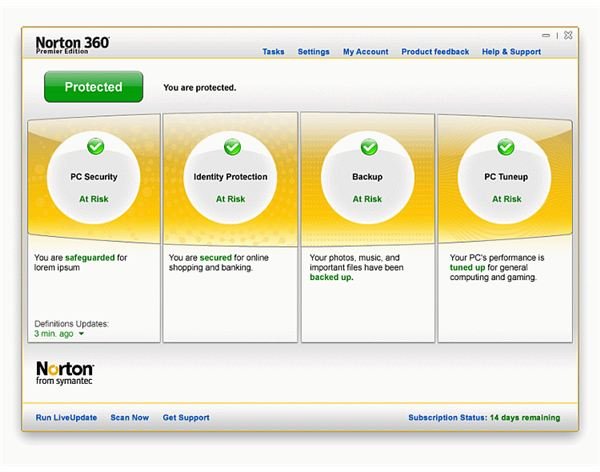 Norton 360 has all the features of Antivirus and Internet Security except the pulse updates and intelligent scan which is technology developed by Symantec to reduce scan times. But Norton 360 packs two important features inside: backing up & restoring and computer tuning.
Whatever I do to emphasize the importance of regular back ups, many users will ignore it until they meet the inevitable end: data loss. It is a very good idea to have a backing up and restoring solution together with your anti malware protection. Thank you Symantec.
For computer tuning, if you are a do-it-yourself person, you have free utilities available on the Internet. However, I totally respect Symantec's experience on this subject and they have put a very nice work inside the Norton 360. Thank you again.
As of this writing, Norton 360 is priced USD 79.99 for one year or USD 134.99 for two years and can be installed on three household computers.
Bright Hub's review of Norton 360 can be read here.
Conclusion
The ultimate factor in deciding is the budget constraint that you have. If you can go for an overall solution, I definitely recommend you to go with Norton 360, which is an excellent program. If you are a little tight on your budget, you can go for Internet Security and install a free backup & restore and a tuning software. Finally, if you can not afford that much, you can go for Norton Antivirus coupled with free alternatives.
In any case, Symantec's Norton products almost always top the anti-malware protection suites. Until now, it was most criticized for its resource-hungry applications, but they rectified the situation with the 2009 releases. In my tests I did not see resource usage of more than 10% during high loads.
Norton or McAfee?
Can't decide whether to go with Norton or McAfee? Read our head-to-head comparision of Norton Internet Security 2009 and McAfee Internet security 2009 for some help!