Analyze End User License Agreement using EULAlyzer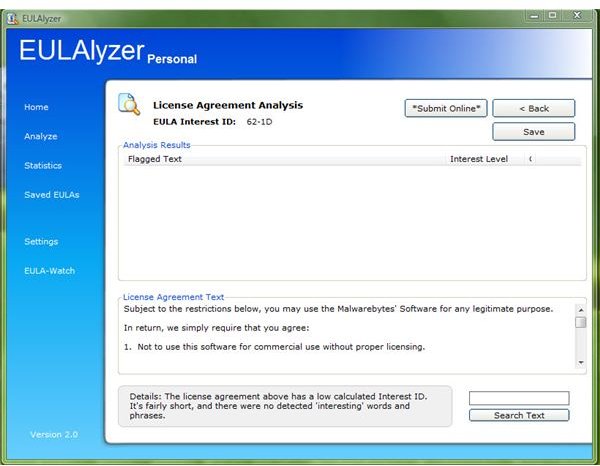 The Good and Bad EULA
It should be one of the security and privacy policies by any business or users to review the End User License Agreement (EULA) before accepting a service or program. It should be analyze for any concern and bring it to the attention of the vendor or find alternative, if you cannot agree with the EULA. Some vendors have rather long EULA or they keep changing the content to avoid any legal issues and this is a concern that privacy conscious users would like to watch.
By reading the End User License Agreement, you will not only find out if there's privacy issue but also, learn whether there's third party in the software that you plan to install, if the information will be shared, if the product is bundled with a rogue or unwanted component, program or services,
Javacool Software, the maker of the popular SpywareBlaster is providing a free EULAlyzer Personal, for personal use and the paid one which is the Pro edition of EULAlyzer for business use or if you want to enjoy the features in the paid edition. The EULAlyzer Pro edition includes EULA-Watch, automatic update notification and technical support.
Whenever we see a EULA, we should not simply accept it. Review it but if you are lazy to review a rather long EULA, you can use EULAlyzer to analyze the content and it will show you interesting lines in the EULA that you should know:
about the third party (if any services will have access to your information)
about the license information (if you can install the program in more than 1 PC or not)
about privacy, data collection (if your private information is shared or not)
about the bundled software (if any and you need to know what software is bundled. Some bundles with rogue, spyware or adware makers!)
about advertising (if the product will show ads)
about another EULA (if the EULA you are going to accept include yet another EULA!)
Example of Good and Bad EULA
The screenshot at the left is what EULAlyzer says about the EULA of Malwarebytes Anti-malware program. It's short and it did not detect any interesting words. This means, you are sure that you are not only getting good software but also, no need to worry on any of the above items that EULAlyzer will try to find. This means you have a good EULA. An example of bad EULA is the sample at the right.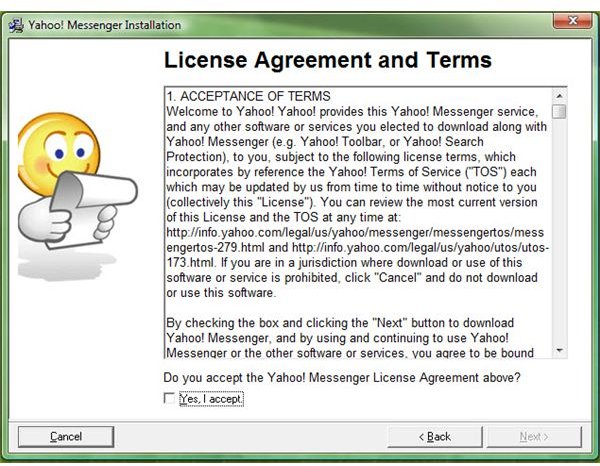 I actually do not have to read it to know if it's somewhat bad EULA because it is missing the "No" accept button. A user cannot disagree with the EULA? We can of course, cancel the installation if you do not want to agree. I allow EULAlyzer to analyze Yahoo! Messenger's EULA and the result is the EULA has healthy read but has an elevated calculated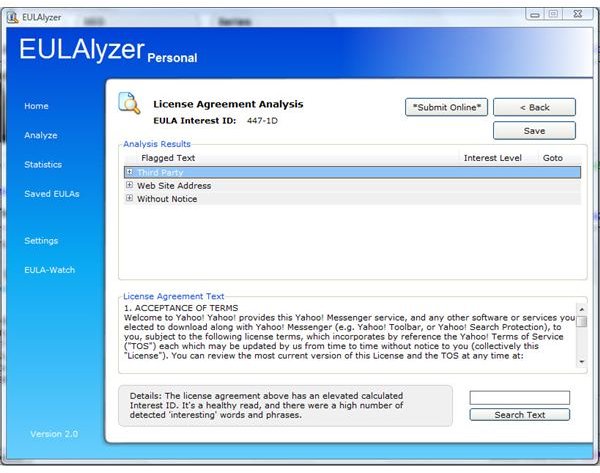 . Interest ID is based in the above items that EULAlyzer will analyze. There'll be score whenever EULAlyzer finds interesting lines in the EULA and the higher score it is, the more the particular EULA needs attention by a user before accepting or installing or buying.
An End User License Agreement often contains your rights or permission to use the product or service. Have you ever thought if the program that you plan to buy can be installed in more than 1 machine? If so, you should read the EULA. An example is Microsoft Office, the EULA has information whether you can install Office in more than 1 machine and yes, you can as long as one is the portable device while the first installation is the licensed device. Other software specifically mentions on their EULA whether you can install the product to more than one computer. I think it's good to hunt for such EULAs so we can save money in purchasing another license!
EULAlyzer has other features:
You can

you've seen (this is useful if you want to have it handy and if ever there is a change in the EULA, you should be able to compare). EULAlyzer will not save duplicate EULA. It will notify you if the EULA that you are trying to save exists in your saved EULAs already. Saving a copy of the EULA is easy, you can do it manually or configure EULAlyzer to automatically save scanned or analyzed EULA.

Keep

that EULAlyzer have analyzed. This will show how many EULA's you've seen has low, fairly low, elevated, high or very high Interest-ID.

EULA Research Center - like some malware scanner vendors or security centers, EULAlyzer has research center where you can submit an End User License Agreement for further analysis. Submitting is optional and by submitting, you will allow the author of EULAlyzer to know if their program has detected properly or missed any interesting items in the EULA.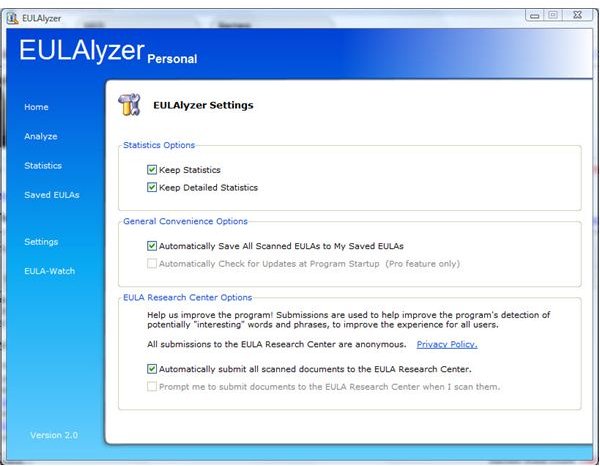 EULAlyzer settings are quite easy to handle. EULAlyzer let you copy and paste or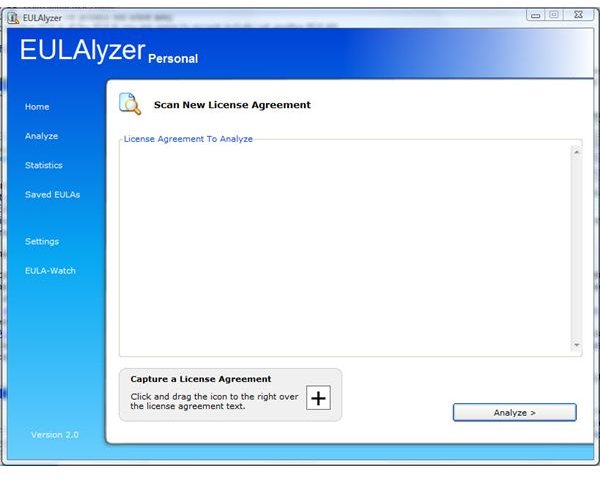 the opened window that has EULA. You can configure the EULAlyzer Personal to automatically save or submit the EULA or both.
You can also use EULAlyzer to copy and paste any Terms of Use, Privacy Policy that websites or forums that you frequently visit. Worth to do this if the website will require you to register an account by providing your name, email address, phone and other private information. Whether the service is free or with subscription, reading the EULA or analyzing what you will sign-up for should be one of the requirement and policy in any home office, home users.
Add EULAlyzer in your system and take your time in reading an End User License Agreement before surprising yourself when you allow the installation of software or after submitting your private information to any websites. If you want to EULAlyzer to automatically detect most EULA while you are installing a program, you should get the EULAlyzer Pro because it has EULA-Watch that will display the result if the product has high or very high, Interest-ID and this will help you decide whether to install the program or look for alternative.