The Lowdown on Security in Internet Explorer 8 (IE8)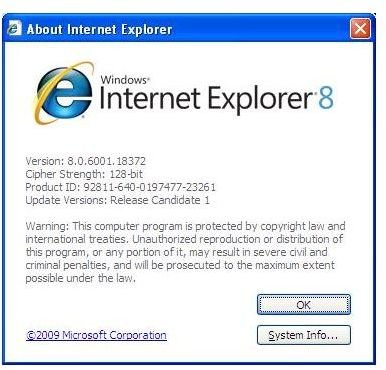 The Latest Release of Internet Explorer: IE8
Internet Explorer 8 Release Candidate 1 (RC 1) is available from Microsoft's IE website. Internet Explorer 8 is the newest version of Internet Explorer and is loaded with features. Release Cadidate 1 or RC1 means the software is ready for users to use and try. Although there may be compatibility issues, the final release is scheduled to be released after testing and error reports have been logged. It is during this testing phase that security and 'bug' related issues are usually discovered.
For several years, Microsoft has been on top of their game in protecting end users. Although the count continually grows where vulnerabilities are reported by or to Microsoft; these reports ensure users will be secure as long as patches and service packs are loaded.
Internet Explorer 8 Screenshot
New Security Settings in Internet Explorer 8
Some of the security features include items such as automatic crash recovery. Automatic Crash Recovery insures tabs are isolated during an event that may cause a crash, this advanced browser treats these tabs independently and recovers the user's last session.
With Data Execution Prevention (DEP), this feature added to Windows Vista Service Pack 1 (Sure to be in Windows 7), adds a security enhancement that helps to prevent viruses and other malicious threats from infecting your computer. With other browsers and former versions, these malicious threats could load into memory and infect your computer.
IE8 also adds a colored address bar that allows the end user to identify possible malicious sites. This coloring of the address bar changes from white, red or green depending on the type of site. Red sites can identify a known phishing site or non secure site. This domain highlighting alerts the user on the type of site they are entering. With cross site scripting, Microsoft's protection against this type of code alerts the user and offers a return to home button for safety. Microsoft's SmartScreen filter insures your data, privacy and identity is protected.
With clickjacking making headlines throughout the year, clickjacking allowed malicious attackers to put malicious invisible links into websites. End users could inadvertently, click on a hidden link that causes harmful code to be delivered to the end user. While clickjacking relies on protection being delivered from webmasters as well as browsers in IE8, the tags in the code is still questionable and many experts recommend other browsers to protect against this threat.
IE 8 Screen Shots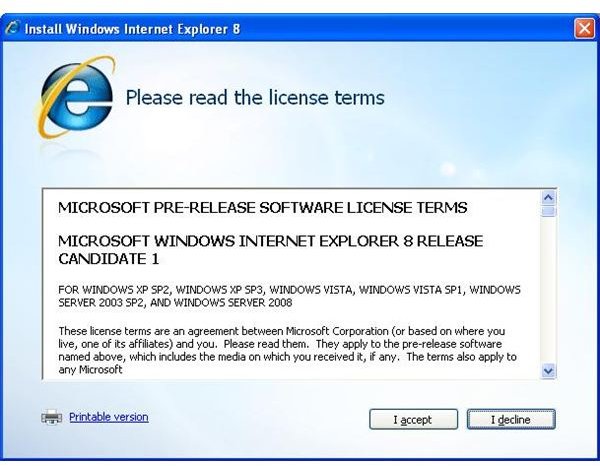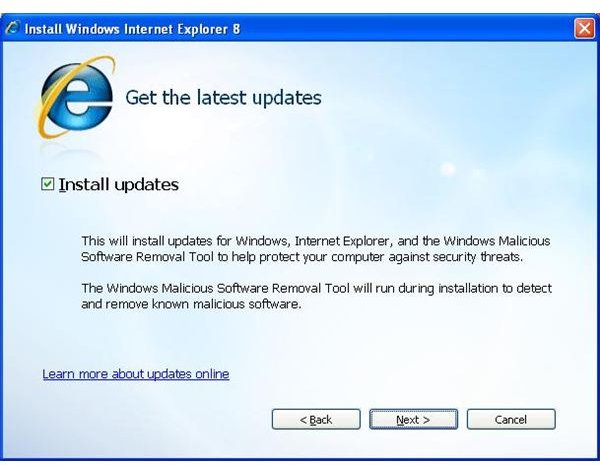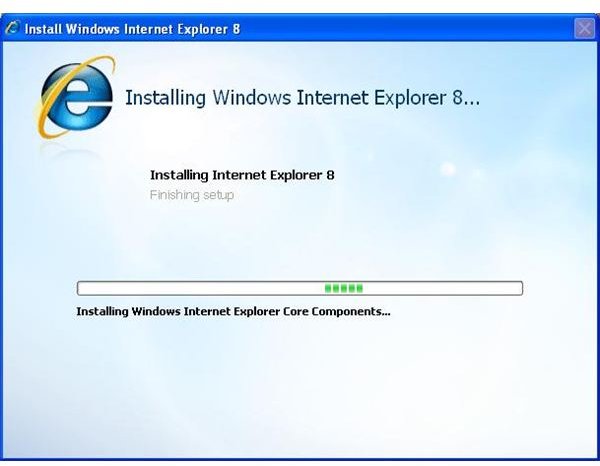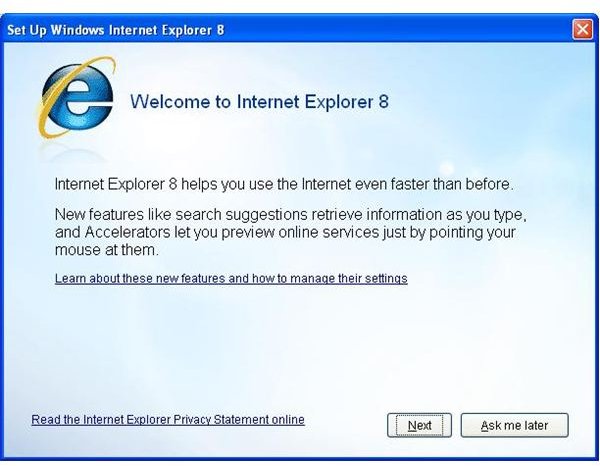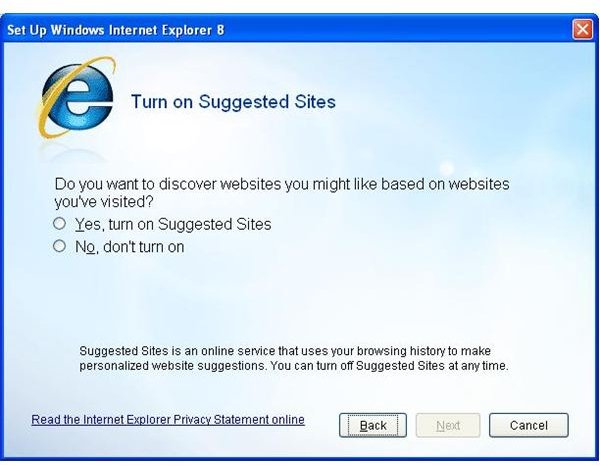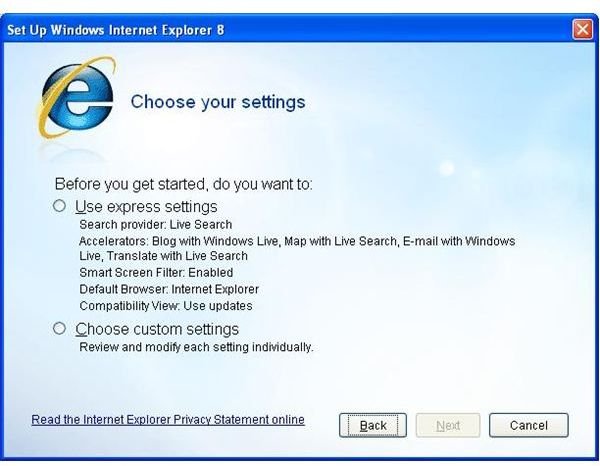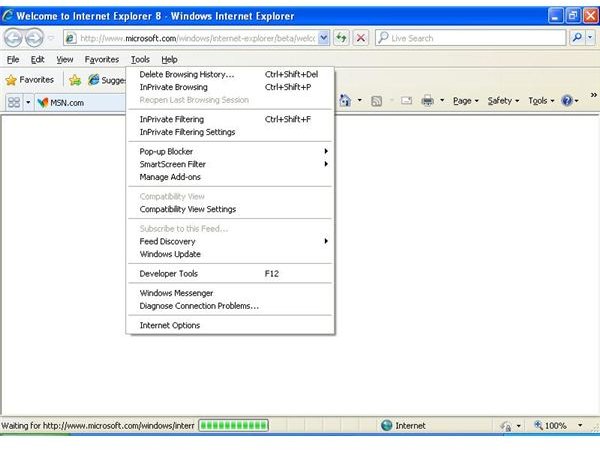 InPrivate Browsing and Filtering to Prevent Tracking
Internet Explorer 8 (IE8) offers advanced InPrivate browsing that offers users the option of protecting their online information from other users of the same computer. This form of browsing makes cookies, passwords, form data and usernames private for the individual user. With Microsoft's safety button or the ability to start inPrivate browsing at any time, this feature is excellent when filling out information that is not only private but an asset to individuals. Many times, users leave sites that have data and information that have set data (cookies and other information) on their computer. InPrivate browsing protects these users. If parental controls are enabled, this option cannot be enabled for minor users.
With IE8, InPrivate Filtering prevents servers (cookies) from tracking a individual's surfing habits.
These extra features place Internet Explorer in a safe browser category.
Conclusion of IE8's Security Features
Microsoft has made great security advancements with Internet Explorer 8 with ACR, Anti-Phishing, DEP, cross-site scripting (XSS), screen filtering and domain highlighting. Internet Explorer is often attacked maliciously and vulnerabilities are discovered over time. Like many experts, I believe that code can always be improved. There is no perfect software. Microsoft will have to keep their security and development teams focused on quality but they are certainly on the right track with IE8For more information, visit Microsoft's Internet Explorer 8 website. If you have problems installing IE 8, missing the latest Windows updates is likely the cause.
Want to know about the security features in Windows 7?
If you'd like to find out about the security improvements in Windows 7 - which shall eventually replace Windows Vista - be sure to check out Microsoft MVP Donna Buenaventura's article New and Enhanced Security Features in Windows 7.