Use NetSurvyor for Wireless Network Scanning and Discovery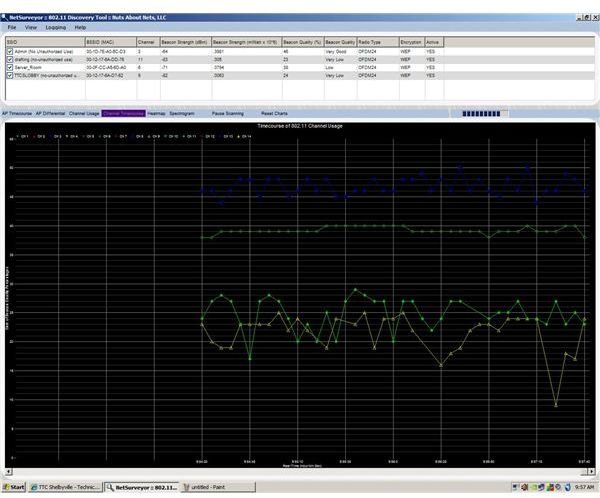 NetSurveyor
NetSurveyor is a 802.11 wireless network discovery tool. This tool is used to analysis and gather information about wireless access points. This real time tool is used to display information through different diagnostic charts and views. This tool provides a PDF report generator that gives a full report with screen shots. This powerful tool identifies the channel, SSID, Beacon Strength in db, watts, and quality. This software also identifies beacon quality, encryption and radio type.
The many uses of this software include but are not limited to:
· Wireless survey tool to determine the appropriate location of your access points.
· Used to troubleshoot your current wireless network.
· A monitoring tool for the environmental variables that occur in specific workplaces.
· Identify rouge access points
Screenshots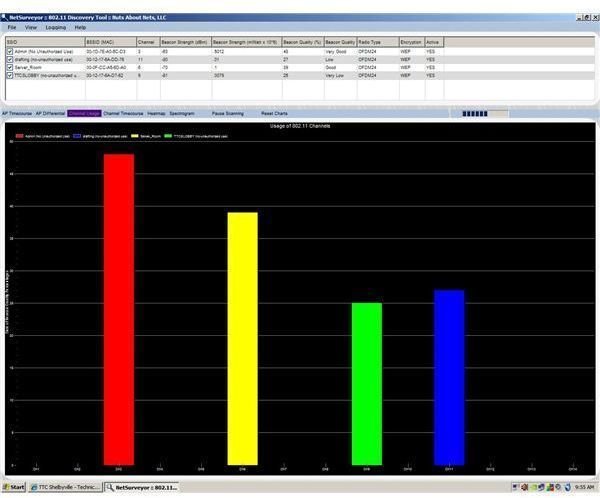 Screenshots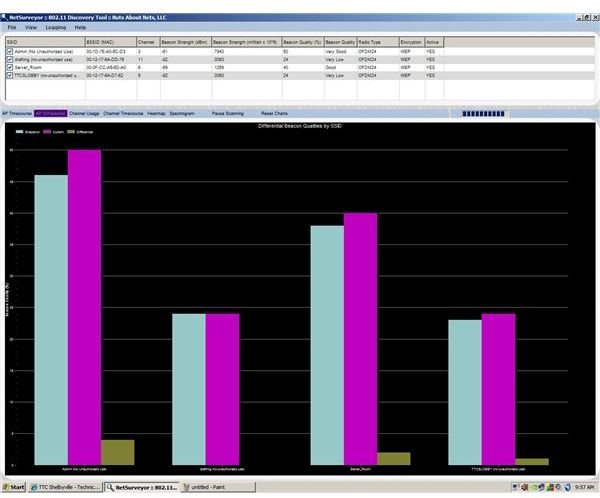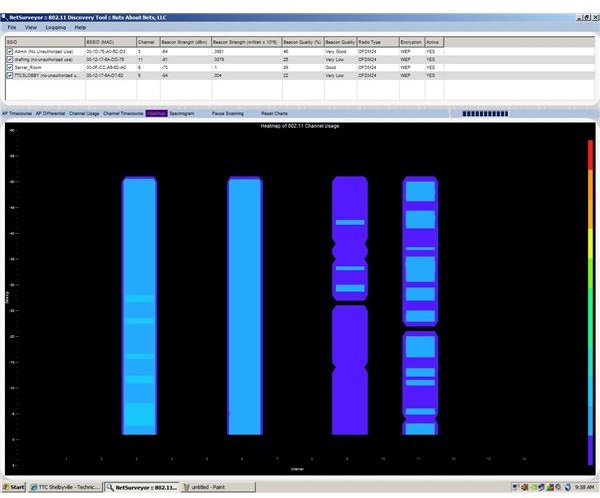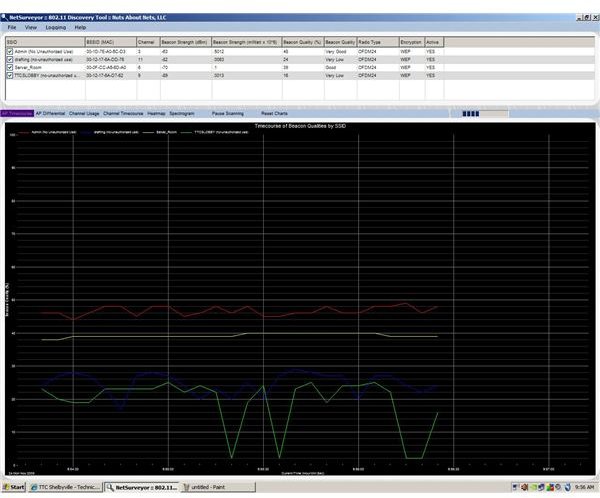 Features
NetSurveyor is free to use but offers many benefits that small businesses or home owners can use.
With six graphical views, these screens are professionally laid out to optimize the use of the program for wireless surveys or views.
Beacon Qualities for Access Points
Differential Display with Beacon Quality Timecourse measurement
Channel Usage
Timecourse for Usage of each channel
Heatmap
Channel Spectrogram of the Wireless Channels
The Channel Spectrogram can be turned at different angles to analysis the output of each of the access points. This feature helps you to analyze the wireless access points in real time at different angles to spot weaknesses or flaws in your wireless network.
Each of these six graphical views and network details can be generated into an Adobe PDF report that allows for detailed information in your policy and procedures. This information can be used during later surveys of your network.
One of the most impressive features is the recording and playback feature that allows the user to record a 'session'. With NetSurveyor's integrated NetPlayer, you can play back a 'session' to analyze the data gathered during a survey. These recordings can be maintained and played back after an upgrade or change in your workplace environment or equipment.
Because this software uses the NDIS 5.x driver, it supports Microsoft Windows 2000, XP and Vista. The software also allows for the selection of adapters if more than one is available on the computer you are using.
NetSurveyor is an excellent tool that should part of every IT professional's software toolkit.
More Reviews!
Would you like to read more reviews? Look around Bright Hub and you'll find detailed reviews of numerous other anti-virus solutions including Ad-Aware Pro, a-squared, AVG Free, Avast! Free, Norton Internet Security, Kaspersky Internet Security, ESET Smart Security, McAfee Total Protection, Blink Professional and ZoneAlarm Internet Security Suite.