Pros and Cons of MySpace in Business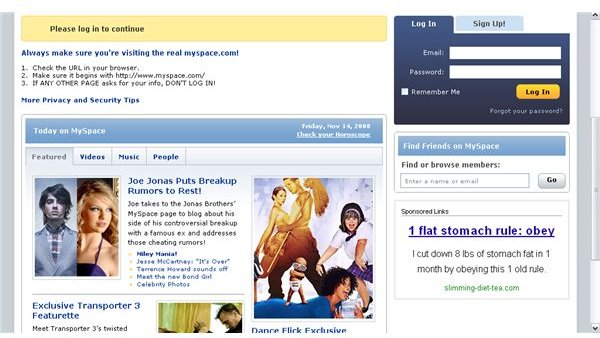 The Role of MySpace in Business
Why do businesses rely on MySpace? It could be because there are millions of members, or because of the immense popularity. Either way, people seek use MySpace as a place to promote their business and services daily. The promotion is often hidden in blog posts and bulletins with links to an affiliate site or landing page. The key to the businesses success is the friend base, which is often stacked with thousands of other people who are looking to promote a business for their own well being. If everyone is running to MySpace to promote, how is there any real benefit in the site?
The only real benefit that can be assumed from business promotion on MySpace falls into the realm of cross promotion. If a business person is on MySpace and they are trying to promote a site, a freelance writer may be able to step in and offer their services to the webmaster or business owner. If a beauty shop uses MySpace to connect with clientele, a print company may be able to connect with the beauty shop offering a special deal on flyers or postcard printing. These are just "maybe" possibilities, and therefore require you as the business owner to decide for yourself.
On the Other Hand…
If you look beyond the spam and the annoying blog postings and bulletins, there is one aspect of MySpace which may be beneficial for the business–the contacts. Contacts are the source of email marketing campaigns and with a targeted email list being a hot commodity, what better place to collect potential new clients than a community of people looking for the same connection?
The history of MySpace began with great intentions as a social network. People can connect with people, but businesses will not increase their organic traffic or their organic sales from MySpace promotion enough to concentrate on it with major time efforts.
Should You Use it or Not?
This is all a matter of opinion, and will depend on your particular business or service. If you believe the benefit will outweigh the security risks (phising sites, spam, etc.) and take the time to dedicate to its use, then by all means, make it work. If you do not believe it will be worth your time, move on to another social networking option.
Overall, it is not tremendously beneficial to a business, though small businesses in need of a local target audience will probably see a greater benefit, because of the connections.
The recent launch of a promotional program similar to Google AdSense may change the face of MySpace for business, but with the program still in beta, it's hard to say.
This post is part of the series: Social Networking and the Workplace
Does allowing your employees to participate in social networking activities place your business security at risk? In this six part series, learn about five popular social networking websites and what harm they may or may not cause to your business security.