Kaspersky Antivirus 2012 - Touchscreen Antivirus Protection for Your Windows PC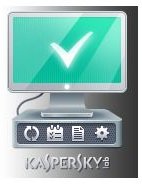 Kaspersky continues to provide new editions of their security software with new and improved features to help protect the personal and confidential information for users of Windows PCs. The developers from this Russian antivirus company also enhanced some modules of their virus protection tool.
One of the highlights in Kaspersky Antivirus 2012 is the addition of touchscreen support. I believe that the improved compatibility support for popular web browsers and the URL adviser will protect users from fraudsters while browsing the Internet. Check out the complete review below to find out if it's worth purchasing the 2012 edition.
System Requirements and Installation (2 out of 5)
This antivirus program runs on 32-bit and 64-bit editions of Windows 7 and Vista. It will also run in Windows XP as long as you have at least Service Pack 2 installed.
The installation process was not good again because it can confuse users who will see the "incompatible software" wizard during the installation. If the installer found no incompatible program, it will continue to display three options - to reboot then install, to proceed with the installation without rebooting the PC and to cancel the installation. These options should not be displayed at all to users when the installer did not find any incompatible software installed.
Tip: If Kaspersky's installer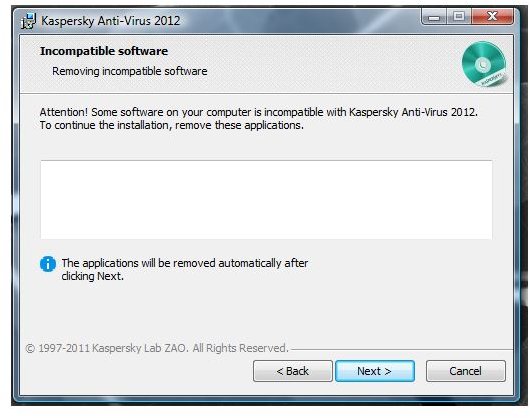 , choose to install the application without rebooting so the computer is not restarted and the installation will run at once. If you choose the first option 'to reboot and continue to install', the program will be installed only after a computer restart and before the Windows desktop will load. You will see is a black background and the installation wizard while it loads.
Another issue that I noticed is that the Windows Aero interface is disabled during installation. It will come back after you reboot, which is a requirement once the install finishes. I also noticed that the installer did not create a restore point in Windows that would help users go back to a previous state in case a problem occurs.
The program reports itself without an issue to the Windows Security Center or Action Center in Windows Vista and Windows 7. A Kaspersky desktop gadget is added and it contains shortcuts for using the program, such as updating the software, opening the settings, reviewing statistics and more.
UI and Features (5 out of 5)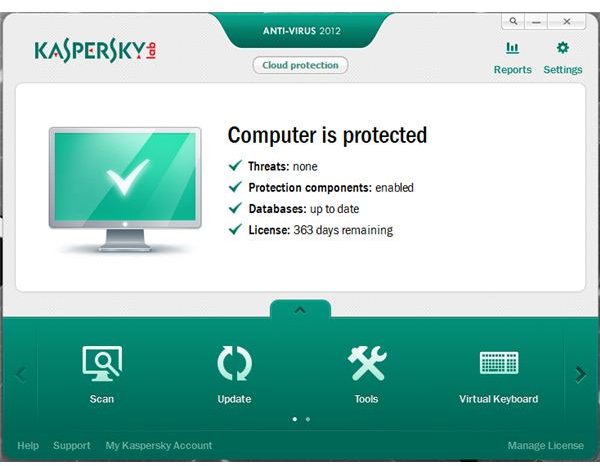 Kaspersky built a new interface for this 2012 edition. You will now access the components of the program by using a slider to get to each available menu such as scan, update, tools and virtual keyboard. The UI also displays the Cloud protection button so you can see if you are connected to Kaspersky Security Network and how many threats are neutralized by their protection tools based on reports from other subscribers all over the world.
There are plenty of improvements and enhancements in Kaspersky Antivirus 2012 that users of the 2011 or 2010 editions might want to take advantage of by upgrading:
The Kaspersky URL advisor is now fully compatible to most versions of Google Chrome, Firefox and Internet Explorer browsers.
The activation, migration and purchasing of licenses is now easy to do within the program and you can manage your license within the UI.
The protection against phishing was improved together with the improvement of rootkit detection technology.
The program has been optimized to ensure good system performance especially when you are watching videos, browsing the Internet, using any VoIP programs, and playing online games.
Performance (4 out of 5)
The memory usage is still the same (around 12 MB of memory) and it does not lag the computer's performance. The scanning time of the program has greatly improved but I noticed an issue during a scan. There was a bit of delay for its task manager to minimize itself when I tried to minimize it.
Another issue that I noticed is that the windows capture utility, such as the Snipping tool in Vista and Windows 7 or the TechSmith Snagit utility, will fail to capture screenshots of the virus notification window that requires user interaction.
Web and Malware Protections (5 out of 5)
I visited some known malicious links and tried some downloads to find out if they will get blocked. The program blocked 7 out of 8 downloads and malicious websites, including phishing sites. You can see in the screenshots below on how the program works in blocking unsafe links or downloads, but that it also failed to block a phishing website.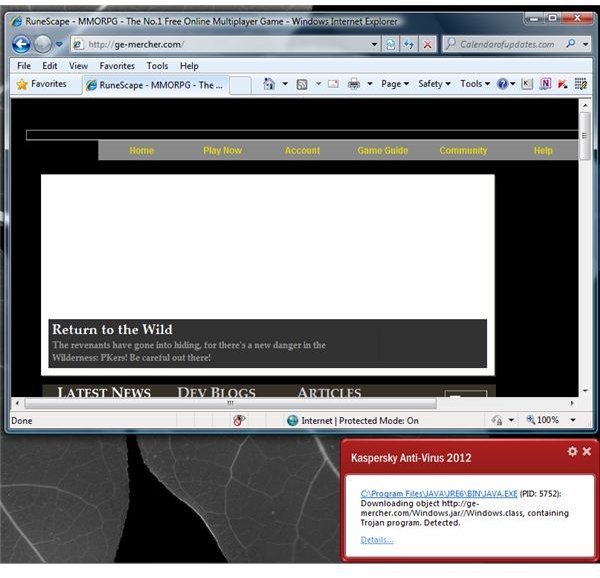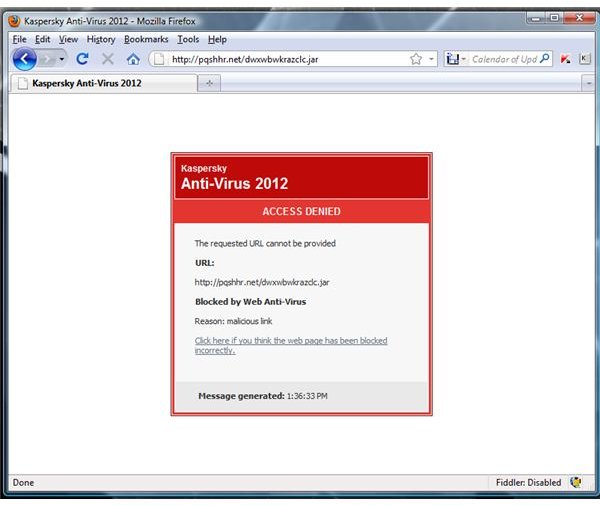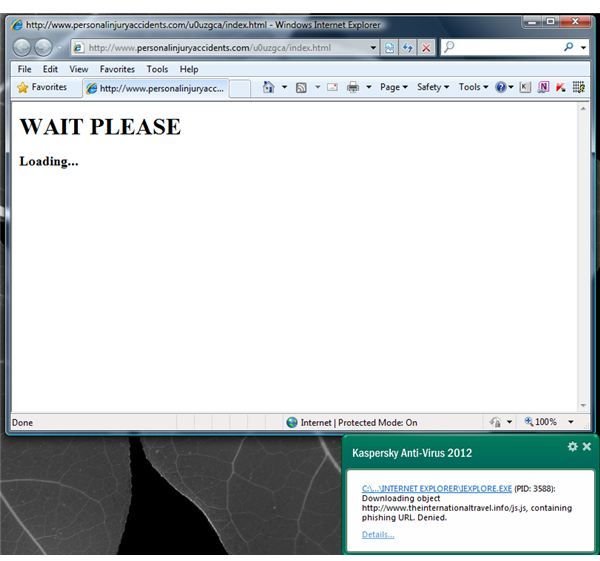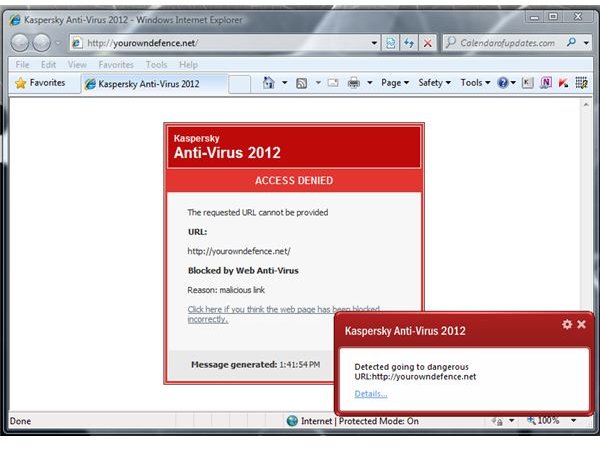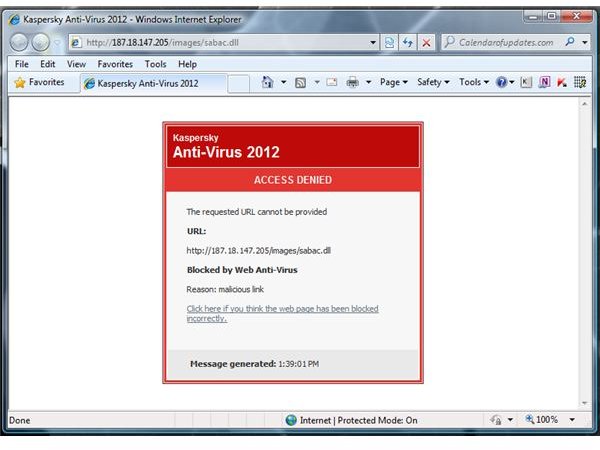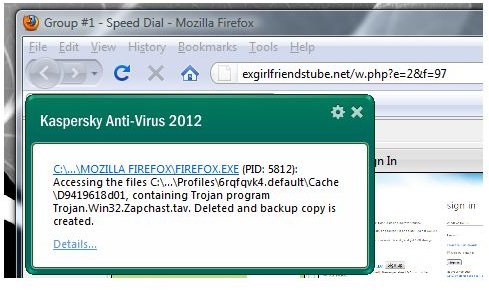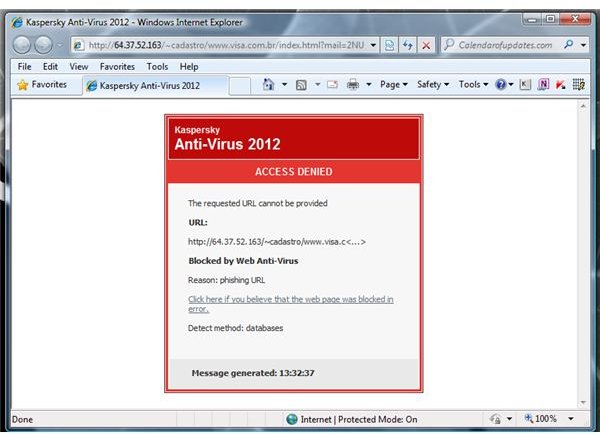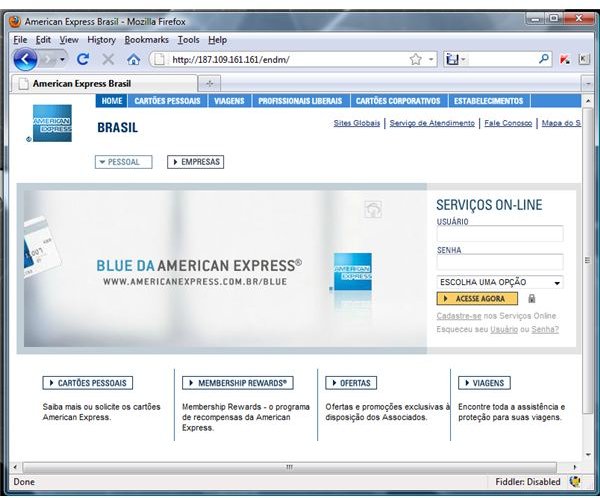 Malware Detection and Prevention (5 out of 5)
To complete the review on Kaspersky Antivirus 2012, I transferred 20 malware files in the computer to find out if the antivirus program will stop any of them from entering the system. Of those 20, it prevented the transfer of 15 files. The on-demand (manual) scanner later detected 3 out of the 5 remaining malware files that the on-access protection tool failed to block.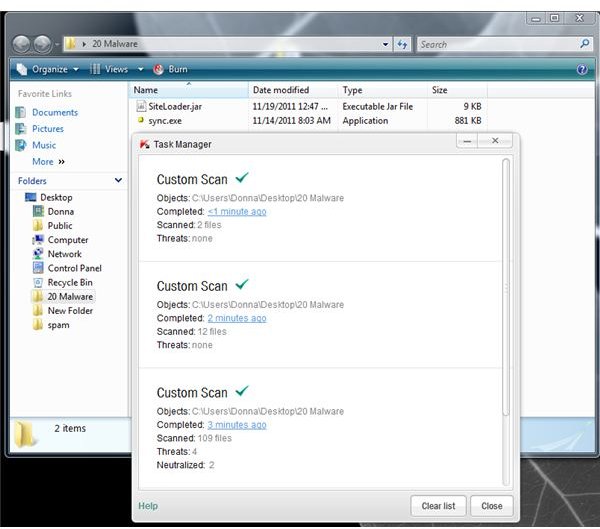 I executed the remaining 2 malware files, but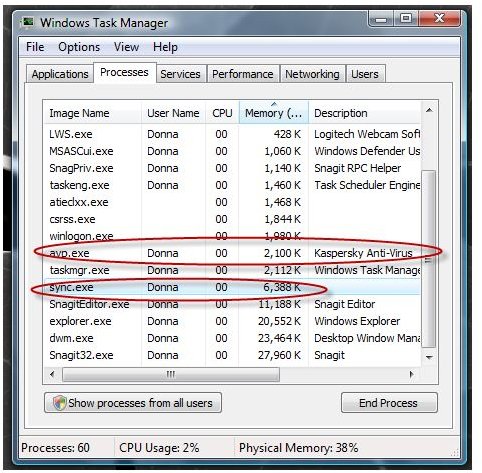 or block the malicious files.
Price to Value (5 out of 5)
At $39.95, you will enjoy the great protection against malware and online threats using Kaspersky Anti-Virus 2012. The price is just right for a single computer with a full year of updates.
Conclusion
Kaspersky Antivirus 2012 is an advanced antivirus program for Windows that would benefit most computer users because it is simple to use and provides strong tools to protect your personal and confidential information. However, it is lacking sandbox technology that its Internet security suite has. Note that other standalone antivirus programs do include sandbox technology without the need to purchase a different version.
References