Using Autorun Protection in Panda Cloud Antivirus and Panda USB Vaccine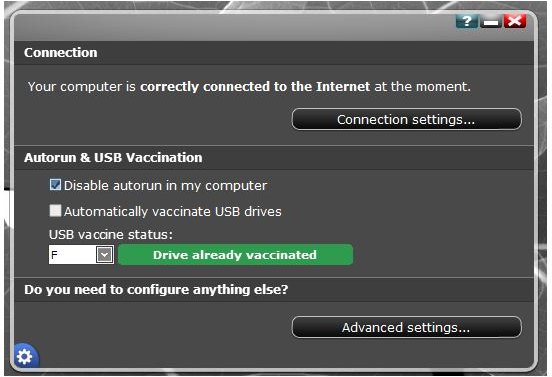 AutoPlay Feature in Windows
A computer with the Windows operating system includes plenty of features and options to enjoy browsing the Internet, communicate via email or other online services, play games, view media files and more. Windows can also play digital multimedia content from devices containing media (music, graphic and video) files. Examples of these devices include USB flash drives, CD or DVD drives, portable media players like iPods, and many others. Microsoft has enhanced the way Windows will handle such contents by adding an AutoPlay feature, also known as autorun, that automatically detects and reacts to new devices on a system.
Audio and video files in removable devices will automatically play if the computer is configured to use the AutoPlay feature when you insert media or connect devices. The files will use the default media player program to play the audio or video. If Autoplay has not been configured, Windows will display a pop-up question to ask the end-user what they would like to do. You've probably seen these type messages when you inserted a blank DVD-R or connected a digital camera.
Software developers also make use of Autoplay's ability to have programs run automatically via a file called Autorun.INF. If you insert a USB flash drive, CD or DVD that has the Autorun.INF file in the root folder, Windows will automatically run whatever executable file is defined in Autorun.INF.
These actions performed by the AutoPlay and autorun feature in Windows have helped in reducing support costs by software publishers by simplifying installation procedures for software and hardware, but there is a potential risk in using them.
Security Issues
There is malicious software that will take advantage of the autorun and AutoPlay feature in Windows. The autorun virus can store itself in root directory of every drive detected on the computer, including USB flash drives. When a computer user connects or double-clicks on the device, the autorun will kick in and also run the malware.
Microsoft has fixed the problem in AutoPlay or autorun by releasing an update on how these features in Windows will act whenever a device is inserted. The Microsoft KB971029 update was released by Microsoft so users will no longer receive prompts for setup files. The computer user will have to manually install the program by opening the folder, browse for the setup file (e.g. setup.exe or setup.msi), and then double-click the setup program to start installing in Windows.
Autorun Protection by Panda
Panda Security offers a free antivirus program for Windows users. It includes a protection for the autorun feature and is enabled by default:
Users can also take advantage of autorun protection in Panda Cloud antivirus Pro edition. The autorun protection is similar to the Microsoft update, KB971029 because any USB thumb drives, CD or DVD and other devices that will use an autorun.inf file will not be able to run automatically. Computer users who have installed the Microsoft update for AutoPlay are already safe from autorun malware or autorun viruses, but using Panda Cloud Autorun will add an extra layer of protection just in case a new malware is able to bypass the settings in Windows.
Note that if you are using Autorun protection by Panda, you do not need to remove the Microsoft KB971029 update. It is important to keep the said update for Windows, just in case a malware will shut down the virus protection.
USB Drives
Panda has also added a USB vaccination protection in the Panda Cloud antivirus program, but this feature is only available to Pro customers of the program. You don't have to worry if you are using the free edition of Panda Cloud antivirus because you can still take advantage of USB vaccination protection by downloading and installing Panda USB Vaccine software. The Panda USB Vaccine program and the USB vaccination feature in Panda Cloud antivirus Pro edition work exactly the same.
By vaccinating any removable USB drives connected in the computer, you are protecting the device from autorun malware or viruses. The autorun or AutoPlay feature in the removable USB drive is not allowed anymore, even if you insert the USB drive in another computer. It is a permanent protection for the USB drives that you should use if you want to be safe from malware that uses the autorun feature to spread itself to infect other computers. The Panda USB Vaccine supports NTFS, FAT and FAT32 systems and runs on Windows XP, Vista and Windows 7 operating systems.
Vaccination Procedures
The default setting of the Autorun protection in Panda Cloud antivirus is enabled which means you don't have to do anything. There is no reason for why you should ever disable this setting.
To protect any removable USB drives using the USB vaccination feature in Panda Cloud antivirus Pro edition, simply put a check mark in the box before 'Automatically vaccinate USB drives'. You can also view the protection status for the USB drive by clicking on the drop-down menu for USB vaccine status, and then select a removable USB drive from the list.
To protect USB drives using the free Panda USB Vaccine program, you will need to manually select a USB drive in the list of connected devices and then click the "Vaccinate USB" button. Note that you have to manually vaccinate each removable USB drive if you have more than one removable drive.
References