Free Hard Drive Eraser - Darik's Boot and Nuke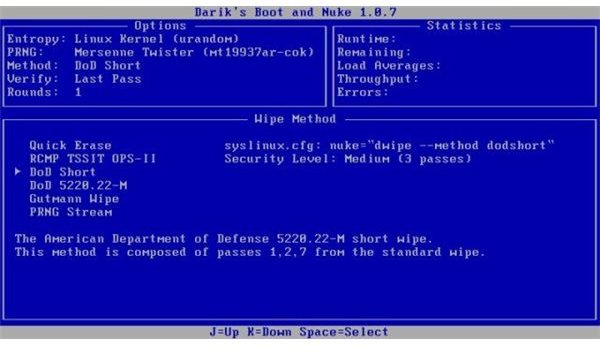 Erase that hard drive!
Before you sell or donate your old computer, it is highly recommended that you wipe the hard drive of all data. Otherwise, someone might easily find files containing personal information like emails, social security numbers, photos and more. The problem is that a simple format is not enough. That's why you need something that will completely erase the contents of the drive and make it so that none of the data can be recovered.
In Windows, deleting a file doesn't really delete the file. Instead, it changes the file so that it won't show up in any directory listing, but the data still remains until it gets pushed out by more new data. Windows does this so that you can easily 'undelete' the file later, if needed. While this can be convenient, it also creates a potential security problem. There are tons of file recovery utilities that will help you find lost computer files, and most of them work quite well.
I recommend using Darik's Boot and Nuke (www.dban.org) to erase your hard drive. It's a completely free utility that you can download from the website, then it installs itself on a bootable CD, floppy disk, or flash drive. It boots up using a Linux interface, then you just type 'DOD' (for Department of Defense, as in their standards) and let it run its course. It takes at least an hour or two to run through the process, depending on the size and age of your hard drive.
Since the software boots using a Linux core, it automatically detects your keyboard, hard drive, and CD drive. I've used it on several different brand machines and never had any kind of problem making it work. If your computer won't boot from the CD or Floppy, you may need to make a change in the boot order in your BIOS. How this is done depends on the brand of your PC or motherboard, so consult the manufacturer if you need help.
Darik's Boot and Nuke works by going through every sector of your hard drive and filling it up with junk data. What this effectively does is removes all the old data and replaces it with garbage, so that you can't undelete or recover anything. In other words, it pushes out all that old data. The process takes so long because it literally writes to your entire hard drive. Just make sure you've backed up anything you want to keep off the drive, because you won't get it back after DBAN runs its course.
This process of erasing the drive with this software does no damage to the hard drive, so all the next person has to do is format the drive and it'll be ready to go. If you want to really make sure nobody ever reads old data from your hard drive, you're going to need a hammer and a power drill.
Darik's Boot and Nuke – https://www.dban.org
More Reviews!
Would you like to read more reviews? Look around Bright Hub and you'll find reviews of numerous other leading security solutions including SpamTitan, GFI MailEssentials, Atek Secure Password Organizer, GFI LANguard, Norton Internet Security, Panda Internet Security, ESET Smart Security, McAfee Site Advisor, Norman Internet Security Suite and Undelete.