Review of KeyScrambler Premium - The Ultimate Anti-Keylogging Protection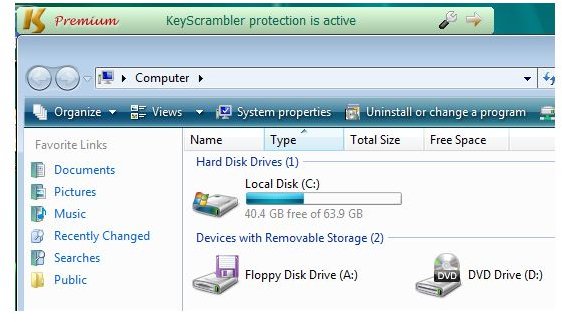 KeyScrambler from QFX Software provides protection for Windows users against keylogging attacks, which is when rogue software records every thing you type in order to discover your logins and passwords. The program is simple to use and integrates itself into many computer programs such as web browsers (Firefox, Opera, Safari, Internet Explorer, etc.), Windows Explorer, instant messenger and VoIP applications, online games, email clients, Office and finance programs, password managers, text editors, networking and encryption programs, and many others. It will also help in preventing keyloggers from copying login credentials that you entered in web-based services such as Yahoo! mail, Windows Live Hotmail, Gmail and other similar services.
KeyScrambler is offered in three editions: Personal, Professional and Premium. The latter edition is useful not only to individual users but also the recommended tool for business users simply because keystrokes are encrypted when using business-oriented applications.
System Requirements and Installation (5 out of 5)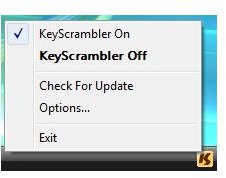 This anti-keylogging program runs on 32-bit and 64-bit editions of most every version of Windows. It also supports Asian language input such as Chinese, Japanese and Korean. The install process is quite easy and a system restart is required to start protecting even before you log in to Windows so that your system password will be safe.
The installation will add a tray icon of KeyScrambler but there's an option to customize the display like not showing the tray icon, or simply have the KeyScrambler icon appear in opened applications that it can protect.
Note that users of the Premium edition are required to enter the email address and product key information during installation. The process is required to immediately activate the protection for licensed customers.
Features and Options (5 out of 5)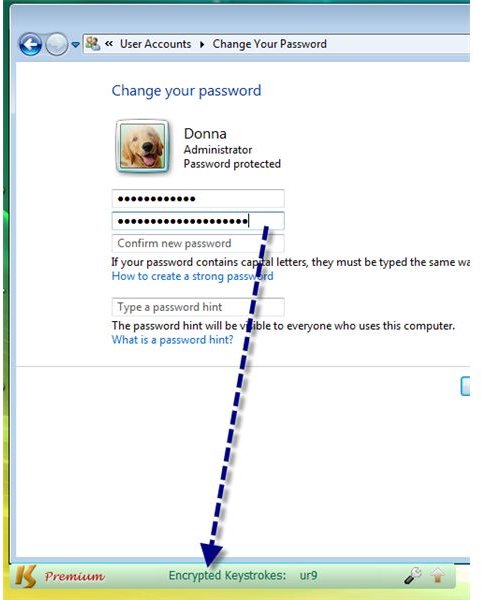 KeyScrambler Premium provides protection for hundreds of applications that KeyScrambler free and Pro editions do not offer. These include programs such as Word, Excel, OpenOffice, StarOffice, Microsoft OneNote, Groove, Publisher, InfoPath, Lotus Symphony, Quicken, Ebay Desktop, TurboTax, Quickbooks, Microsoft Office Accounting and others.
The Premium edition also adds protection for encryption and networking tools such as FileZilla, OpenVPN client, SecureFx, TrueCrypt, AxCrypt and many more similar applications.
What is cool is that KeyScrambler Premium covers Windows Explorer, Windows Logon, Domain Logon, and User Account Control (UAC) prompts in Windows, in addition to protecting common applications that the free and professional version can protect such as browsers, chat applications and online games.
The program is very easy to use. Below are some of the available options in using the program:
Turn the protection on or off.
Enable or disable automatic loading during Windows startup.
Automatically check for updates.
Download and install updates (for Premium customers only).
Enable protection for Windows logon and Windows Explorer.
Activate support for Asian language input.
Enable the option to distinguish unencrypted keys.
KeyScrambler is also light to use. It will only use 1.3 MB of memory when it's actively protecting Windows against keyloggers.
Price to Value (5 out of 5)
At $44.99, KeyScrambler Premium is worth the money. It protects over 120 popular applications and games, and offers complete protection for Windows login credentials. It's also great that you will only pay once to receive free program updates.
Conclusion
Prevention is the best way to protect the data and computers from keyloggers that antivirus and advanced firewall programs often overlook. Not all antivirus programs will consider keyloggers as threats because there are some legitimate uses for them, such as employee/user monitoring. Some antivirus programs will not automatically remove them from the computer unless the end-user configures the program to detect and remove such. An anti-keylogging program is best to handle keyloggers because it is designed to detect them.
KeyScrambler does not have the ability to detect keyloggers but it can help prevent them from getting the information it was programmed to copy, record or transfer from the affected computer to a remote connection or another computer in the same network.
Some people are relying on using one-time passwords as a solution to keyloggers. However, this is not always effective especially if the attacker has remote control over the computer. The attacker that is waiting for anyone to login is putting any user at risk of having their online session monitored, such as a transaction with a financial institution website. Once logged in, the attacker could make transactions on behalf of the account holder. If KeyScrambler is installed on a computer, the login and other information that you type in supported applications or in Windows is encrypted to prevent the keyloggers from logging what you entered.
References
Image credit: Screenshots generated by the author.
Product information at http://www.qfxsoftware.com/index.html
Program version: KeyScrambler Premium v2.8.1.0
Information based on author's experience.