Bright Hub Reviews Gilisoft Privacy Protector 3.6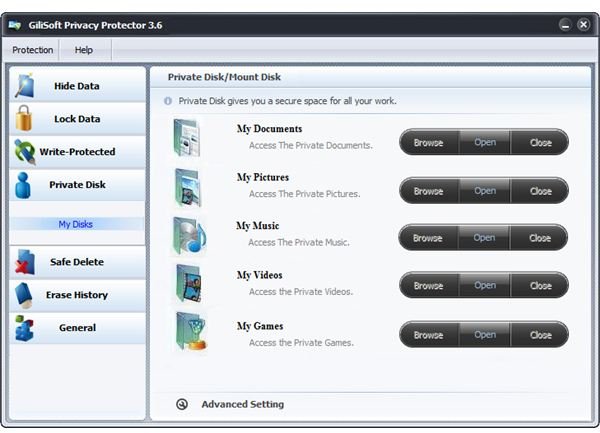 It seems that there are never enough privacy options for using a computer and connecting to the Internet. With phishing scams, the problem of Trojan keyloggers and websites using unsecured connections to take payments, threats to your online security and the privacy and integrity of your data are myriad.
One piece of software that might be used to combat some of these threats and put your mind at ease is Gilisoft Privacy Protector, a comprehensive tool that offers a wealth of options from the usual Internet history deletion to providing secure deletion, hidden files and folders, data locking and more.
Software like this isn't something you should ignore – anything that gives you an advantage in the fight against malware and data theft should be given serious consideration. Let's take a look at whether Gilisoft Privacy Protector lives up to its reputation and its name.
System Requirements (5 out of 5)
In order to use Gilisoft Privacy Protector, you will need to be running one of the following operating systems: Windows 2000/2003/XP/Vista/Windows 7 (32-bit and & 64-bit architectures are supported). Meanwhile, your desktop or laptop will need to support at least an Intel Pentium D Dual-Core Processor or an AMD Athlon 64x2 Dual-Core Processor. You will also need 23.4 MB of hard disk space on your computer for installation.
As you can see, pretty much any current Windows computer should be able to run this utility without any problems. Additionally, you will need sufficient storage for the various features of the software, such as creating secure a data store.
A couple of versions of this software are in circulation. We're looking at the latest, 3.6, for this review, although you might well find that Gilisoft Privacy Protector 3.4 is also available from certain third party freeware and shareware software distribution websites.
If you download via the publisher's website at www.gilisoft.com, however, you will be able to download the latest version. The publisher offers a 14 day evaluation, and the full cost of the application (for a perpetual license with free annual upgrades) is $29.
Features on Offer (4 out of 5)
Finding a good choice of features in a security toolbox like Gilisoft Privacy Protector is vital if you plan on using the software suite long term, and Gilisoft have certainly packed a lot of tools into this package.
Hide Data – files, folders and entire disk partitions can be hidden from view, allowing you to protect your documents from unauthorized viewing.
Lock Data – your files, folders and disks can be locked, accessible only by you. An 'Access is denied' message will be displayed to anyone attempting to open a locked file, folder or partition.
Write-Protected – similar to the lock option, this protects data from being changed.
Private Disk – this useful feature offers the ability to create a brand new auto-resizing partition, a secure space for documents, pictures, music, videos and games.
Safe Delete – if you ever need to safely remove files, folders or obliterate entire disks, this tool allows you to securely delete data, and even features an option for cleaning free space, thus preventing previously deleted data from being undeleted.
Erase History – your Windows history, Internet history and the temporary files of your various applications can be quickly discarded.
From data security to tools to Internet history and application deletion, which is ideal if you are having difficulty with the Windows uninstaller, Gilisoft Privacy Protector has a wide selection of options.
Ease of use (4 out of 5)
Prior to installation, Gilisoft Privacy Protector will also ask you to set a password for securing the software from unauthorized access (this can be changed later on once you have signed in). This is a welcome feature, one which other security suites could possibly adopt.
The application itself is a combination of useful tools and each of these can be easily accessed and used thanks to a simple user interface. Due to the similarities between some of the options, the UI has been designed to be as clear as possible. For instance, hiding a folder features almost the same set of interface options as write-protecting data. The erase history and private disk options, meanwhile, feature buttons and options that are more appropriate to those tasks.
An App that Understands the Importance of Data Privacy (4 out of 5)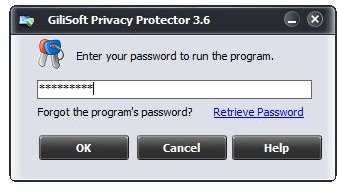 Generally, these types of software offer much less than they claim to, but in the case of Gilisoft Privacy Protector you will find a set of tools that perform the tasks that they are designed to do. In testing there doesn't seem to have been any problem with deletion of data, tidying up of history or the locking/hiding/write-protecting of any files, folders or partitions, and no user interface issues.
All in all, if you're looking for a way to add Mac OS X-style data security to Windows as well as taking advantage of secure history deletion tools, then Gilisoft Privacy Protector is an option that you should certainly consider.
References
All screenshots and references from Gilisoft Privacy Protector 3.6.