Free Hard Disk Drive Eraser Tools for Windows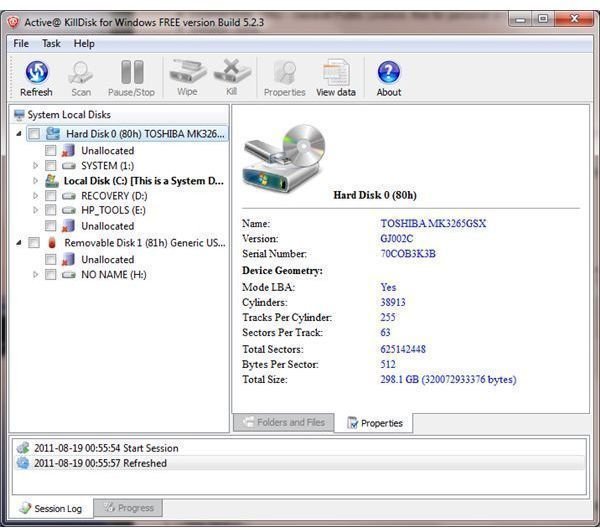 Overview
A lot of times when people upgrade their computer or disk drive, they simply dispose of the old one with no worry about what might happen with the old contents of the disk drive. Some take the extra step of doing a simple delete of all data on the disk drive thinking that is enough to clean the drives of data. Nothing is further from the truth.
If you are in a similar situation, you may be putting some confidential data at risk, especially if you are in a business where you hold customer data and personal information. The question then is, what can you do about it?
You can use one of the free disk drive erasers listed below:
KillDiskSuiteFree
DiskWipe
Eraser
HardDriveEraser
KillDiskSuiteFree
In a Nutshell
For personal use, this free version should suffice; it only erases with one pass zeros. However, if you are doing this for a business, you should purchase the pro version with will cost you $69.95 for a business (or $59.95 for personal use). The pro version allows the full suite of erasure schemes (17 total).
Nevertheless, the free version provides nice features with more granular erasure control of the drive volumes down to the following levels:
Unallocated space
Allocated space
Both unallocated and allocated space
Before initiating the erase process, it asks for final confirmation by having the user type "ERASE-ALL-DATA."
The suite comes with tools to create boot CDs, DVDs, or floppy disks. The boot disk is basically a DOS boot disk for the purpose of wiping the drives of the computer being booted. This comes in handy for disposing of old computer hardware with disk drives still in tact.
Specifics
Here are its product specifics:
Manufacturer: LSoft Technologies, Inc.
Version: 5.2 build 5.2.3
License type: Free, limited version
Installer: Yes
Installer size: 11,511 KB
File count: 19
Total size:15.8 MB
Advertised features:

Securely overwrites and destroys all data on physical drive or logical partition.
Erases partitions, logical drives and unused disk space.
Supports IDE / ATA / SATA / SCSI hard disk drives.
Supports solid state drives (SSD).
Supports fixed disks, floppies, zip drives, FlashMedia drives.
Supports large-sized drives (more than 128GB).
Supports Command Line mode (can be run with no user interaction).
Operates from bootable floppy disk or bootable CD (DOS version)Operates from bootable CD/DVD, USB (Windows version).
Erases with one-pass zeros.
Supports all detected hard disk drives.
Erasing report is created and can be saved as a file.
Includes Console Application to run and erase data under Windows.
Displays detected drive and partition information.
Scans NTFS and FAT volumes and displays existing and deleted files and folders.
Disk Viewer allows you to preview any sectors or file clusters on a drive.
Operates in DOS real mode, the most secure and reliable environment.
Wipes out NTFS, FAT32, FAT16 and FAT12 volumes from areas containing deleted and unused data.
Wipes out free clusters (unused by file data sectors).
Wipes out file slack space (unused bytes in the last cluster occupied by file).
Wipes out deleted MFT and ROOT system records.
Wipes out unused space in any MFT records and compressed clusters.
DiskWipe
In a Nutshell
DiskWipe is a single executable Windows disk erasing utility. This means you can store it on a flash drive for use on a Windows system. Unfortunately, it doesn't work with Windows 7. Anyway, It works well with removable media such as thumb drives. It has no boot only features–which means that you have to have a functional system before you can run it against a disk drive volume.
One of its features is a data viewing feature which allows you to look at the disk clusters for any recognizable pattern of information. I'm not sure of its utility because looking at the clusters manually can be time consuming; however, it can be used to do a quick cursory check of a drive.
Specifics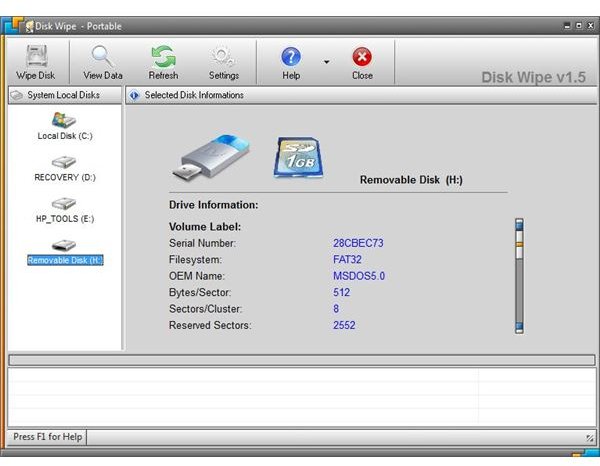 Here are its product specifics:
Manufacturer: DISKWIPE SOFTWARE
Version: 1.5
Operating System: Microsoft Windows XP and Vista
License type: GNU - General Public Licence, free for personal or commercial use, without any restrictions
Installer: none
Installer size: not applicable
File count: 1
Total size: 966 KB
Advertised features:

Wipes data from disk drive volumes.
Portable, no install required.
Uses Department of Defense algorithm (Dod 5220-22.M, US Army, Peter Guttman).
Supports Windows file systems: NTFS, Fat, Fat32.
Uses quick format prior to disk wiping for faster performance.
Can also be used on portable memory devices (thumb drives, SD cards, USB drives, etc.)
Compact and lightweight (no adware).
Respects user privacy by not sending private information over internet.
The following are the erasing schemes supported by this product:
Erasing Pattern- One Pass Zeros (quick)
One Pass Random (quick)
Russian GOST P50739-95 (2 passes - quick)
British HMG IS5 (3 passes - slow)
US Department of Defense DoD 5220.22-M(E) (3 passes - slow)
US Department of Defense DoD 5220.22-M(ECE) (7 passes - very slow)
Peter Guttman (35 passes - extremely slow)
Before starting the actual erase operation, the product asks for an explicit confirmation by asking the user to type "ERASE ALL" to continue. This is good since since there is no undo for these kinds of operations.
Eraser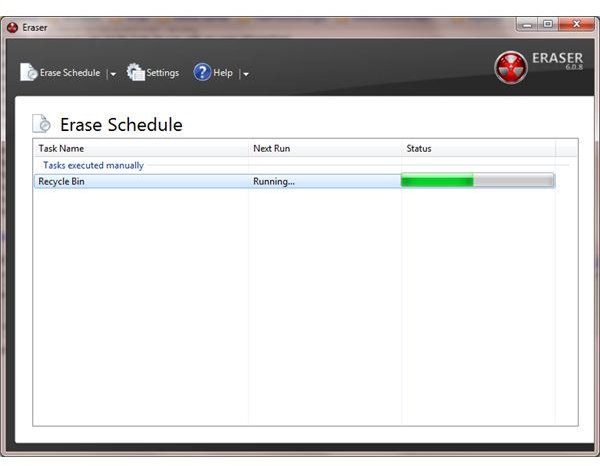 In a Nutshell
Eraser isn't exactly in the same class as the other disk drive erasers discussed in previous sections. It is more of a resident file erasing tool that can be periodically set to erase the trash can, unused space, or something specific.
It can be used on demand, and has Windows explorer integration that allows you to erase contents (files and folders) of an entire disk volume. However, when you tell it to erase a drive, it assumes you want to erase files and folders. You'll have to explicitly erase unused space as well to get the same effect. All these can be scheduled for convenience, which makes sense since most erasing processes take a significant amount of time to do.
Specifics
Here are its product specifics:
Manufacturer: The Eraser Project
Version: 6.0.8.2273
License type: GNU General Public License
Installer: Yes
Installer size: 8,968 KB
File count: 13
Total size: 2,381 KB
Advertised features:

It works with Windows XP (with Service Pack 3), Windows Server 2003 (with Service Pack 2), Windows Vista, Windows Server 2008, Windows 7 and Windows Server 2008 R2.
Windows 98, ME, NT, 2000 can still be used with version 5.7.
It works with any drive that works with Windows.
Secure drive erasure methods are supported out of the box.
Erases files, folders and their previously deleted counterparts.
Works with an extremely customizable Scheduler.
Supported erasing schemes
Peter Guttman (35 passes)
US DoD 5220.22-M(8-306./E, C & E) (7 passes)
RCMP TSSIT OPS-II *7 passes)
Schneier 7 pass (7 passes)
German VSITR (7 passes)
US DoD 5220.22-M(8-306./E) (3 passes)
British HMG IS5 (Enhanced) (3 passes)
US Air Force 5020 (3 passes)
US Army AR380-19 (3 passes)
Russian GOST P50739-95 (2 passes)
British HMG IS5 (Baseline) (1 pass)
Psuedorandom Data (1 pass)
First/last 16KB Erasure
HardDriveEraser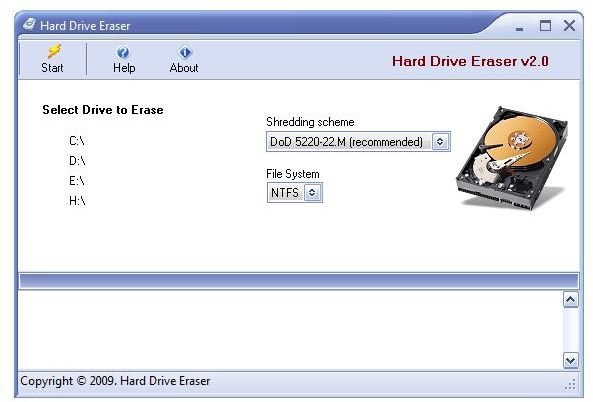 In a Nutshell
Of the four drive erasers I examined, this is the simplest of all. I say simplest because all it does is erase your hard drive; nothing more, nothing less.
When you erase a drive, you have the options to select which drive to erase. You also have the options to specify the "shredding scheme", the file system, and whether to use Quick Format or not.
I had a 4GB thumb drive, and set it to Write Zeros as the shredding scheme, with FAT32 file system, and with Quick Format set. When I started the process, it asked me to confirm that I wish to erase the drive by typing "ERASE" in a field before starting. Then in the progress log, you would see what it is doing. The erasing process has begun when is states "Erasing disk X", where X is the letter of the drive being erased. It also has a progress meter just above the log panel. At 40 minutes, the erasing process was at about 25% complete. I didn't wait for it, but I extrapolated completion time to be 2 hours and 40 minutes. This is for a 4GB thumb drive. Imagine dealing with a 500GB hard drive!
This product has no view data function like the one found on DiskWipe; but like DiskWipe, it has no boot features that will give you the ability to wipe the drives of a computer you wish to trash. It is more practical to use it on removable media like thumb drives.
Specifics
Here are its product specifics:
Manufacturer: HardDriveEraser.org
Version: 2.0
Operating System: Microsoft Windows (their web site wasn't explicit about which flavor it works with but it mentioned Windows XP and Vista in its online help documentation; I tested in Windows 7 and it seems to work)
License type: free
Installer: none
Installer size: not applicable
File count: 1
Total size: 618 KB
Advertised features:

Securely erases whole volumes, disk drives, partitions or floppy drives.
Overwrites data multiple times using one of four advanced algorithms which assure erased data can not be recovered.Works with all file systems (NTFS, FAT32, FAT).
Simple, light weight and optimized for speed.
Peter Guttman method for users concerned about security of their data.
Supported erasure schemes are as follows:
DoD 5220-22.M (recommended)
Write Zeros
Us Army
Peter Guttman (very slow)
Summary
We've discussed each of the 4 erasing utilities:
KillDiskSuiteFree
DiskWipe
Eraser
HardDriveEraser
KillDiskSuiteFree has a lot of features, but it only uses one erasing scheme - the one pass zero scheme. For personal use, it is OK, but for business use, it is best to purchase the PRO version, which provides 17 erasure schemes. It has bootable CD/DVD/floppy creation options so that erasures can be done directly on the computer unit being trashed.
DiskWipe is a lightweight disk erasing utility with only one executable file. It works on Windows XP and Vista, but not Windows 7. It supports seven erasure schemes, and has a disk data view feature. It has no boot features.
Eraser isn't quite like the others–i.e. a disk drive eraser, but it can be used to keep volumes securely erased. The erasing functions can be scheduled or done immediately. It is probably the most practical approach since mulitpass erasures can be time consuming. The good thing about Eraser is that it can run memory resident and integrates well with Windows Explorer. It supports 13 erasure schemes. It has no boot options, but could probably compliment one of the disk erasers.
HardDriveEraser is the simplest of the four. Like DiskWipe it involves only one executable file. It supports four erasure schemes and has no disk data view capability. The interface is pretty simple since all you can do is erase disk volumes. It has no boot options.
Opinions
Below are my opinions regarding the disk drive erasing tools.
For personal use, I would install Eraser (will keep drives relatively secure, leaving no trace of files I have deleted at all times). So if I did this on my laptop, and I lost it, damages will be limited to the files I have not erased yet. The ones I've deleted would be safe from prying eyes. To really be secure, I would use encryption to keep data from being compromised (but this is another topic)
If I owned a business and had to maintain customer confidential data, then I would use KillDiskSuiteFree, then upgrade to Pro in order to get support for more secure erasure schemes. Why take a risk when it would only cost around $60 to go Pro?
References