We Answer: Will Windows Security Firewall Conflict with Outpost Pro Firewall?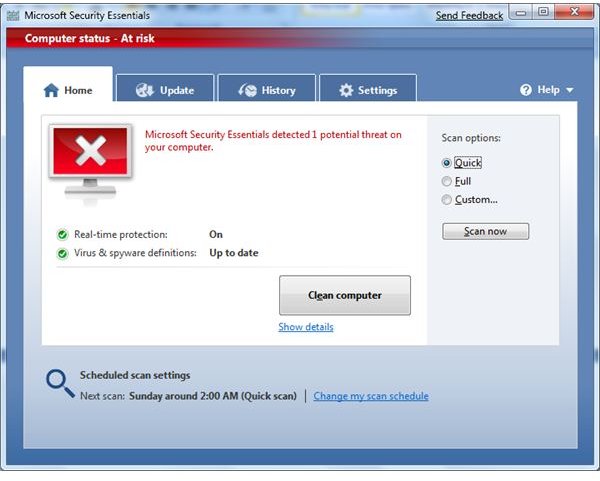 It is pretty vital these days to make sure your computer is suitably protected against the various online threats that exist. As such, having a firewall installed and configured is pretty useful. Windows has a built-in firewall that is pretty basic but easy to use, and for some people this is all they need.
For a more confident level of protection, meanwhile there are several other suitable firewall utilities that you might choose from that can enhance or replace the functions of the native Windows utility.
However, you can never have enough protection on your computer.
Windows 7 owners should take advantage of the Microsoft Security Essentials suite (aka Windows Security Essentials), which provides various scanning tools for removing threats. This is a useful application which delivers an additional layer to the basic Windows security options.
However, this doesn't mean that you shouldn't use any firewall software, as such security software is vital in this day and age. You might use the Windows firewall, for instance, but using a third party solution and running multiple firewalls will mean added protection (although there is the downside that some software requiring online access will be trickier to configure).
Note that although it is a security tool, Windows Security Essentials doesn't have a firewall and therefore there is nothing that will conflict with Outpost Pro's firewall or that of any other software.
Advantages of Microsoft Security Essentials
Just as third party software will work without any considerable problems with the native Windows firewall, so it will work with Microsoft Security Essentials, a free suite of tools provided by Microsoft to owners of legitimate copies of Windows.
MSE, as it is also known, doesn't actually provide an additional firewall; instead, it provides a new user interface to the existing Windows firewall. After all, it wouldn't make sense for Microsoft to be producing two firewall applications, would it? This thinking also makes it easier to integrate a second, third-party software firewall.
In addition to Microsoft Security Essential's firewall integration, other protection is added to your PC, such as real time scanning and system cleaning, as well as rootkit protection. The great thing about all of this is that MSE is completely free, and available via www.microsoft.com/en-gb/security_essentials. Note that the software is restricted to owners of legitimate, legally registered and activated copies of Windows XP Service Pack 3 and later, and the installer tool will check your copy of Windows to confirm this is the case.
The Madness of Deactivating Windows Firewall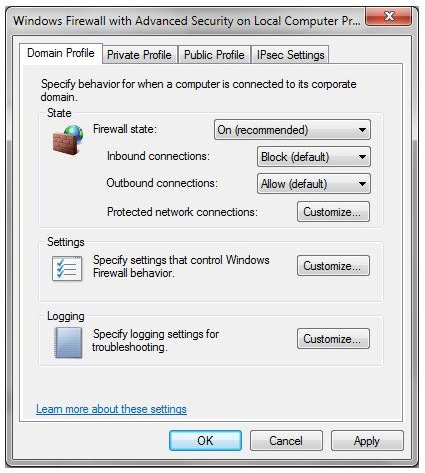 You shouldn't have any problems running multiple firewall utilities together, although it isn't a great idea to install more than two. For instance, the Windows firewall will not conflict with Outpost Pro firewall, simply because it provides a new interface to the existing operating system firewall.
It isn't unusual to find users that have taken the time to shore up their system with a new security suite, good quality on-access scanning tools, malware detection, scans for Trojans and tight firewall tools featuring regular scans for compromised ports, etc., that have also decided to deactivate the native Windows firewall.
Clearly, this is a mistake. If your security system was to be compromised in any way, or fail to load, the only protection that you would have left is the Windows firewall. Therefore it is vital that this should be left enabled at all times, regardless of the chosen third party security software.
It simply isn't worth taking a chance with. Threats exist on the Internet, with many malware threats designed to exist in cyberspace ready to jump into any unsecured computer ports and hijack the operating system
Third Party Firewall Software
So, which third party firewall software can you use without issue alongside Windows Security Essentials?
Any of them, to be honest, although how you set this up to work depends on your current setup. For instance, you might have Microsoft Security Essentials installed already, and might be (wisely) considering adding some dedicated anti-virus software (Microsoft Security Essentials is designed to catch malware rather than old-fashioned viruses) to bolster your security. In this situation you should be thinking about installing the third party software and then checking Windows Update for any fixes that are required to help MSE run with the new security suite installed.
An alternative scenario is that you have already installed one of the popular Internet security suites and are considering installing Microsoft Security Essentials alongside this. Again, this shouldn't be a problem; following installation of the Microsoft utility, you may find it necessary to disable one or two automatic functions but on the whole this should run without any problems or conflicts.
Meanwhile, you Windows firewall should be running perfectly in the background, protecting your computer from any intrusion attempts.
References
Author's own experience.
Image credit: Microsoft News Room, https://www.microsoft.com/presspass