How to Remove Anti Virus System Pro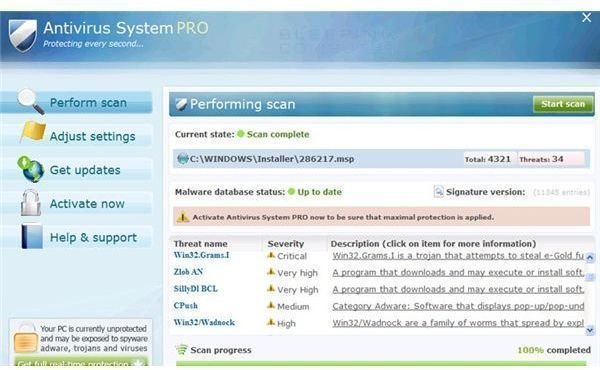 What is Antivirus System Pro?
Antivirus System Pro (ASP) is a malware program that masquerades as an actual antivirus program. Like many of these malware infections,
ASP sets itself up to run when you log into Windows and then goes about running a "virus scan" of your computer. It will then come up with hundreds and even thousands of different kinds of infections that it has "found." What makes this a dangerous program is that it will not remove any of these "threats" unless you have fully purchased the program.
The whole thing is a liar - there are no threats on your computer, other than Antivirus System Pro which is the true threat. Like other rogue programs, ASP will most likely shut down the tools that can not only stop it, but remove them as well: your true antivirus program, system restore, the task manager, and sometimes even MSConfig.
Why Do People Fall For This?
Antivirus System Pro and other types of this malware target those users who are new to using either a computer or that of the Internet. These individuals aren't technically savvy and may not know or completely understand the importance of having antivirus protection (such as not having any) or may not know the difference between a real and fake program. For new users or those who may not have experienced any type of issues before, having an "official" looking program tell you that viruses are running rampart in your system is startling.
And because we're continually using more and more technology to store information, documents, files, etc, it's easily to want to take the short path on getting rid of these viruses, even if it means shelling out $20 for the program. Unfortunately, it's this short path which gets people in trouble and why these types of things work. Even after a user "purchases" the program, it will still state a host of problems and worse, the person or people behind it now have your information, including your credit card number.
Enough! How Do I Make It Go Away?

The first thing that needs to be done is to discover which programs this rogue has compromised. The best thing is to check if you can still run your actual antivirus program. If you don't have any antivirus protection, you should then try and reset your computer to what it had been prior to the infection. This is done by using system restore. If you know when you received the infection (as in within the week), chose a restore point that is the closest to the current time point.
It's important to note that Windows updates or programs that were installed post the restore point will need to be reinstalled.
Again, sometimes these methods may not work. It's time to get serious.
First, you will need to restart your computer and enter Safe Mode with Networking. This is done by hitting F8 as your computer starts up. This will take you a listing of different safe mode modes; again, choose the one with networking. This allows you to connect to the Internet. Safe Mode will load only the very basic drivers, which allows for troubleshooting of troublesome programs and drivers, as well as aid in the removal of viruses.

When your computer loads, enter in the administrator username and password. These were set up when the operating system was first installed. In most cases, you probably set this up yourself; if you bought your computer from a retailer, the username and password will probably be blank. If you're not the admin of the system, you will need them to enter in the information.

After you've logged on, open a browser window and download Malwarebytes. This is an antimalware program that helps to rid systems of malware and spyware. There is both a free and paid version; download the free version.

Run Malwarebytes. When finished, the infection and its components will be checked. Click Remove selected to have the malware deleted and removed. Close Malwarebytes.
If you like, you can also run your antivirus program while in safe mode to look for any other threats. If you aren't using an antivirus program, now is the time to find and install one. There are plenty of real programs that offer both free and paid versions of their software - AVG, Avast, Kaspersky; Windows users may enjoy using Microsoft Security Essentials, which protects Windows systems and is easily updated when the rest of the system is.
References
Remove Antivirus System Pro Uninstall Guide from Bleeping Computer, https://www.bleepingcomputer.com/virus-removal/remove-antivirus-system-pro
Malwarebytes, https://www.malwarebytes.com
Image Credit: Bleeping Computer/author; Safe Mode/author/original @ Flickr/cupcakes2; Malwarebytes/author