What You Get and Don't Get from Free AVG Protection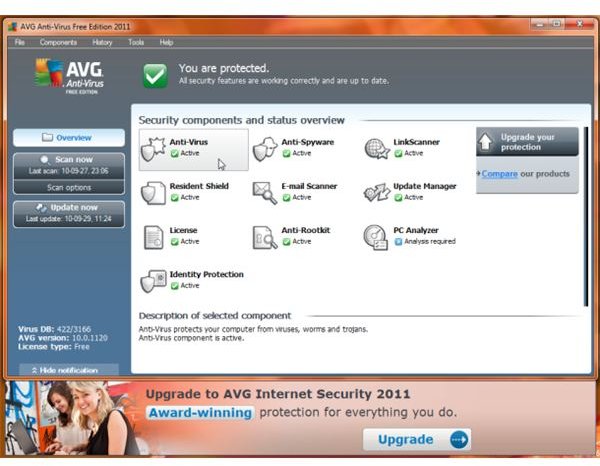 About the Software
AVG Anti-Virus Free Edition 2011 is downloadable for personal use. It is only licensed for home and non-commercial use on a single computer. The free edition allows AVG users free access to real-time protection against viruses and spyware. It even includes Smart Anti-Rootkit technology, which ensure users do not unintentionally spread malicious content.
This freeware features AVG LinkScanner, which is a free plug-in for Firefox and Internet Explore, that scans the pages behind Web links. If it detects something suspicious, it will prevent users from visiting the page. It will block active threats on dangerous sites in real-time.
The software has the following specifications and requirements:
Operating Systems: Windows XP/Vista/7
File size: 5.31 MB
Version: 10.0.1388
It requires a Pentium (or compatible) CPU with 300 MHz and between 64–256 MB of RAM to install. To operate, it has low system resource requirements. It take about 5 minutes to download and be ready for use.
Note: The software can be downloaded at AVG's website or on CNET's Download.com.
Pros and Cons
Pros: It contains really nice features. Consumers also say it easy to use. Security updates are daily. Works fast and effectively. It quietly does a security scan in the background without interrupting or slowing down other applications running. It receives high marks not only for the price (free), but for providing security functionality.
Cons: It offers "adequate" level of protection. Providing only basic security defense coverage. It will not checks files before they are downloaded. It does not protect privacy to ensure private information is safe from online threats. Finally, it does not include all the features of the "paid" versions.
Benefits: With AVG's free edition, PC users can receive an easy-to-use utility to quickly scan Web pages to check if they are safe before they visit them (by placing safety ratings next to search results). It can also detect threats and any type of risk before a computer even gets infected by a potential virus. Having such freeware installed can prevent viruses from infecting a computer. This free edition has a detection rate of 87.9%, which means it can assure users that their system's will runs at peak efficiency.
What you get is:
The latest security protection from AVG. It offers anti-virus and anti-spyware protection.
Protection on social networks. Thus, offering IM scanning, which means it has an on-access scan and IM scanner protection.
Safe handling of infected files.
Safe searching and surf technology.
What you don't get is:
Protection against spam.
Protection for business computers, networks and servers.
Protection when downloading and sharing files.
Protection from threats that can attack the computer.
Non-benefits: Trying the AVG's Free Edition appears a nagging registration window. Also, users are subject to pop-ups advertising for a "recommended upgrade" to AVG's products.
Considerations
Free AVG protection is not for everyone, like businesses. Therefore, users have the option to purchase AVG's Business Edition (either their Antivirus or Internet Security program), which offers full real-time protection against the latest online threats. AVG also offers a File Server Edition and Email Server Edition in 2011 as well. As well, there is the AVG Anti-Virus plus Firewall Edition to help eliminate threats and other attacks targeting businesses. (Be sure to check out the "Top Free Antivirus Programs for Small Business Computers.")
If, however, a user is after a bargain, they may not want to pass on this opportunity to have AVG's Free Edition software that provides zero virus penetration. That said, "Anti-Virus Free is perfect if you use your PC for casual surfing, searching or social networking." [1]
For what it is worth, AVG offers free updates for it! Users may consider it as an alternative to paying full price for a security program or to obtain another similar product from one of AVG's competitors. (Be sure to check out the "Free Antivirus Shootout: AVG vs. AntiVir vs.Avast!")
Just a year ago (in 2010), users had available AVG Anti-Virus Free 9.0 (the older version of AVG's 2011 Free Edition). Fans of AVG will definitely want to try the latest version (Version: 10.0.1388). It has very good reviews by consumers. Million of users like yourself are downloading the free antivirus package right now and staying protected from viruses and spyware.
Note: AVG is well-known for their computer security products. From a biased point of view, I trust them as well as millions of other users do. Any user is sure to find this company's free edition very useful for running daily security scans on the Internet.
References
[1] Is Free Antivirus Right for You? - https://free.avg.com/us-en/download-avg-anti-virus-free
Image: AVG Anti-Virus Free Edition 2011 (Credit: Screenshot by Seth Rosenblatt/CNET)