Network Monitoring Software: Net Monitor Review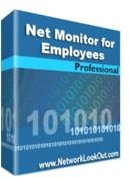 About the Software
This software allows employers to monitor employee PCs that are connected to the network. This allows employers the ability to monitor Internet usage like web-browsing and e-mail. It was developed by EduIQ.com so managers can observe what their employees are doing at work!
But, why you may ask do employers need such software? One theory is that businesses are trying to save time and money of not needing to go to remote locations to check on employees and networked computers. A second theory is to make use of such software (in spite of privacy issues) to ensure employees use company computers for job matters and not personal time during working hours. And, another theory is, "to keep track of the amount of time an employee spends away from the computer or idle time at the terminal." [1] Not only can employers monitor their PCs, they can take control of the networked computers too. Employers are able to send messages to employees and even lock their computers. It has also been used to start and stop remote computer applications and processes, giving instructions or presentations to others from one location, turning off or on, or even restarting networked computers from a simple click on the mouse.
Requirements and Offers
This product is licensed. That means users can try (30-day trial) before they buy! Price: $79.95 (USD).
Note: The latest version, version 4.6.7, contains important bug fixes, so make sure to find this one. Its released date: 07 Nov 2010. Latest update: 13 Apr 2011.
System (minimum) requirements: P2, 300Mhz, 128Mb Ram.
OS requirements: It only supports Windows platform users.
Supports: Windows 98/2000/XP/2003/2008/Windows Vista and Windows 7.
File size: 10.70 MB
Language: Available in only English.
Note: Downloadable at CNET who has tested it, saying it is spyware free!
Offers: To use the software for an unlimited amount of PCs contained in one building, a business site license costs $799.95 and an educational site license costs $599.95. Also available are school district licenses for $2,999. (Note: These are the developer discounts.)
Pros and Cons
According to most reviews by those users who have downloaded the software from CNET, here is a summary of their findings:
Pros: Easy to use!
Cons: Has no TS support.
There is more. In fact, this program has a huge list of features that need to be addressed. (Pro or Con?)
Capable of blocking an employees Internet access.
Can record remote computers screens to AVI files.
Able to stop applications on remote computers.
It shows a live picture of the remote computer screens.
With only a few mouse clicks, you can have control over remote work computers (such as its mouse and keyboard).
Monitored remote computers show each user logged on to a networked PC.
Possible to execute actions on all remote computers.
Has control over running processes.
Log-off PCs on the network
Can control employees PC work habits.
Able to monitor networked consoles (e.g. connections, settings, passwords).
Can install computer agents remotely from one location.
It is possible to encrypt and password protect agents.
Has the ability to suspend remote computers.
Able to show a live screen to give presentations to either employers or students.
In my own bias opinion, this software is capable of doing many great things for company employers of which are "pro" features. I see it as a benefit for such software to be able to monitor employees and fix problems remotely from only one location. I am all for an employers right to monitor the company's computers and employees during working hours even if it involves using software. However, I also think it is not right for business employers to also use such software to monitor networked computers without employee knowledge. Companies do need to inform all employees that they are subjected to monitoring when logged on to networked computers.
In summary, the Net Monitor for Employees Professional program ensures benefits for business employers and less for employees. It has many features and uses for either an office or a school. Just be aware that no matter if you are an employee or an employer, and are for or against using this type of software, there privacy issues related to the use of this software. An open and honest approach to its implementation will be required to avoid any backlash.
Software alternative: Spector Pro
Image credit: Net Monitor for Employees Professional
Source and References Section
[1] Computer Monitoring: https://www.privacyrights.org/fs/fs7-work.htm#computermonitoring