A Brief Analysis of the Anti Tracks 7.0 Software
Overview
Anti Tracks 7.0 from Softoogle does more than just erase your online tracks, as its name suggests. It is an all-in-one program that cleans your whole system (optimizing your computer's performance), does backup, locks/hides files and folders, and even provides you with reports and statistics on its usage. It's surprising how a sophisticated program like this can be so simple in its use with such a user-friendly design. Moreover, it costs only about $30 (its normal price is $35 but there is a special promotion these days), and it can run on Windows XP, Vista and 7. Before we jump to conclusions about its quality, though, let's take a look under the hood and see if it is as good as it first appears to be.
Evaluation Criteria
In order to make an accurate assessment of this program's value, we use a set of independent criteria. Namely, we evaluate the program in terms of its performance (how well it delivers what it promises to), its speed (how fast it functions), its GUI (how friendly and how functional it is), its ease of learning (how well it appeals to the novice user), and its variety of features (since it attempts to pass as an all-in-one kind of software). This program was applied on a laptop running on Windows XP, with 2GB of RAM and a 160 GB hard disk. The computer was running on normal performance settings (not maximum but not economy either). Details on these evaluations are provided in the paragraphs that follow.
Performance (4 out of 5)
The program did pinpoint a lot of junk files as well as a number of privacy items, which it successfully removed without any problems. However, it didn't provide any comments on the files it found, while it also labeled as obsolete some files that were actually very useful (Matlab scripts). Apparently, it classified these files as junk because of their name, since there were many other Matlab files that it left alone. The other tasks were performed seamlessly, though it was somewhat awkward that it required a system restart after cleaning the junk files (other similar cleaning programs don't usually ask for the computer to be restarted). Overall, the Anti Track 7.0 program performed quite adequately, though there is some room for improvement (possibly in the next version).
Speed (4 out of 5)
The program is relatively fast. When asked to find obsolete files, for example, it performed this task for the whole C: drive (which contained most of the junk files of the computer) in less than 5 minutes. As for the invalid shortcuts task, it completed almost instantly. As for the privacy cleaning task, it took somewhat longer than we expected (this was probably because it went into a lot of depth, while it also required a system restart at the end). The other tasks tested (e.g. plugins list, file shredding, system performance monitor, etc.) did not take up any significant time, but they wouldn't take any time anyway. Overall, the Anti Track 7.0 program is quite swift, though it could be somewhat faster.
GUI (5 out of 5)
The Graphical User Interface is excellent, as it is quite intuitive, easy to understand and very functional. Another design might make the program seem cumbersome, loaded as it is with all these diverse features, but with the design it has there are no such problems. This is probably the strongest aspect of this software.
Ease of Learning (5 out of 5)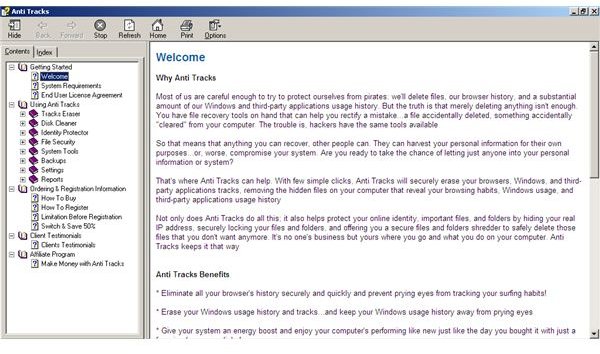 The program is very easy to use and with useful tips on the main screen, making it quite easy to learn. In addition, its elaborate help file makes it easy to find answers to whatever queries you may have about this piece of software. Normally, it shouldn't take you more than a week to explore it thoroughly and learn all of its functions.
Variety of Features (4 out of 5)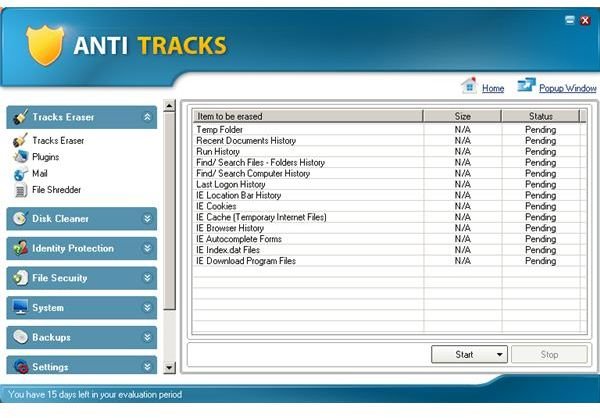 The program has a large variety of features, ranging from cleaning to optimization to file/folder security. However, it lacks certain essential features that any all-in-one program should have, such as registry cleaning, encryption, system speedup, among others. Having said that, it offers a quite unique feature that usually requires a specialized program: the IP Concealer, a means for anonymous browsing, which can come very handy in certain occasions. Finally, the overall summary that appears in the main screen is quite useful, if you want to keep track of the program's accumulated benefits. Overall, this software is quite varied in its features, though it may leave an advanced user wanting a bit more.
Verdict
All in all, this is a quite good program, well-rounded and able to deliver what it promises. Whether it is worthy of the $30 it is sold for today is another story though. For example, you could also consider other alternatives, such as Webroot's Window Washer 2011 which retails for the same price and offers a couple of more features (scheduling, recognition of 355 more plugins) while it also has telephone support and tutorials available. Another interesting option would be the Privacy Guardian by PC Tools, which also retails for $30. This program performs the same functions plus one more than Anti Tracks 7.0 (cleaning of the My Documents folder), has better technical support (the same as Window Washer 2011), and has slightly better help documentation. That's not to say that Anti Tracks 7.0 is not a good deal, because it is, but it's not a bargain.
References
1. https://soft.softoogle.com/ap/p1316.shtml
2. https://privacy-software-review.toptenreviews.com
(last accessed: June 2011)