IObit Professional Review - IObit Security 360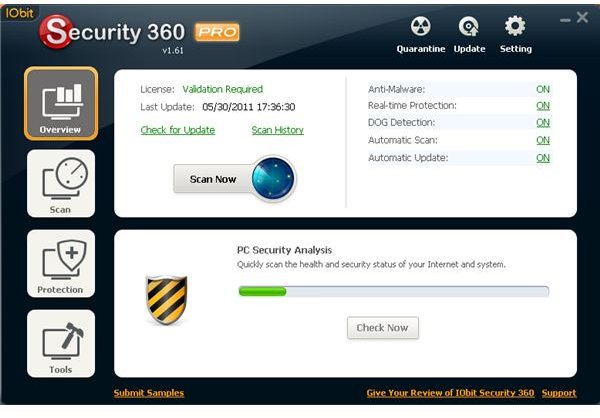 Overview
IObit is a well established software developer and has created a variety of applications. The Security 360 is one of their products and it aims to be an all-in-one application, addressing all of your online computer security needs. This company has made a very good effort in the creation of this piece of software, even though it is no longer available to purchase, since it has been replaced by the IObit Malware Fighter. Nevertheless, as the latter is most likely to be an extended version of this product, it is worthwhile to look into IObit Security 360 and evaluate it based on four quite practical criteria: performance, ease of use, GUI friendliness and variety of features.
Performance (4 out of 5)
The program is relatively fast and able to pinpoint a number of possible security threats. However, when run on a "clean" netbook, it found a security threat that wasn't there (an innocent application that has been there for many months, without causing even the slightest problem). Another security program has been applied on the same computer and did not see that program as a threat. So, it is evident that IObit Security 360 might be a bit too sensitive in detecting threats. This is not a big problem (it's definitely much better than being too relaxed), but if the user is not experienced enough to discern whether or not the threat found is indeed valid, it may cause a lot of alarm. It is useful though that the program has three different options for scanning: smart scan (a quick scan for the busy user), full scan (if you have plenty of time to spare on checking your computer for errors) and custom scan (for the more advanced user).
Ease of Use (5 out of 5)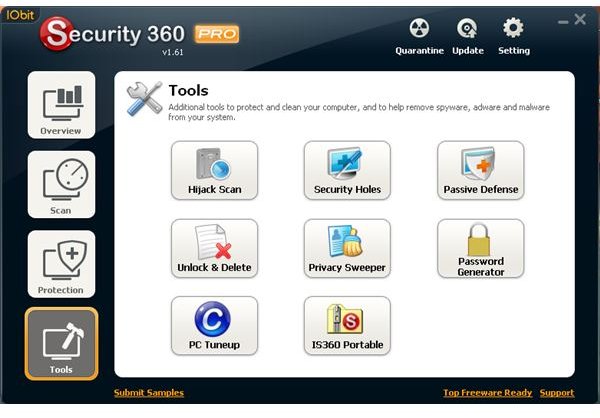 If you can read English, understand how icon buttons work and can use a mouse, you can use this program effectively. It appears that despite its sophistication, this program was designed to be usable by even the most novice user. The program's various functions are grouped in four main categories, which are accessible from an icon menu on the left. Each one of these categories has a few functions that you can access from the larger part of the screen. In the rare case that you get confused, or if you simply require more information about what each function entails, you can consult the program's support (which is a bit discreet and may take a while to pinpoint when you first use this program). This support link, located in the bottom right corner of the program's main window, allows you to get help from the user's manual (which is quite thorough), or through the online help (which is equally effective).
GUI Friendliness (5 out of 5)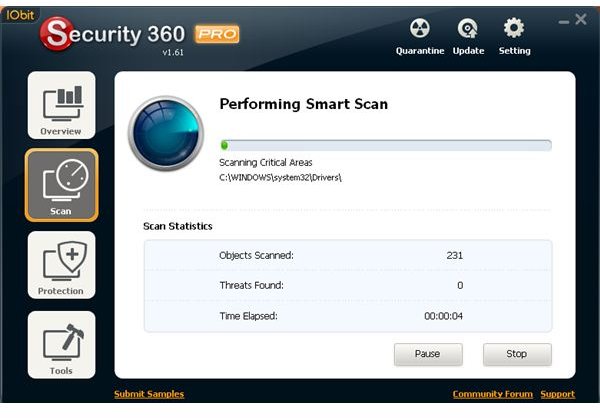 It is true that if you are a computer expert you draw a lot of enjoyment from using a new application, but IObit made sure that even the novice computer user can experience this. This software's graphical user interface (GUI) is so simple and intuitive that you don't need to know much about computers to appreciate and understand it. The program is full of colorful icons and plenty of explanations, while in the more advanced functions it offers, it makes sure that you are aware of what you are getting into. This eliminates many avoidable difficulties that the inexperienced user may experience while running this program, and at the same time makes learning it a fun and fast process.
Variety of Features (4 out of 5)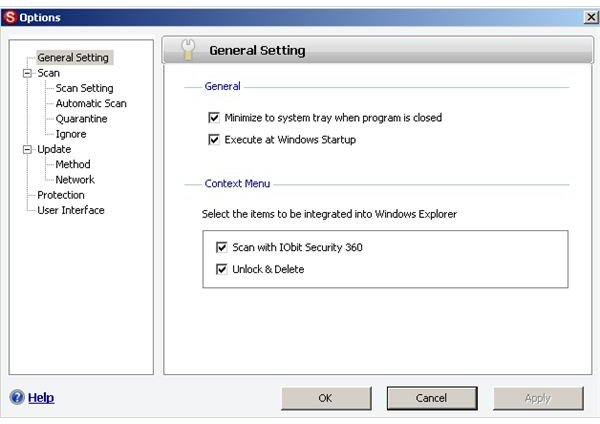 The program has a variety of features and options, making it quite customizable and versatile. Although this would appeal mainly to the more advanced user, even the not so advanced could benefit from it, because it becomes clear that there is more than meets the eye in this piece of software. In other words, this is not a program that would become obsolete or seem limited a couple of months after you buy it. This is a program that you might end up using for a while, depending on your needs.
It was very thoughtful for the developers to include a few handy small programs as features of this software. For example, it has a neat password generator, a privacy sweeper, a tune-up for your whole system, and even an unlock & delete function. For all of these you would probably need to get specialized programs, so you end up saving a lot of resources.
What's also quite interesting is that this program offers two types of passive protection (this is the protection you get without having to click any buttons, an auto-cruise for your computer's security). The first passive protection type is the signature-based approach, which is the most popular security measure out there. The second type involves a somewhat intelligent approach, where the applications you have are monitored constantly and if they deviate from their normal functions an alarm goes off. This approach is not so widely spread and may catch problems that other security programs might not be able to detect.
The Verdict
The IObit Security 360 is an interesting well-rounded program and a good asset for your computer's security. However, unless you are really keen on having a powerful security software, it is a bit of a luxury item. It's definitely a worthy program, yet most of the things you can do with it you can also do with freewares. If you do choose to invest in it though, you won't be disappointed. Personally I am quite satisfied with the freeware security program I have and it doesn't raise unnecessary red flags, either.
References
1. https://www.iobit.com/security360.html
2. https://www.iobit.com/support.html
(last accessed: May 2011)