Using Kaspersky Safe Run for Windows 7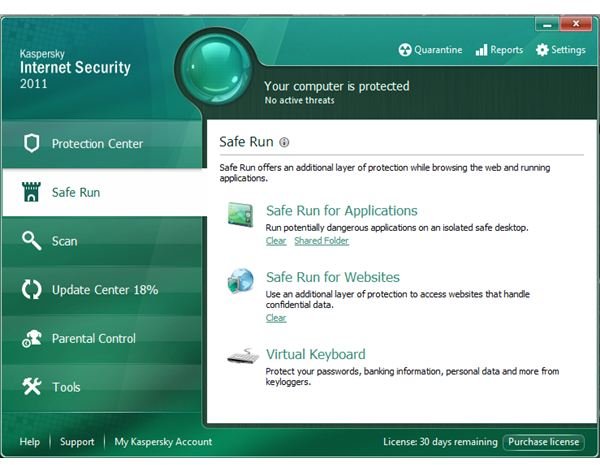 Safe Run Feature in Kaspersky Security Suite
The Kaspersky Internet Security Suite program provides not only antivirus and hacking protection, but also includes virtual keyboard and safe run features. The safe run feature will prevent unwanted changes on the computer or browser settings. If you want to see how it actually works for applications and websites, then continue reading.
Safe Run for Applications

The image at the left is the screenshot of a desktop that uses safe run for applications. The entire hard-drive and the computer settings are in a virtualized environment, which means no additions or modifications to the computer will be saved or applied once safe run is turned off. There is an option to lock it too.
This feature will help end-users of Kaspersky Internet Security program protect their computer from malware or virus infection. The antivirus functionality in Kaspersky software will continue to monitor a computer that is in safe run mode. The safe run for applications also include an option to use the shared folder. The shared folder will keep files that you want to save for later use or when you exit the safe run mode.
If you prefer to only run a specific application in a virtual or safe mode environment, simply right-click on the shortcut of the program e.g. Internet Explorer, Outlook, Windows Mail, etc. and then choose "Safe Run." The program will run with a green frame around the applications' user interface to confirm that it's working.
Note that when you enable safe run for applications, the desktop will load the sidebar in Vista and Windows 7. Users of Vista and Windows 7 with Kaspersky safe run enabled need not worry if the sidebar appears, because you can always exit the sidebar. Your desktop settings will return to your preferred settings when you exit safe run mode. You will also notice that the applications will not use the aero theme, which is normal.
Safe Run for Websites
Safe Run for websites is another function of the safe run feature in Kaspersky security suite, designed for accessing websites that will process private or confidential information e.g. online banking or any other secure websites. Unlike Avast! Safe Zone in Avast Internet Security 2011, the safe run for websites in Kaspersky supports Internet Explorer and Firefox browsers. If your PC is using Firefox as the default browser, Kaspersky safe run for websites will use Firefox. Avast! Safe Zone on the other hand will use Google Chrome only, leaving the user to manually launch Firefox or Internet Explorer in sandbox mode.
Safe run for websites works the same as safe run for applications. Any additions or modifications in the browser will not be stored. Below is an example of a malicious add-on for IE, and you will notice in a green frame around the browser in the screenshot, which means the safe run for websites feature in Kaspersky is running or active: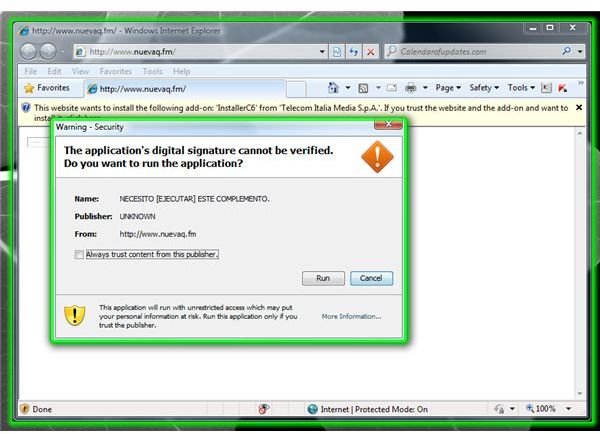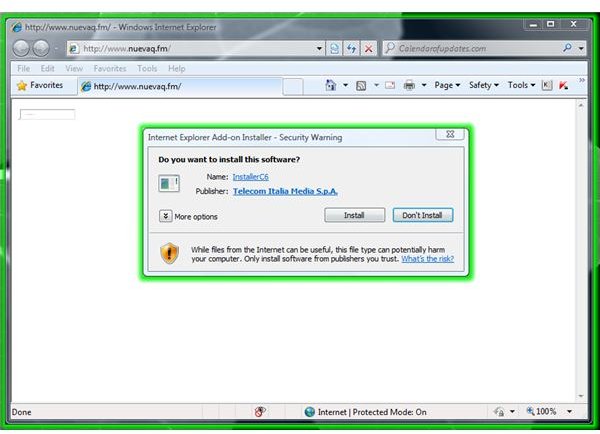 The malicious add-on was successfully installed:

When you exit safe run for websites or when you close the browser, the above malicious add-on for IE and any other such changes to the browser will not be stored, leaving your computer safe from malware.
References
Image screenshot taken by the author, courtesy of Kaspersky Labs.
Program name and version used in this article: Kaspersky Internet Security 2011 v11.0.2.556.
Information based on author's experience.