Webroot Internet Security Essentials 2011 Review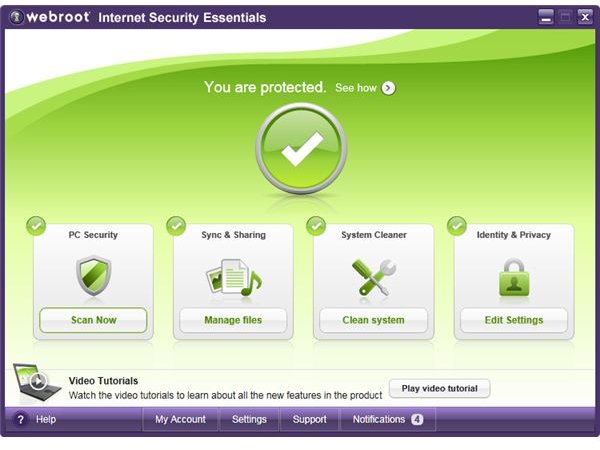 System Requirements (5 out of 5)
Webroot Internet Security Essentials 2011 supports all 32 and 64-bit editions of Windows 7 with or without SP1. The internet protection suit also runs on every edition of 32-bit Windows Vista and 64-bit versions of Vista with SP 1 -3 installed, as well as on 32-bit Windows XP SP2 and SP3.
Users of Windows Vista and 7 are recommended to have at the least 2 GB of RAM, and a 1 GHz or faster CPU. Windows XP requires 256 MB RAM and minimum processor speed of 300 MHz.
All systems running Webroot additionally need to have 300 MB of free disk space as well as IE 6.0 or Firefox 3.0, and later versions of the two web browsers.
Setup (5 out of 5)
The install of this security software bundle is straightforward and starts with entering the license key. If you want you can read the EULA and inform you about WARN (Webroot Automated Research Network) by clicking the respective links on the first setup screen. It is recommended you leave the default setting and join the community of Webroot users to fight emerging treats by anonymously submitting data about new malware to the WARN.
Next, the software is downloaded and installed, followed by a reboot. Upon restart the firewall module of Webroot Internet Security Essentials will detect your network connection. Hit Add as Trusted if you are sure using trustworthy networks such as when being at home for example.
On the next screen you find a confirmation message that Internet Security Essentials has been installed successfully and that protection is up and running, along with a short video tutorial about your new software. When you hit the OK button, your computer will be scanned for malicious programs.
We really recommended running this initial scan. Not all AV software is a good a detecting malware as Webroot, so if you replace a free virus scanner with this protection suite it might be the case that Webroot finds one or another suspicious piece of code.
Interface (5 out of 5)
The GUI of Webroot Internet Security Essentials has a great look & feel. Menu items are logically organized into PC Security, Sync & Sharing, System Cleaner and I_dentity & Privacy_. Hovering with your mouse over a particular menu item while reveal its status and allow editing the settings.
In the footer of the interface you find Webroot's notifications and alerts, help and support, your account information including the license, as well as general settings for proxy connections, language, the history of computer events, scheduling, and information regarding updates.
In summary, the GUI is cool and easy to use. You see all important information at once and have access to configuration items without digging trough lengthy menus.
Please find features, performance and other important information about this software on the next page of this review.
Features (5 out of 5)
Webroot Internet Security Essentials 2011 extends the vendor's Antivirus with Spy Sweeper software with a firewall, online backup as well as privacy protection. Here we discuss these additional protection features and recommend you check out our article Antivirus with Spy Sweeper to find all about the antivirus and anti-spyware capabilities included in Internet Security Essentials.
The Firewall, found in the PC security menu of Webroot Internet Security Essentials 2011, consists of a process monitor (off by default), application filtering, and a location manager with recommended settings turned on automatically.
We also recommend leaving on the default setting of filtering all inbound and outbound traffic, but you can allow all or block all network traffic if there's such a need on the top of the firewall configuration menu.
To make use of Webroot's online backup you must first create and verify an account. Then you will be able to select the files and folders you want to backup to the Webroot servers. Included with Webroot Internet Security Essentials are 2 GB online disk space. More capacity, up to 100 GB, can be purchased for an additional fee. When you have completed the selection for online backup files click Next, then Finish. The software will then upload your data as background task.
After the initial save your local data and the online back synchronize when you are logged in with your online backup account. You can view and manage your online backup data with standard web browsers. Also included in Webroot's backup menu is Magic Briefcase, a synchronization tool for files and documents you need on various computers (running Webroot's Internet Security suite).
Also included with Webroot Internet Security Essentials is System Cleaner, a set of tools to improve overall system performance by defragmenting your hard disk and freeing up disk space by deleting unnecessary files. Running System Cleaner menu will wipe out your Internet tracks at the same time.
The Privacy Protection component of the software consists of the three items Anti-Spam, Anti-Pishing and Secure Browsing. If you have an email client such as Outlook installed on your PC the spam filters will handle the junk mail, whereas the pishing defense will check emails and web site links for legitimacy, to prevent you from giving out sensitive information to bogus websites. Secure Browsing also protects you from script execution when visiting websites. On top of that there is an URL scanner which tells you about the safety of websites before you go there.
Please see the two samples when using Google with Secure Browsing turned on below:


Performance (4 out of 5)
This protection software suite offers excellent computer and online defense using little system resources as tests on our Windows 7 based test computer have shown. Webroot Internet Security Essentials script execution protection is so strong that on certain online game sites you have to acknowledge a warning message before you can proceed.
Help and Support (5 out of 5)
The GUI contains links to extensive online Help files on the vendor's website where you find lots of additional resources for questions and issues you might have.
And the best thing is that Webroot offers free, U.S based phone support.
Price to Value (5 out of 5)
A license of Webroot Internet Security Essentials 2011 protects either three or five PCs for a period between one and three years depending on your needs. Accordingly, the cost per PC per year varies between $14.66 and $19.98.
There is no trial version of Webroot Internet Security Essentials, but the Webroot Satisfaction guarantee allows buying with confidence. Although unlikely, if you are not satisfied with the product the vendor will refund you within 30 days without asking questions.
The Bottom Line
Webroot Internet Security Essentials 2011 combines top-notch protection against viruses and spyware. Also included is an easy-to-use firewall, a PC cleaner, online backup and synchronization, privacy protection and safe browsing with an URL scanner. This security suite is attractively priced and really recommended.
References
Screenshots taken by the author

All screenshots and product information refer to Webroot Internet Security Essentials 2011 version 7.0.8.7

Official product page http://www.webroot.com/En_US/consumer-products-internetessentials.html