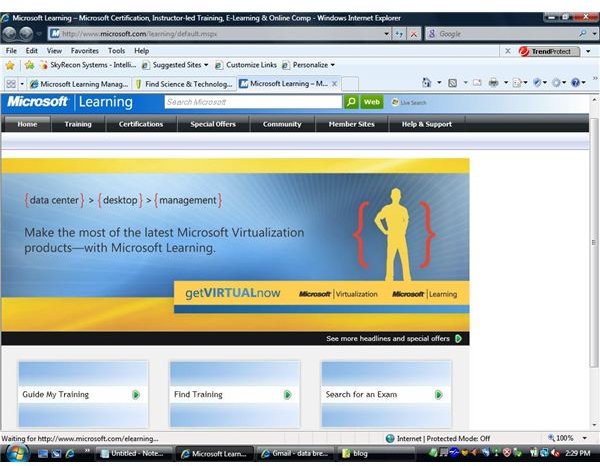 Content Delivery (5 out of 5)
Microsoft's learning site is a versatile site that offers elearning, webcast and clinics. Small businesses with little or no training budget will find the elearning aspect of Microsoft products above reproach. Although many of the programs are paid subscription modules; there are many courses that are free. Microsoft offers five levels of Security Guidance that are very thorough and require interaction from the online student. Anyone can take these courses online. The only requirement for enrollment is a Microsoft live (passport) account. Because this content is online, it can be attended anywhere. The delivery by the internet is fast and dependable. Microsoft offers an alternate way to download each of the courses.
Elearning Website
Courses (5 out of 5)
The smorgasbord of classes can feed any willing end user with information about security, Windows Server, Office Products, Virtualization, Terminal Services and many more. The Rubrics that Microsoft uses, gives skill level needed for the end user. This is also covered in the Content and Prerequisites in the description of each course. Each course has objectives to measure where you should be at the end of the course.
In the Introduction to Hyper-V in Windows Server 2008 Clinic 5935, Microsoft gives the end user an estimate time for completion of two hours. This self-paced course has a 90 day expiration. (The Security Guidance courses give a one year expiration.) This course explains the features of Hyper-V, Server consolidation, the implementation, and creation of virtual machines, data centers and clustering in a virtual environment. Student prerequisites for this course is >3 years of experiencing in planning, implementing and supporting Microsoft Servers.
Course Listing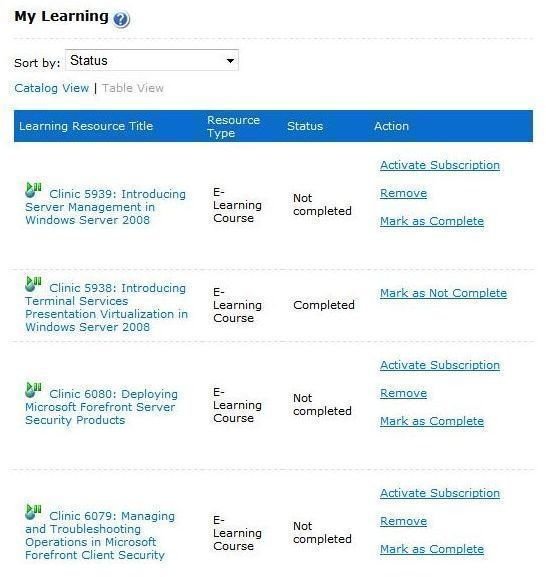 Course Content (5 out of 5)
The content included with each of the courses is excellent. Microsoft is to be commended for their thoroughness and subject matter in each area. Each of the Security Guidance Levels of training (All Five Levels) are complete and to the point. With interactive games, multiple choice, and fill in the blank as quizzes, these mini tests ensure the user will gain the knowledge given out. With mini movies and vocal tracks, the 'virtual' teachers are excellent in their description of the material being covered. Microsoft provides animation of networking, servers and end users to articulate the information to the online learner.
Content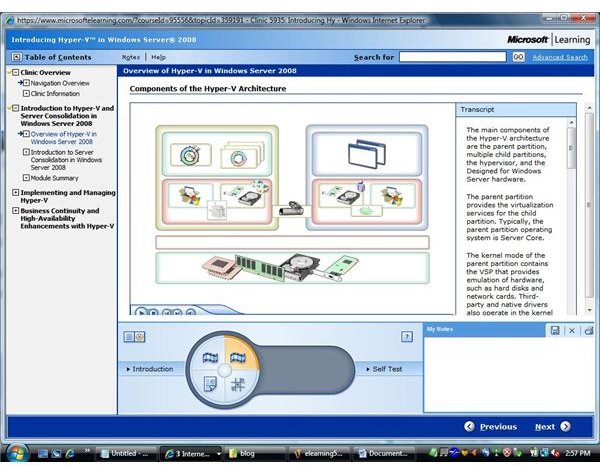 Certificates and Transcripts (5 out of 5)
The most impressive item that comes from the elearning is the transcript and certificates. The certificates if printed on a heavy bond paper have an excellent professional appearance. This information should be shared with all members of the information technology department and should be made mandatory. This type of learning is asynchronous and can be used anywhere. IT Managers, CIOs and training officers should use this wealth of information. Kudos to Microsoft for producing this excellent resource for information technology professionals.
Sample Certificate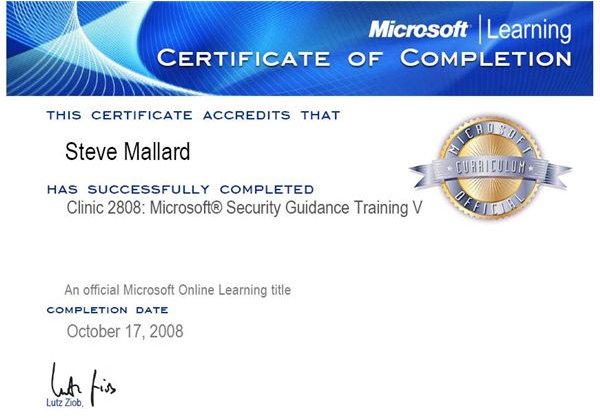 Conclusion
Microsoft Learning is an excellent tool for your entire department. This wealth of information along with printable transcripts of the training material is an asset to you and your organization.