Managing Your Exchange Outlook Domain Password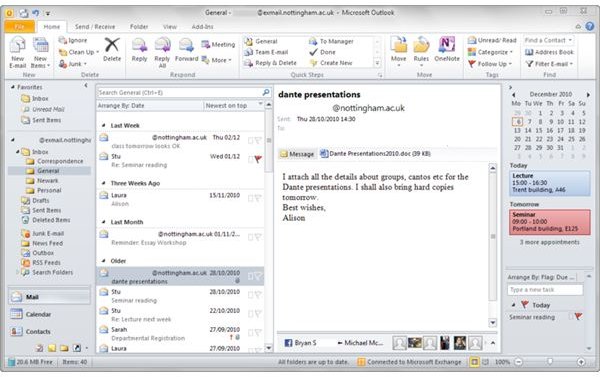 What is a Domain Password?
Often given to employees in large organizations, Microsoft Exchange Outlook domain passwords are used to give the user access to both their email account and any other services they are permitted to access such as the Internet, a corporate Intranet and networked services on a computer.
There are various ways of using this password, which is effectively a single-sign-in solution, from using it locally on your standard workstation to logging in to another computer.
If your network is suitably configured you might also change the password from within Outlook, saving you time and effort in contacting your IT help desk.
The Importance of a Strong Password
With such a single-sign-in solution in place, your employer is typically giving you access to the PC, the computer network within the domain, an email account and Internet access.
As such you will need to ensure that you have chosen a strong, memorable password that will be impossible to guess.
When composing a password (and yes, it requires as much thought as to describe the process as "composing") you should stay away from song titles, dates of birth or other important dates, anything that anyone knows that you like or enjoy, and stick instead to combinations of the above at the very least. Preferably you should try an online password generator for the best results.
Additionally you should remember that your passwords should feature upper and lower-case letters as well as numbers. For the best information on what a password should include, you should check your corporate computer security policy.
Oh and one other thing – don't write the password down! Instead, memorize it.
Image credit: https://en.wikipedia.org/wiki/User:MKFM
It's Your Password – Not Your Colleagues!
The most important element of managing any Exchange Outlook domain password is to maintain its secrecy. Typically such a password will undergo an administrator-enforced change every 28-30 days, allowing you to choose a new secret string of letters and numbers to access your computer, email and Internet account.
Sharing passwords with colleagues might seem convenient and it might be a good way to ensure that you don't forget the password, but ultimately it will more than likely be seen as a security breach. Modern computer networks feature user auditing which enables system administrators to trace questionable actions to specific user accounts. If you have shared your password a colleague might use it to behave in an unprofessional manner, which is why keeping your password a secret is the most responsible course of action.
How to Change Your Exchange Outlook Domain Password
One key element of the successful management of your Exchange Outlook domain password is being able to manually change it rather than waiting for the system-wide password reset process.
Depending on which version of Outlook your company uses – and assuming the function is activated – you can change your password from within the email client.
For instance in Outlook 2007, go to Options > Other > Advanced Options and click Custom Forms. In the next window click Password and in the Change Windows Password box enter the old and new passwords where specified. Click OK to continue, and again until all of the boxes have closed.
References
Author's own experience