The Anti-Spyware Master Removal Guide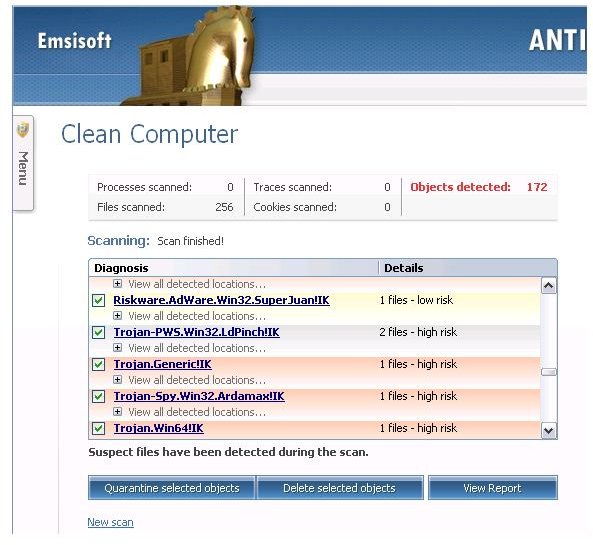 Spyware, Adware and Rogue Programs
Spyware is a program often installed on a computer without a user's consent, or prominent notice. It also collects information, such as visited websites, without the user's knowledge. Some spyware programs are installed by botnets and computer worms in an effort to earn quick profits. An example of such a botnet is called Rbot or Zotob; it exploits security vulnerabilities in Windows. Another example is the Waledac botnet which downloads rogue security software. Cyber-criminals are not bothered at all if the computer worm has been removed from an affected computer because their target is to install other programs that will give them money; e.g. adware, spyware or rogue software.
Note that some legitimate software was also found to install spyware or adware on computers; e.g. P2P or download managers software. Sometimes a setup file that is bundled with other software installer can be flagged adware or spyware, if the antivirus or anti-spyware vendors found the installer or the process of installation shows adware and spyware behaviors.
If the computer does not have an anti-spyware program or the virus protection tool has missed in detecting the spyware, adware or rogue programs installed by botnet or another legitimate program, the end-user's private information is at risk. Most security software will flag an adware with low risk and provide an option to remove from the computer or ignore the detection.
Ignoring the detection on adware or spyware means the antivirus or antispyware will no longer detect any adware with the same threat name that the scanner has on its database, or the particular adware program or files will be excluded from future detections. Note that whatever rating the virus protection tool provides, it is important to note that it is being flagged due to privacy or security concern.
How to Deal with Adware and Spyware
Now that you are aware how adware, spyware or rogue software is distributed by malicious software and legitimate programs, you should know also how to prevent or remove such threats to your private information. Here's an all-in-one guide for adware and spyware removal - an anti-spyware master removal guide.
Removing adware and spyware is easily done if the computer has an anti-spyware program, but if the security scanner does not detect spyware or adware on the computer, you should regularly scan the computer using an online scanner or antispyware software by another security vendors. This is because not all antivirus program vendors share the same database or rating system. Some adware programs will be detected by scanner A but not by scanner B or C.
An example is a program that has the OpenCandy installer. Windows Defender found it as adware, but other security vendors do not find any threat in it. It does not mean that the software is malicious; it only means that by using the installer with OpenCandy, some information about you is sent to third-party or advertisers. Most privacy conscious users will opt to not to use such software, thus, Windows Defender detects it since their malware research team has found information is being transferred from the computer to advertisers (aka data collection).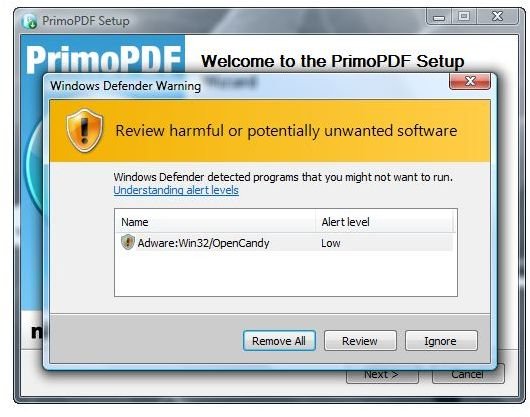 If the computer is already infected with spyware or adware, you need to remove it using the Add or Remove Programs utility in Windows. It's also important to scan the computer using an anti-spyware program to remove remnants or other files that the spyware program has left behind. Also see the related article: What to Do if Add or Remove Programs Won't Remove Spyware or Adware?
Spyware Removal Tools
Below are the tools you should consider using to remove spyware or adware:
Advanced users usually use the following tools to remove spyware or adware infection:
Preventing Adware and Spyware Infection
In addition to anti-spyware master removal guide, I thought you should also know how to prevent adware and spyware infections:
References