Fixing Norton Internet Security 2011 Problems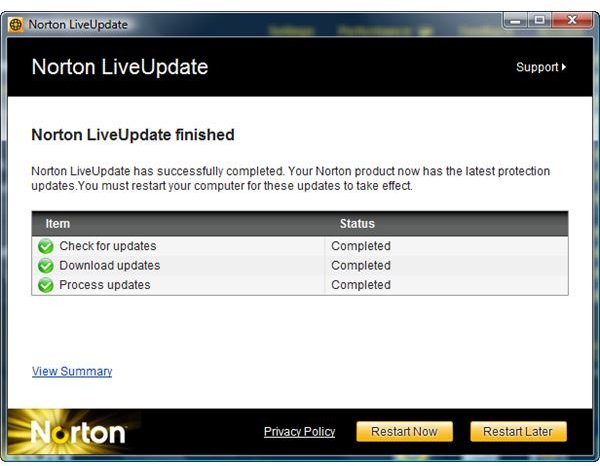 Norton Internet Security 2011
The Internet security suite of Symantec provides protection against viruses, malware, hackers and unsafe websites. Norton Internet Security also includes anti-spam and an optional parental control program. The latest edition, Norton Internet Security 2011, has known problems and some of these issues are known to Symantec.
Incompatibility with Popular Browsers
Internet Explorer 9 and Firefox 4 web browsers are not compatible with Norton Internet Security 2011 and Norton 360. Symantec plans to release an update to their suites in coming months. Users of Norton should not use IE 9 or FF 4 until the patch is released. You should regularly visit the Symantec website to check if the patch has been released.
ccSvcHst.exe Problems
ccSvcHst.exe is a legitimate process in Norton programs that is necessary to run all the time. This process in Norton software often gives problems to its end-users:
ccSvcHst.exe will not shutdown when the computer is turned-off – this causes a delay in shutting down the computer.
It uses 100% CPU usage.
The problem on ccSvcHst.exe in Norton Internet Security and other Norton programs has been fixed. You should download the program updates using Norton LiveUpdate.
Norton and Infected Emails
Infected emails in Thunderbird or other email programs are sometimes reported by Norton Antivirus even though the infected email or email attachments does not exist. This is not a problem in Norton products but with the email program's database. To stop Norton in discovering infection on already deleted emails, compact your email folders. Compacting email folders will completely delete the already removed emails.
LiveUpdate Problems
Norton include a built-in updater that downloads and installs updates for Norton program. Some users have reported problems in using Norton LiveUpdate because it fails to finish downloading available updates. The solution is re-installing LiveUpdate software by manually installing the latest setup file of LiveUpdate. You can download it from Symantec website.
If LiveUpdate continues to fail to install Norton updates, it could be the ISP connection. Try using the free NortonDNS service or OpenDNS.
Uninstallation
One of the biggest concerns in using Norton products is the uninstallation process. The software often leaves remnants or will not properly remove all of its files and folders. The solution is to use the Norton Removal tool, a standalone uninstaller for many Norton products, including Norton Internet Security 2011.
Default Settings
A minor but important thing to note in using the security suite of Norton is the default setting. Most people that use Norton Internet Security are not aware that some files are not scanned by Norton and this can lead to malware infection. There are other default settings in Norton that the user should modify. Check out the tips in using Norton Internet Security especially page 2 of the article on how to setup the program.
Other Problems in Using Norton
Some other Norton Internet Security 2011 problems are as follows:
Corrupted or damaged installation.
Disabled by malware.
Subscription has expired early.
Removing malware infection isn't free.
The solution to the above problems is as follows:
Reinstall Norton Internet Security – use Norton Removal tool before reinstalling the Internet security suite.
Clean the computer using Malwarebytes' Anti-Malware, Hitman Pro or SUPERAntiSpyware programs. Re-install Norton if it continues to not to function after cleaning the computer from malware infection.
Sync the product license by using the built-in Norton Account within the program. Sign in to your Norton Account and then run LiveUpdate.
Do not contact Symantec to remove malware infection. If you will contact them, you have to pay money. Simply visit the HijackThis forums at AUMHA or BleepingComputer.com to fix malware infections, for free.
References
Screenshot taken by the author, courtesy of Symantec.com
Information based on author's experience, Symantec support and discussion forums.