How to Fix Windows Defender Problems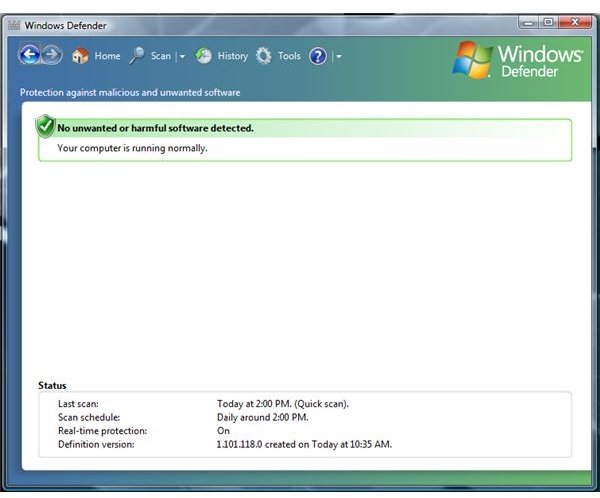 Windows Defender
The free antispyware and anti-adware program from Microsoft continues to help protect end-users against spyware, adware and other types of malware. It also includes security monitoring of modifications in startup programs, browser add-ons, drivers, services, Windows add-ons and the hosts file. Windows Defender for XP and Vista has Software Explorer features to manage software that is running on the computer. This feature is not available in Windows Defender for Windows 7.
Windows Defender problems vary depending on the status of the computer, network or the program itself. Below are some of the known issues with Windows Defender and the solutions or work-arounds.
Installation on XP and Windows 2000
The antispyware by Microsoft is built-in for Vista and Windows 7 computers. XP and Windows 2000 users can install Windows Defender. However, the latter requires installation of GDI+ binaries. Without GDI+ binaries, a Windows 2000 PC will receive an error message that says "This software requires GDI+ Please load the Windows 2000 Security Software Prerequisite Pack". The solution is to manually download and install Platform SDK Redistributable: GDI+ on a Windows 2000 Professional or Server. Please note that Windows 2000 is no longer supported by Microsoft.
Non-English versions of Windows might receive an "error 1609" when installing Windows Defender. Users should just download the latest setup file that fixes the 1609 error.
If you received an error message, "The highlighted volumes do not have enough disk space available for the currently selected features" when installing the Japanese version of Windows Defender, you will need to specify the installation location for Windows Defender. Simply install Windows Defender using the custom installation method if the problem continues.
System administrators might receive an error message, "Error 1719. The Windows Installer Service could not be accessed". They should not install Windows Defender using Terminal Services, but instead install the program from a console session on the terminal server.
Updating Windows Defender
The spyware definitions update for Windows Defender is automatically installed if the Automatic Update setting for Windows Update is set to "Automatically download and install updates". If an error occurs when installing a definitions update for the program, you should use the following solutions:
Error 0x80240029 – The problem is caused by a corrupted SoftwareDistribution folder, or you may be experiencing another Windows Update problem. The work-around is to manually install the definitions update. If the problem continues, you should try solving your separate Windows Update problem to allow automatic updates again.

Errors 0x80240022 –To solve the Windows Defender problems that displays this error code, install the root certificates update via Windows Update.

Error 0x8024002b – The error is caused by Software Update Services (SUS) 1.0, which is not supported in delivering updates for Windows Defender. Update the update service to Windows Server Update Services (WSUS) before deploying the program to server computers. End-users should visit the Windows Update website to get the latest version of Windows Update Agent. If it is not installed or not offered, manually download and install the latest version of Windows Update Agent from Microsoft. Note that you should compare the file versions mentioned in the article to the installed files that are located in the System32 folder of C:\Windows.
For more on Windows Defender update problems, read the linked article.
Problems Using Windows Defender
Other Windows Defender problems that you might encounter are when the program is not functioning properly or another program is blocking Windows Defender.
If you recently installed an antivirus or anti-malware program that automatically stops or disables Windows Defender, you will need to re-enable Windows Defender. Only do this if you are quite sure that there is no known compatibility issue between Windows Defender and the other security software. Note that Microsoft Security Essentials will disable Windows Defender and you should not enable the antispyware program if you are using the antivirus program by the same vendor. Further reading: "Can Windows Defender and Microsoft Security Essentials Run at the Same Time?"
In some cases, an error code 0x800106ba is displayed when you try to start Windows Defender. To solve this particular error, you should check the startup type of the Windows Defender service. Open the Windows service console by typing services.msc in run or search box in Windows. Locate Windows Defender service and change the startup service type to Automatic and then click "start" to start the service.
Malware and Adware Removal
Windows Defender will not find all types of malware that affects Windows computers. It can only detect spyware, adware and some types of malware. It cannot detect and remove viruses that antivirus program will find and remove. Users who prefer using Microsoft security software for removing all types of viruses and malware should use Microsoft Security Essentials.
An example of adware that Windows Defender will find, that other security vendors won't, is the software installer package with the OpenCandy installer (see VirusTotal scan result):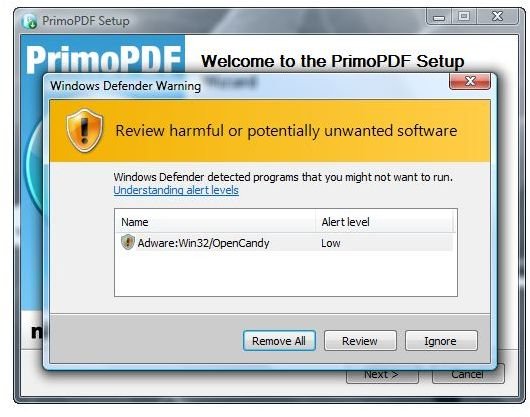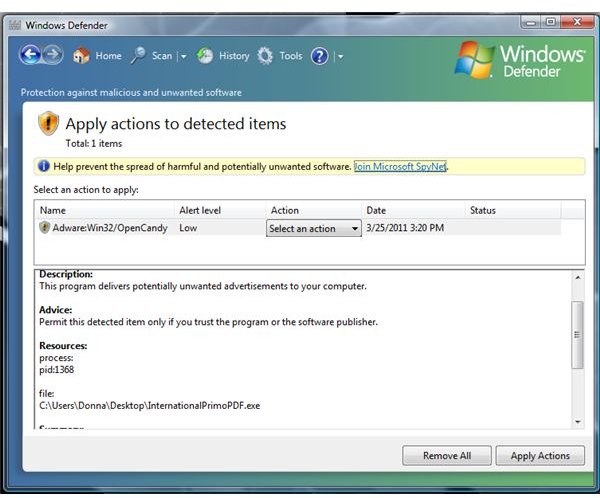 Windows Defender Problems: Settings and Logging
If you cannot manage or change the settings for Windows Defender, make sure that you are logged in using an administrator user account.
If you prefer to enable logging of known good detections and unknown detections performed by Windows Defender, simply enable the policy using the Windows Defender Group Policy administrative template:
Type gpedit.msc in the run or search box in Windows, then hit the enter key on your keyboard. Navigate to Local Group Policy Editor > Local Computer Policy > Computer Configuration > Administrative Template > Windows Components > Windows Defender. In the right pane, enable the "enable logging known good detections" and "enable logging unknown detections".
Note that home editions of Windows do not have access to group policy editor. Also note that some malware can disable or prevent Windows Defender from running or opening. You may need to cleanup malware in safe mode and try to scan using an antivirus or anti-malware.
References
Image credit: Screenshot taken by the author, courtesy of Microsoft.
References: Microsoft Support and author's experience.