What to Do with the Adobe Flash Update Alert?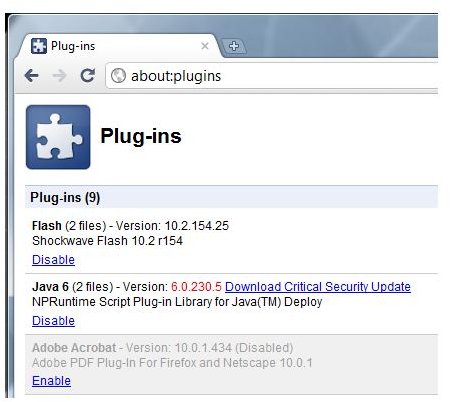 Adobe Flash Player Update
Flash Player is a program that allows viewing of movies and animations using your browser. You will have to have Flash Player before you can watch videos on news and technology websites, any social networking service or even YouTube.com. Online games also often require the player.
Flash Player runs in Internet Explorer, Google Chrome, Firefox, Opera and other web browsers. You need to install Flash Player in each browser except for Google Chrome.
Flash Player is a very popular program that can also put your computer at risk, which is why it is important to install an Adobe Flash update whenever it is available. However, you need to make sure that you are seeing a legitimate Flash Player update alert, because Trojan creators have used tricky tactics to deceive end-users by displaying fake Flash Player update or downloads.
Automatic Update for Flash Player
The Flash Player for Internet Explorer, Firefox or Opera is not updated automatically. Only Google Chrome provides automatic updates for Flash Player because the plugin is integrated into the Google browser.
Users of IE, Firefox, Safari or SeaMonkey browsers on Windows should manually install or download the update for each browser. You can download the latest setup file of Flash Player from Adobe's website.
Flash Player Update Setting
There is an option to automatically check for Adobe Flash Player updates and this is enabled by default when you first install the program. The option for when to check for Adobe Flash updates, or if the program should detect for update at all, is in the Global Settings Manager. You need an Internet connection to access the settings manager for Flash Player.
To easily access the settings manager if you are currently viewing a website with flash content is to simply right-click the video or game and then click "Global Settings…"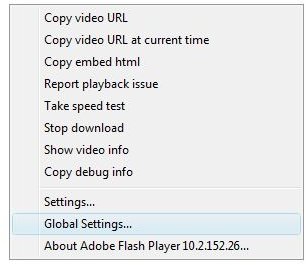 When the global settings manager is displayed, simply click on the "Global Notifications Settings panel" in the right pane then select when to check for updates: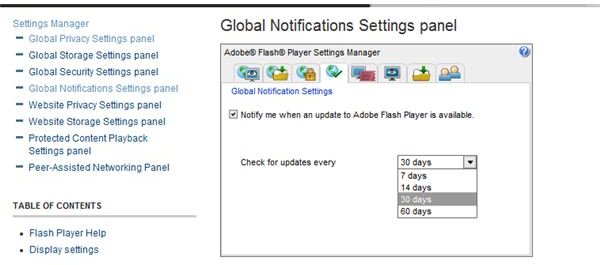 Note that you need to enable the notification for all browsers that have the Flash Player plugin. If you only enable update notifications in Firefox or Opera, the updater will only download and install the Flash Player update for these browsers, and not in IE.
Adobe Flash Player Update Notice
If there is an update for Flash Player, you will be notified the next time you turn on or reboot the computer. Below is an example of the Flash Player update notification on Windows: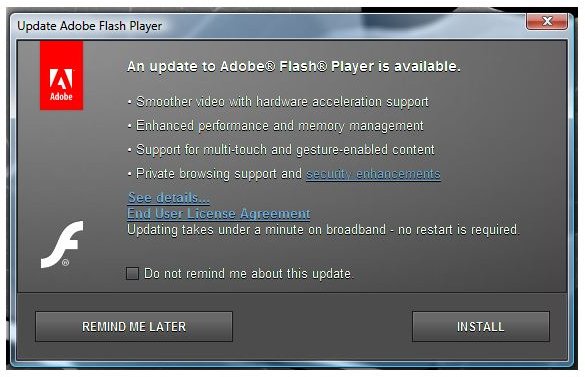 Clicking Install will automatically replace the existing version of Flash Player.
What is FlashPlayerUpdate Startup Item?
End-users that allows or have enabled the setting in Flash Player to notify for Flash Player updates might notice a startup entry, FlashPlayerUpdate. This registry key is added into the registry only when there's update for Flash Player, so that the next time you reboot your computer, you will see the above-mentioned Adobe Flash Player update notice.
You will find it in C:\Windows\system32\Macromed\Flash\FlashUtil10m_Plugin.exe and you don't have to delete this file because the startup item will only run once, unless you chose to remind you again.
Flash Player Uninstaller and Version of Flash Player
If you prefer removing old version of Flash Player, simply download Flash Player Uninstaller from the Adobe website. Make sure that all browsers and applications that use flash content are closed e.g. Yahoo Messenger, before uninstalling or installing the Flash Player program.
To determine the version of Flash Player or to manually check if there's an update, visit the About Flash Player page that displays the installed and currently available versions of the player.
Image credit: Screenshots taken by the author, courtesy of Adobe.
References
All information based upon author's experience