Fixing Spyware Doctor 2011 Problems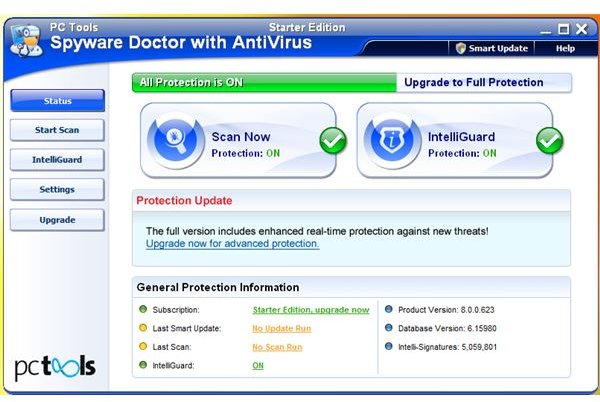 Spyware Doctor
PC Tools Spyware Doctor is offered as standalone anti-spyware or antivirus program. The antivirus software by PC Tools comes with two flavors: the free Starter edition and commercial or licensed edition. Both editions provide real-time protection against viruses, Trojans, spyware, adware, rootkit, worms and other types of malware.
If you are experiencing Spyware Doctor 2011 problems, check out the following sections of this article for resolution or possible fixes.
Problems Updating Spyware Doctor 2011
One of the common problem issues of Spyware Doctor is the failure to receive or install the program or update virus databases. If you are constantly having issues in updating the virus database, read the article, "What to Do if Spyware Doctor with Antivirus Update Fails."
Note that Spyware Doctor needs an Internet connection to download the updates. If you have to manually install the Spyware Doctor 2011 database, you should read the guide on how to manually install the virus database.
Spyware Doctor Problems: Bluescreen and Disconnected Error Messages
Some customers of PC Tools have upgraded to Windows 7 by installing the Windows 7 Service Pack 1 that caused a bluescreen error message. The problem is now known to PC Tools after receiving several reports on the bluescreen message. They have fixed the issue by releasing a new build or installer of Spyware Doctor 2011. You should download the latest setup file from the vendors' website to reinstall the program. However, if the bluescreen problem continues, you should send the minidump files using the PC Tools forum or try replacing the pctwfpfilter64.sys driver. You can get the updated pctwfpfilter64.sys driver at the PC Tools discussion forum. Note, that you need to be a registered forum member to download the file. Registration to their forum is free as long as you enter a valid email address.
The status of Spyware Doctor should display as connected to allow the program to communicate to PC Tools servers. If you are seeing a Spyware Doctor disconnected error message, check this article for possible fix.
Spyware Doctor 2011 Problems: IE9 and Freezes
If you are using the beta version of Internet Explorer 9, you should consider downgrading to IE8. Spyware Doctor adds some of its components in Internet Explorer and it currently supports the non-beta version of IE browser, however.
When Spyware Doctor 2011 freezes the desktop or Windows program, it is possible that there is conflicting or incompatible software and drivers in Windows. You should also apply the above-mentioned "Disconnected error message" solution to stop the freezes in Windows using Spyware Doctor.
Windows Backup and Spyware Doctor
Spyware Doctor is known to have problems when using the Windows Backup feature in Windows 7. End-users will receive an "Access is denied" message with the error code 0x8007005 and the backup task will fail. There is no fix at the moment but PC Tools is currently working on the issue. The work-around that I can suggest is to temporary disable your Spyware Doctor 2011 antivirus protection before running Windows Backup.
Spyware Doctor IntelliGuard Problem
IntelliGuard is the real-time protection component in Spyware Doctor 2011. There are reports that IntelliGuard keeps turning off itself which means the on-access protection is not functioning properly. Make sure that the services of PC Tools are running and the startup type is set up as automatic. If the said setting is what you have already, re-install Spyware Doctor to fix the corrupted and damaged installation.
Note, it is important to scan the computer using another anti-malware software or online scanner before reinstalling Spyware Doctor. Some malware can damage the antivirus program or shutdown the real-time protection against viruses.
Hopefully, some of these fixes will help if you are experiencing Spyware Doctor 2011 problems or contact PC Tools support to make them aware of any issues you are having with Spyware Doctor.
References