Using Ad-Aware Protection From Spyware Programs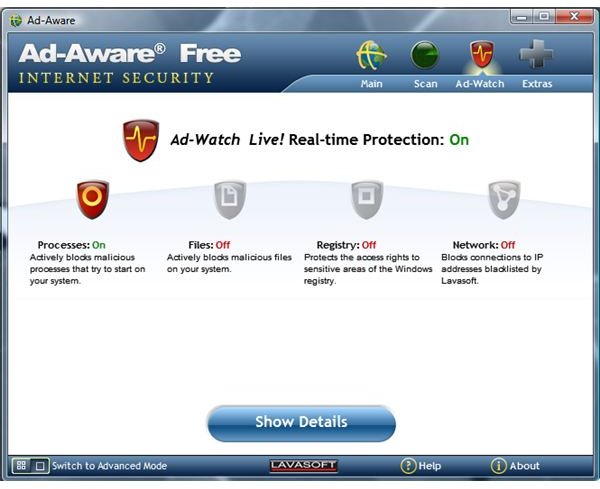 Spyware Protection
Antivirus software does not only provide real-time protection against viruses, rootkits, and trojans, but can also prevent spyware and adware infection. Lavasoft is one of the free antivirus providers that are offering such real-time protection for Windows. Find out in the next section of this article on how to use Ad-Aware protection from spyware programs.
Ad-Aware Protection Settings
Ad-Aware includes the Ad-Watch Live! component that provides real-time protection against spyware, viruses and other types of malware. It's enabled by default:
The default settings of Ad-aware protection from spyware programs do not require any modification except the alerts and notifications setting: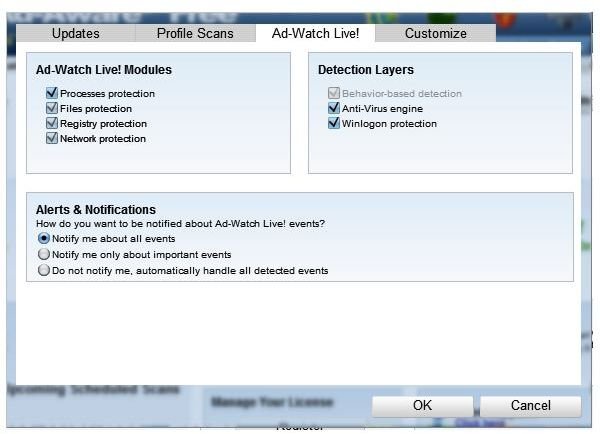 It's better to be notified of all events that Ad-watch Live! recognizes so you are aware of what's going on with your computer. You should also keep the default detection layers and Ad-Watch Live! module settings.
How Ad-Aware Works
When you downloaded an application from the Internet or saved an attachment from an email message, Ad-Watch Live! in Ad-Aware Free checks the processes for malicious activity once you execute it. An example below is an online games file (f.exe) that is categorized as spyware or a trojan by some security vendors (see Virustotal result here), including Lavasoft: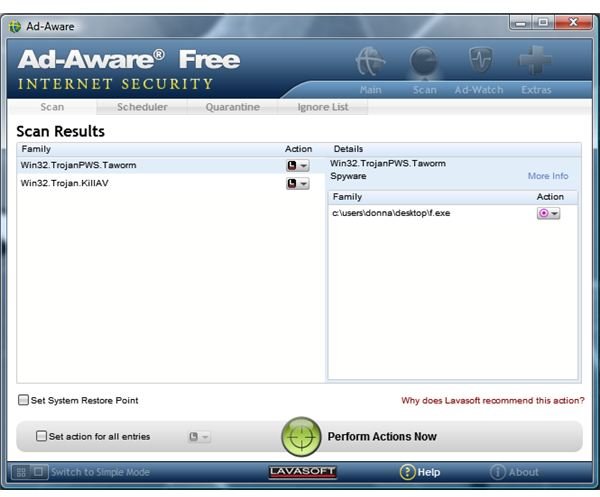 The real-time protection by Ad-aware will block the said spyware executable if the end-user executed it:
Using Ad-aware protection from spyware programs is quite easy. Simply keep Ad-watch Live! enabled because it is going to block any spyware and malware, in real-time. You don't have to do anything other than click OK or let the alert fade away.
Ad-Aware Protection for Commercial Spyware and Keyloggers
Ad-aware can also block known commercial keylogging or spyware programs. One example is the Perfect Keylogger programs by BlazingTools that Kaspersky and PC Tools will describe as spyware (see ThreatExpert report). Lavasoft's Ad-aware will also block the spyware or keylogging program by BlazingTools even if the threat name only displays as generic detection name: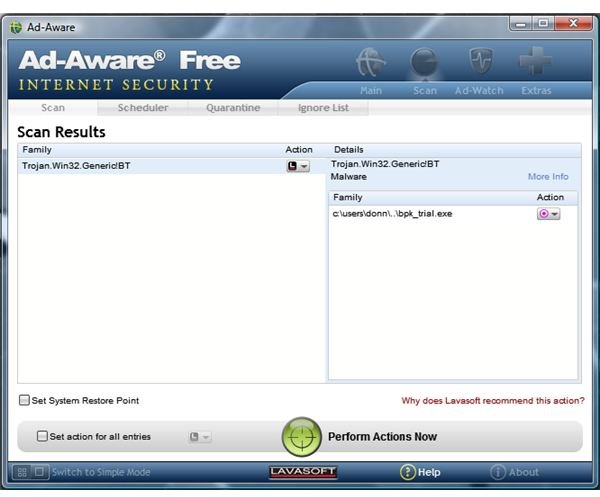 Since the above-mentioned keylogging software is a commercial keylogger, some end-users want to continue to install the software for the purpose of logging or monitoring activity in a computer. If Ad-aware blocked the installation of the trial version, the user has no choice but to add it to the ignore list: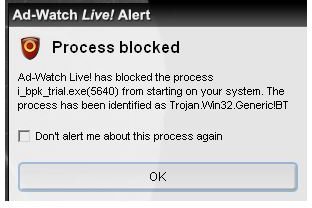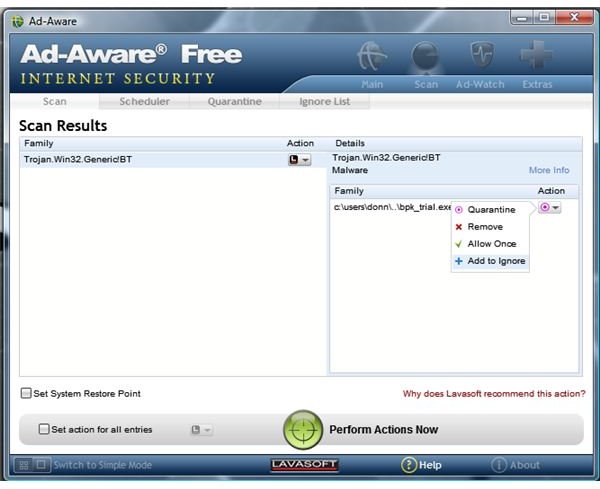 Ad-Aware Protection on Suspicious Programs
The virus, malware and spyware detection rating by antivirus vendors is not the same. Some programs that are bundled with spyware or adware software are not detected by Ad-Aware and other antivirus or anti-malware software. An example is the installer of free PDF converter by Nitro PDF. The installer of the PDF converter software is bundled with OpenCandy.com. Microsoft's Windows Defender will immediately detect the installer of Nitro PDF converter program as Adware: Win32/OpenCandy: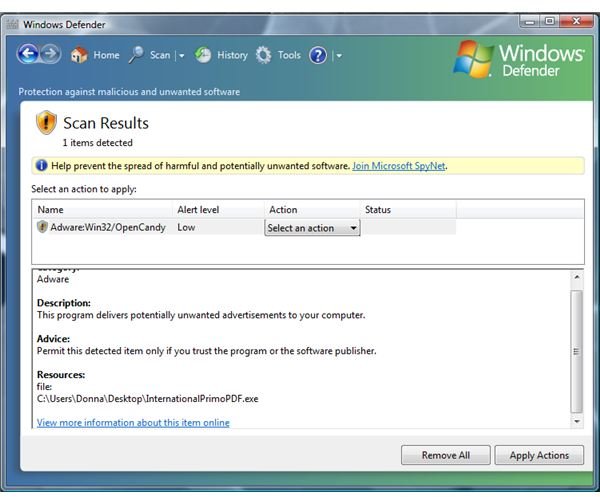 Ad-Aware provides no detection on the said installer that Windows Defender is able to detect with low risk. End-users of Ad-Aware can take advantage of ThreatWork Alliance of Lavasoft to submit files that Ad-aware should detect, even with low risk rating: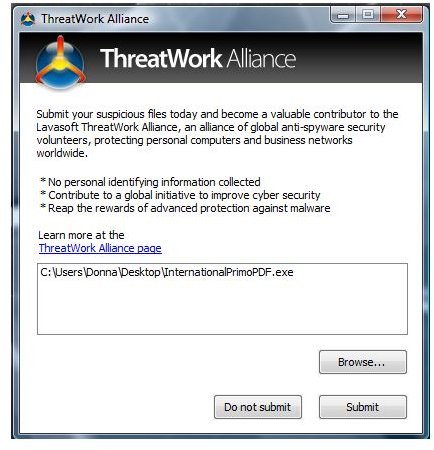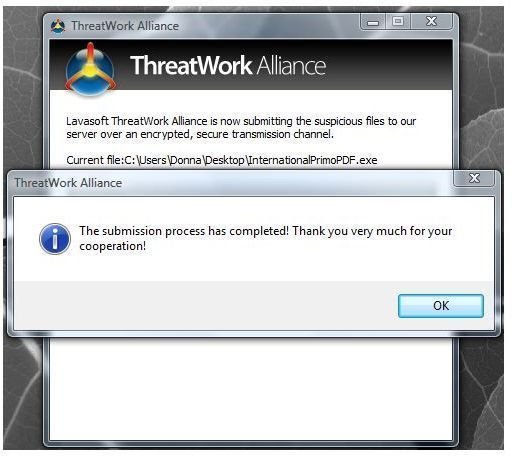 Final Words
Ad-ware simply runs like any other anti-malware or antivirus software. There is an option to submit files that it should detect and it provides above-average protection comparable to what other antivirus software is offering.
References
Image credit: Screenshots taken by the author, courtesy of Lavasoft.
Product version: Ad-Aware Internet Security Free v9.0.2