How to Solve Installation Issues of Free McAfee Virus Update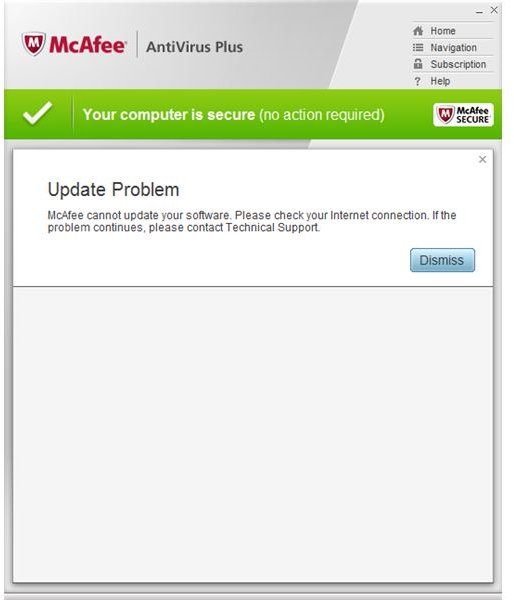 Updating McAfee DAT Files
Any McAfee software that includes antivirus and anti-spyware protection requires a current version of McAfee DAT file. The DAT file contains up-to-date virus and malware signatures that McAfee antivirus program uses to protect the computer against malicious software. Some incidents of updating the definitions and components of McAfee will fail. The next sections in this article will describe how you can fix problems in updating the antivirus software. You can also use this guide if ever a friend, family member or colleague asks you, "Help me to update my McAfee virus scan program!"
Free McAfee Virus Update Problem
McAfee users receiving the error message, "Update Problem: McAfee cannot update your software. Please check your Internet connection. If the problem continues, please contact Technical Support." shouldn't panic if the error message does not occur all the time.
This problem with installing virus definitions for McAfee should go away when you try again at later or different time. Traffic or connection to some websites or servers failing – especially if there is ongoing maintenance in the server side – is a common issue. However, if updating McAfee software continues to display the said error message, you should use below steps to troubleshoot or fix the problem:
Manually download the virus signature files (DAT file) from McAfee website.
Save the DAT file e.g. 6267xdat.exe in temporary location e.g. Desktop.
Double-click the DAT file to install the current detection database.
Note that you do not need to stop the real-time protection by McAfee software or you don't have to exit the program before using the above steps. The virus signature installer will unload McAfee resident software protection or stops services of McAfee program, copies new DAT files to program directories and restart the components needed to continue using the protection software.
After you have installed the DAT file, you can delete the downloaded file from the desktop. In the event that updating McAfee will fail again, you should proceed to download SuperDAT file.
SuperDAT file for McAfee
Home and office users of McAfee programs can also download and use SuperDAT files to update the virus detection signatures manually. SuperDAT files include not only the virus detection signatures but also updated or improved scan engine:
Download SuperDAT from the above-mentioned link to the McAfee website.
Click the SuperDAT tab and download the installer e.g. sdat6267.exe.
Save it to your desktop and then execute to install.
If you continue to have problems updating McAfee software, proceed to the following troubleshooting steps:
Run McAfee Virtual Technician (MVT), the automated self-healing tool that can diagnose and fix many problems related to McAfee software.
If MVT discovers any problems, allow it to repair the detected problems. See if that will fix installing free McAfee virus update using the program.
If MVT did not find any problem in McAfee program, proceed to reinstalling McAfee software.
To reinstall McAfee program, download McAfee Consumer Products Removal tool (MCPR.exe) from McAfee website. Execute mcpr.exe to uninstall McAfee in Windows. Reboot when prompted. Download the latest setup file of McAfee program and install it again.
Note that before installing McAfee software make sure that the computer does not have incompatible software. For complete and current list of incompatible software with McAfee, check this article.
Blue Screen after Installing McAfee Software Update
McAfee's built-in updater can also download and install the component or software updates to McAfee program. If the computer lock-up or the blue screen is displayed, restart the computer and immediately press F8 key on the keyboard. Choose to boot the computer using Last Known Good Configuration. If the computer starts normally, try to update McAfee software again. However, if the computer failed to boot normally in Windows, use Windows System Restore point to recover from previous state of Windows.
Next, scan the computer for malware infection using online scanner and remove any detected threats before trying to install McAfee updates or McAfee software.
References
Image credit: Screenshot taken by the author, courtesy of McAfee.