Avoiding Registry Mechanic Scam Messages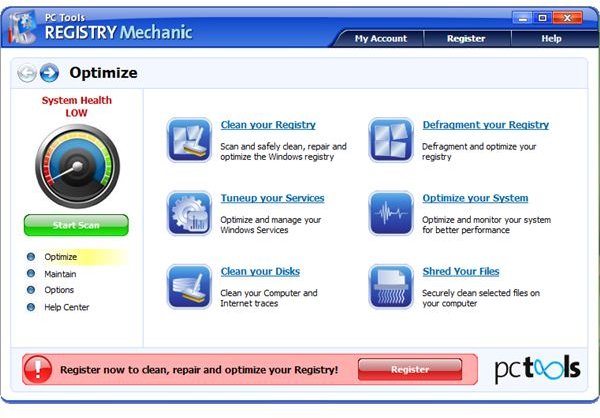 Rogue Software Business
Fake antivirus, rogue anti-spyware software, misleading applications and fake registry cleaner programs are distributed by malware creators and their affiliates. An example is a Registry Mechanic scam message that some rogue software authors will use to entice a victim. Registry Mechanic by PC Tools is not one of these rogue or fake software programs. The registry cleaning software by PC Tools is legitimate and the vendor is one of the trustworthy security software vendors. When you buy Registry Mechanic via an online store, you are automatically enrolled into its auto-renewal service. You can cancel the auto-renewal of Registry Mechanic on the websites: https://www.pctools.com/myaccount/ or https://secure.pctools.com/myaccount.
The rogue software business is hard to defeat, especially if Internet users are not familiar with this type of Internet threat. Recognizing rogue software is not easy for people to identify unless they realize they were victimized or almost became a victim of scammers.
Recognizing a Registry Mechanic Scam
New email and web scams appear every day and we have to keep ourselves informed on the latest scams that are spreading in the wild. Scam e-mails or fraud websites have one purpose and that is to mislead people. A person that becomes a victim of a scam may lose money because they've entered their credit card information by responding to an e-mail or by filling-in an online order form that is not real. To avoid Internet scams, everyone should learn how to recognize a scam message.
Often a scam message that tries to sell fake software will exploit the name of legitimate products or services. An example is by using the name "Registry Mechanic" in the scam email. The bad guys are up-to-date on which software programs are popular or receive lots of reviews and good feedback. They will take advantage of this popularity by sending spam or scam e-mails or by using a blackhat SEO technique.
The most common method used by fraudsters is to affiliate themselves to malware creators. They will develop fake registry software that is malware (usually a Trojan downloader) and it will install on a computer that is infected by malware. The computer user will then see a fake warning messages or fake alerts in both Windows and Mac computers.
Deals that sound too good to be true should be avoided, especially if you did not subscribe or search for such information or software. Rogue software makers will fake the scan results to trick end-users into thinking that the computer is infected or requires registry fixes.
To easily spot what a scam or phishing message looks like, read the article "How to Spot a Phishing Scam."
Avoiding a Registry Mechanic Scam
To avoid fake software or malware infections, the computer user should use the following best practices:
Use up-to-date protection by a legitimate antivirus and anti-malware program and regularly scan the computer.
Use a personal firewall that monitors incoming and outgoing Internet traffic.
Keep the computer up-to-date by installing critical and recommended fixes or updates.
Removing private data in temporary locations in Windows e.g., temporary Internet files, browsing history, cache, and cookies.
Downloading only from trusted sources or avoiding P2P networks to download cracked or pirated copies of software.
Purchase or subscribe only to services or software vendors that are trustworthy.
Regularly change the password or PINs on accounts to prevent becoming a victim of a compromised or hijacked account.
Cancel accounts that you no longer use or if the accounts have been accessed without your permission.
Routinely review your bank and credit card statements for unexplained charges or inquiries that you didn't initiate.
Do not follow the link in fraudulent e-mail messages.
Use a browser that checks for fraud websites or links. There are browser add-ons that can check the safety of website or link when using search engines. Examples of these add-ons are Web of Trust or SiteAdvisor.
Screenshot taken by the author, courtesy of PC Tools.