Avira Antivir 2011 Free Reviewed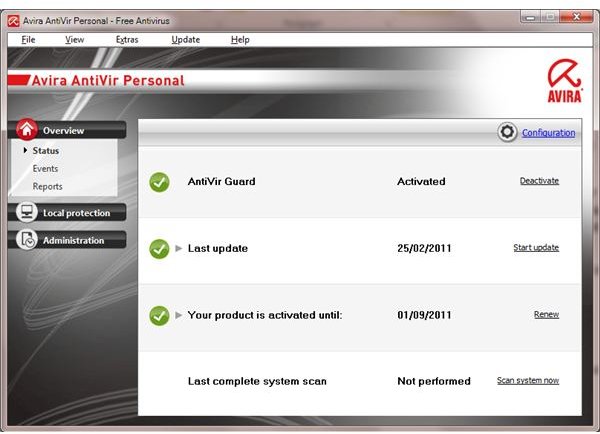 What is Antivir, and Who are Avira?
One of the main complaints about premium anti-virus products is that they take up too many resources and demand too much control of your PC. This has led to the mushrooming of free AV software, such as AVG, Comodo and Avira.
Operating in the industry since 1988, Avira (who were previously known by the unwieldy H+BEDV Datentechnik GmbH) has just released its free 2011 release of its popular Antivir series of anti-virus software, which offers real-time on-access scanning, automatic updates and a quarantine, as well as tools for scheduling scans.
However as is always the case with free security software, there is a perceived element of risk; if it's free, why would the software be any good?
User Interface (3 out of 5)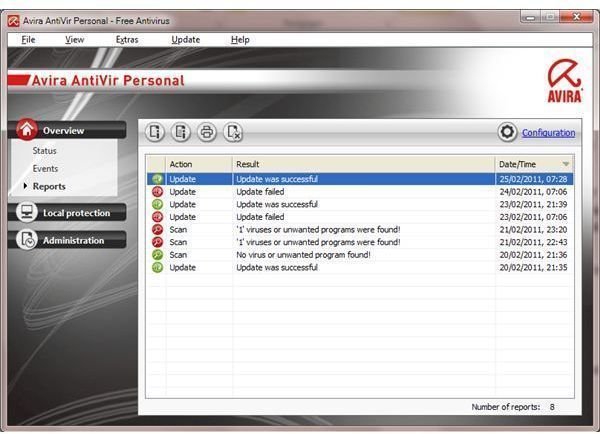 With a simple user interface, you shouldn't get lost or confused using Avira Antivir 2011. A useful desktop shortcut provides access to the Avira AntiVir Control Center, which in turn displays a status overview of recent updates and scans, and provides access to the various protection options such as deciding what depth of scan you wish to run or when to schedule a full scan to run.
All manual scan-related options are accessed via small disc-like buttons; despite the clarity of the Avira AntiVir Control Center user interface, these buttons are not immediately obvious.
Scan Types (4 out of 5)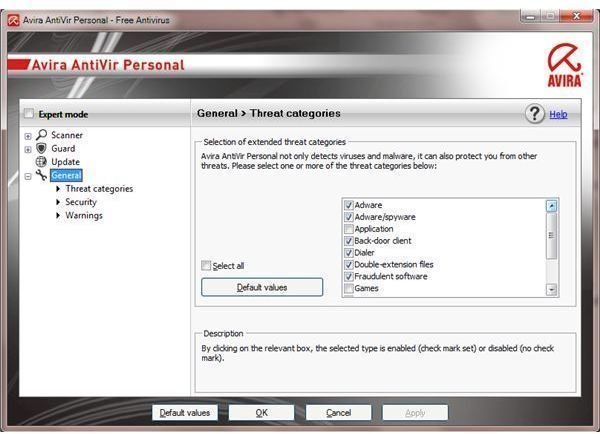 Based on the latest version of Avira's "Luke Filewalker" scan engine, Avira Antivir 2011 offers an active Guard system for protecting against new files that are introduced to your computer via email, instant messaging and hijacked web pages as well as the standard antivirus scanner.
These are available via the clear and easy to use console, via the Local protection menu option; scans can be run under the standard computer profile or as an Administrator. See the conclusion to this review to see how Avira AntiVir 2011 dealt with the threats on the test system.
In addition Avira Antivir 2011 can be configured to provide an extension to the standard malware and viruses, offering additional protection against dialers, backdoor clients, adware and much more.
Availability and Updates (4 out of 5)
There are different versions of, Avira Antivir 2011 available, depending on your budget. Here we've reviewed the very popular free version, which is available from www.avira.com/en/free-download-avira-antivir-personal (although the premium version is only €20).
Avira Antivir 2011 requires Windows 2000 SP4 (although Avira will not provide support for this beyond July 2011) and Windows XP SP2 or later, Vista SP1 and Windows 7; XP, Vista and 7 versions are all compatible with 32-bit and 64-bit architectures. The minimum RAM for a Windows 2000 or XP system is 256 MB; the minimum RAM for Windows Vista and 7 systems is 1 GB. All versions require at least 150 MB of hard disk space.
Automatic updates are available in Avira Antivir 2011, which can be checked for manually in the event of an automatic check failing for whatever reason.
Incidentally, don't confuse Avira Antivir 2011 with Antivir Solution Pro; the latter is rogue anti-virus software that uses the Antivir name as Avira's tools weren't well-known outside of Germany for some years.
Conclusion (4 out of 5)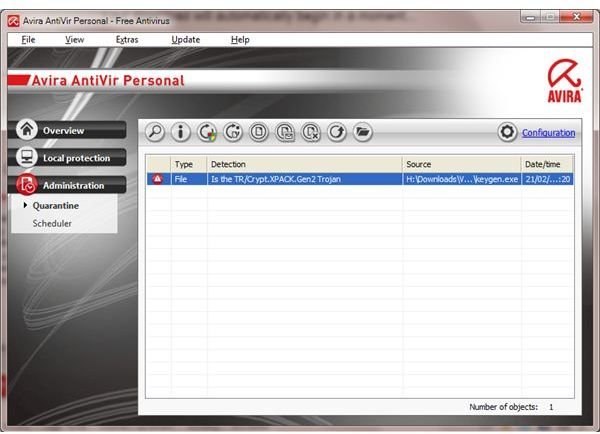 A popular anti-virus choice with an impressive legacy, Avira AntiVir 2011 is worth downloading and installing in any of its guises, free or premium. While the free version focuses on the nitty-gritty of anti-virus tasks, the premium release adds the Webguard to prevent you visiting dangerous websites, active anti-phishing tools and the MailGuard email protection system.
Ultimately, this is an anti-virus utility. Many similar applications have failed at the basics of running a scan and finding a threat, but in testing on a sandboxed system Avira AntiVir 2011 performed well, detecting threats on an external device with the standard scan as well as finding a threat on the system drive with the active Guard tool (as pictured).
As such, Avira AntiVir 2011 is recommended!
References
All references and screenshots: Avira AntiVir 2011 Free