Tips on How to Fix AVG Antivirus Plus 2011 Problems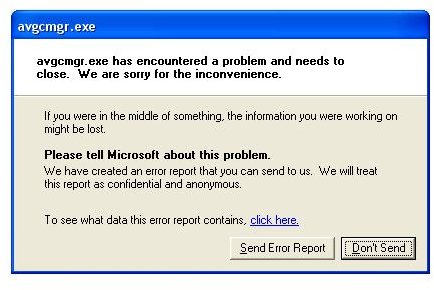 The popular free antivirus by AVG Technologies is reported to have problems during installation, upgrading, and the removal process. Many people continue to try using AVG because it's free for personal use and they have used the previous version without any problems. In short, the antivirus program has served them well and it's the main reason they tried upgrading or a fresh install of AVG antivirus.
Some users experiencing problems with AVG 2011 have decided to downgrade. Downgrading to a previous version is a good idea, only if the vendor continues to support it, e.g. virus database updates and program fixes. For users who want to fix AVG Antivirus Plus 2011 problems instead of going back to a previous version, below are some of the possible solutions to try.
Installation or Program Upgrade Errors
One of the common error messages that end-users are facing now is error code 0xE001D009. The cause of this problem has been identified by AVG staff and it has to do with the bootstrap or AVG download manager and the servers of AVG. The download manager failed to retrieve necessary installation files that caused an installation failure. AVG has fixed the problem by properly redirecting the download manager in serving complete installation files. If you continue to see error code 0xE001D009, you can fix this yourself by downloading the complete and offline installer of the AVG 2011 program:
Paid versions of the AVG program should be taken from this page (Installation files tab).
Free versions of the AVG antivirus should get it from this page (AVG free website).
Note: Do not download the online installer or AVG Download Manager. You need to download the setup file with the file name avg_free_x86_all_2011_build# here.exe or avg_free_x64_all_2011_build# here.exe for free users of AVG, while paid users should download setup file with the file name - avg_ipw_x86_all_2011_build# here.exe.
Another common and known installation error of AVG is error code 0xc0070643. This error is caused by a corrupted or damaged Microsoft .net Framework. To fix the AVG Antivirus Plus 2011 problem related to the .net Framework, read the solution in "How to Fix AVG Fatal Error When Installing AVG." If the problem is about a missing AVG anti-rootkit driver, check out the article, "Fixing the Error: AVG Anti-Rootkit Driver Not Found" for solutions.
AVG Update Error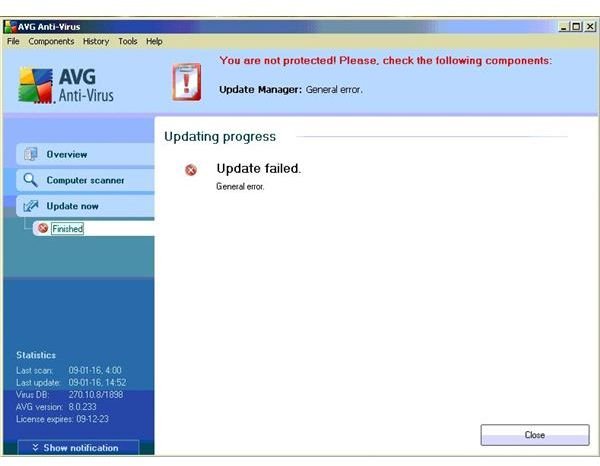 Updating AVG is also giving AVG users a problem. Most of them are receiving "Invalid update control CTF file" or "A .bin file is missing" error messages when updating the program. The work-around to this problem to is to delete the temporary update files via AVG program > Tools > Advanced Settings > Manage > Update.
If the above solution doesn't help, try to manually install the updates for AVG by downloading the virus definitions and LinkScanner database, if you are using LinkScanner. You can download these files from AVG free or paid websites.
After installing the update, allow AVG to check for updates by itself. If the program won't update the next time a virus definition is available, reinstall AVG. You can remove AVG using AVG Remover and install it again using a new setup file.
Uninstall Error
Using AVG Remover is an effective method in removing AVG but some users continue to see drivers or files added by AVG. Follow below steps to remove remnants of the AVG program or to fix AVG antivirus plus 2011 problems that require a reinstall.
Locate the following files or folders and delete, if they exist:
Windows XP users:
C:\Program Files\AVG or C:\Program files(x86)\AVG (for 64bit OS)
C:\Documents and settings\All users\Application data\AVG8
C:\Documents and settings\All users\Application data\AVG9
C:\Documents and settings\All users\Application data\AVG10
Windows Vista and Windows 7 users:
C:\Program Files\AVG or C:\Program files(x86)\AVG (for 64bit OS)
C:\ProgramData\AVG8
C:\ProgramData\AVG9
C:\ProgramData\AVG10
C:\Users\\AppData\Roaming\AVG8
C:\Users\\AppData\Roaming\AVG9
C:\Users\\AppData\Roaming\AVG10
Delete orphaned AVG drivers:
Right-click My Computer.
Click Properties.
Click the Advanced tab.
Click the Environment Variables tab.
Set the variables in the System Variables box. Close the system properties window.
Open the Device Manager in Windows: type devmgmt.msc in the run box to display this console, or simply type Device Manager in the run box in Vista and Windows 7.
Click View in the menu bar and select Show hidden devices.
The list of installed devices or drivers in Windows will refresh.
Expand Non-plug and play drivers and review the list of drivers. Any item that is grayed out is a remnant or orphan of the software that was removed from your computer.
To delete orphaned drivers, right-click the item and then select uninstall.
Lost Internet Connection After Removing AVG
If you've lost your Internet connection after removing the AVG program, simply reset the Winsock files in Windows. You can use Microsoft Fix it 50199 or Microsoft Fix it 50203 to fix the Internet connection problem. Don't forget to restart the computer when prompted.
Another utility that provides a LSP or Winsock fix: LSP-Fix by Cexx.org. If you are using the SUPERAntiSpyware program, you can use the included LSP fix utility.
_Screenshots and Resources courtesy of AVG Support Free Forum - https://www.avg.com/us-en/support_